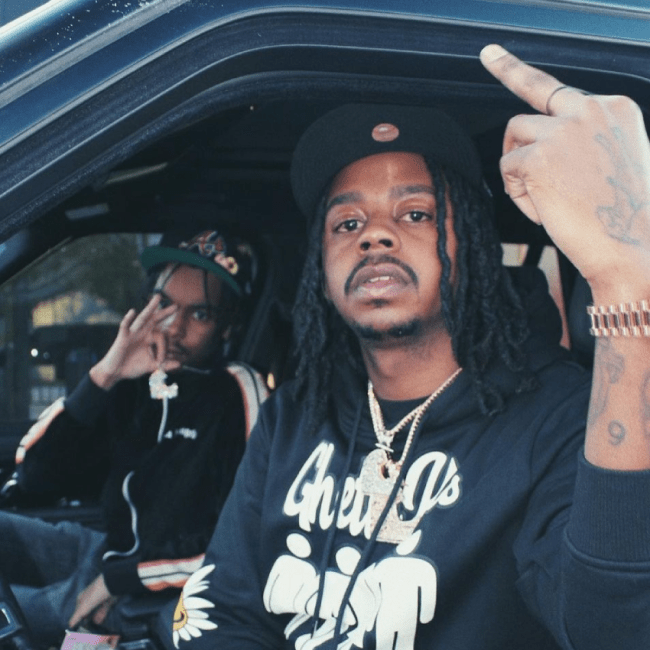 The Rap-Up is the only weekly round-up providing you with the best rap songs you've yet to hear. So support real, independent music journalism by subscribing to Passion of the Weiss on Patreon.
Brandon Callender took a screenshot of Coach K's last sad/angry bench photo for the archives and for the love of the game.
---
WTM Milt

– "Erotic City" (feat. Babyface Ray)
---
Going to the club with WTM Milt and Babyface Ray must be a one-of-a-kind experience. Nothing excites them, not even the beautiful women and bottle sparklers. The two of them sound perennially bored with life. Normally the clubbier songs that Michigan guys make aren't my thing (I guess we party different in the South), but "Erotic City" is undeniable. Milt and Ray still sound like depressed guys with party hats on, but Kura's production brings this song to life. Instead of forcing them to get energetic, he matches their energy with an equally lethargic, sludgy flip of a Prince classic. "Erotic City" sounds like stumbling through the club while faded, pushing people out your way because you know folks are trying to get at you on some "Big bro, put me on" shit on the journey back to your section. "You can't sit with us" isn't just a phrase to Milt and Babyface Ray—it's a lifestyle.
---
Rx Papi

– "Gusto"
---
Rx Papi's vault of unreleased songs has continued to feed his fans while he's currently incarcerated. Foreign Exchange, his December 2021 collaborative tape with Gud, could be looked at as a preview of what the music that's been uploaded to his channel in the last few months would be like—these songs are emotionally complicated gut-punches with to-the-second detail that'd make just about anyone wince at the situations he's backed into and the decisions he's forced to make. "Gusto," produced by Top$ide, is a cautionary tale about the dope game. Brushes with jail, death, bad business partners and fake hustlers plague his mind. "We gotta get a new headquarters, I burnt the last one out/I always lie and say, 'Man this my last run and I'm out," he sighs as the beat tapers off. It's insane that the sample of CB4 at the end is less tense than the song itself.
---
Glockboyz Teejaee x Lil Boof

– "Beattle"
---
Maybe I'm tripping, but Glockboyz Teejaee is almost guaranteed to be the Most Improved Rapper Of The Year, and he might even get some fingerprints on the Rapper of the Year trophy. There's no other rapper who has gone from "yea he's aight" to "Yeah, this nigga rips every song he on" for me like Teejaee has this year. He went crazy on this flip of Common's "Go" back in January and the Detroit rapper's last mixtape Rap Good As Hell Vol. 2 makes good on the title's promise. On "Beattle," he links with Seattle's Lil Boof, and don't let my praise of Teejae make it seem like he's steamrolling Lil Boof. "Beattle" is a high-velocity relay. As soon as the producer tag finishes, they're already speeding off like a Gran Turismo race.
---
Lunchbox

– "Right 1"
---
You might remember Lunchbox as "YungLunchbox," the architect who crafted Sheck Wes' gothic Harlem sound back in 2018. Since then, he's stepped out on his own as a rapper and his music maintains a similar on-trend outlook on rap. "Right 1" is more in line with the red wave of rage than the airy and ominous beats of "WESPN" and "Live SheckWes Die SheckWes," but it's clear that both these eras of his music are more concerned about feel than anything else. There's something that keeps me interested in his take on rage, which is normally a pretty boring zone to operate out of. Where Yeat is fine completely submerging himself in the chaos and Carti takes control of the raging typhoon, Lunchbox splits his time between these two zones. There are moments where he'll end up in a calming lull and then end up shouting over mix. "I'm the one but you knew that of course/How you think I feel taking them losses?" he drones. When he spirals into that devilish, shouted chant you can only imagine that he's standing 50 feet tall and towering over all his doubters.
---
EBK Young Joc

– "Throw 5"
---
Every now and then, I'll think something has completely run its course but then someone will drop a track that has me thinking every other song I heard was straight-up terrible. I'm not sure what the last non-sample drill song from New York I liked was—If we're talking about the mandem, "Packs and Potions" is decent—but Stockton's EBK Young Joc took off on "Throw 5." SpaceBoyTaj's beat is sparse compared to what's coming out of the Bronx right now. It's probably more accurate to compare the haunting melody and shuffling drums to DJ L and other beats that FazoLand and Free Crack 2-era Herb and Bibby were rapping on. Young Joc's breathy deadpan adds to the brooding air surrounding this track. "Get a nigga drowned clip his fins," he taunts. It's refreshing to hear someone come on these beats with something different.
---