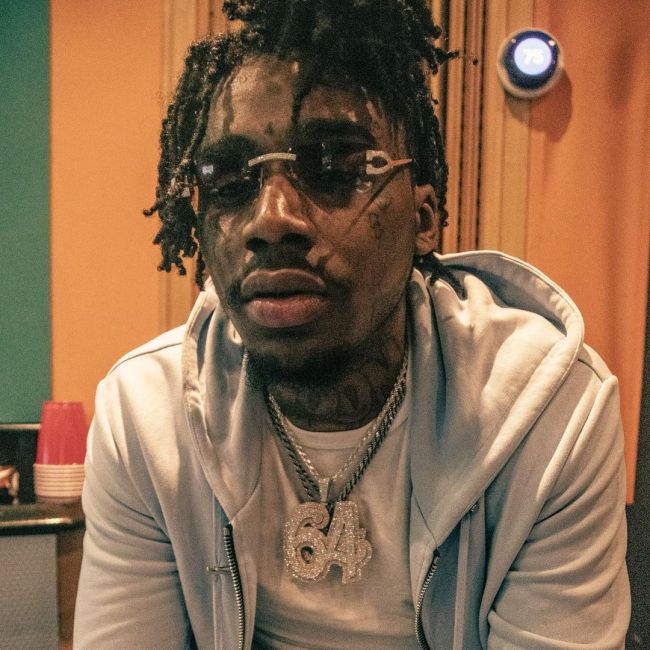 Photo via Goonew's Instagram
The Rap-Up is the only weekly round-up providing you with the best rap songs you've yet to hear. So support real, independent music journalism by subscribing to Passion of the Weiss on Patreon.
Brandon Callender is the only one to still have the Peacocks in his bracket un-ironically.
---
In 2016, Maryland rapper Big Flock dropped "Bruvaz," a thunderous, chest-beating anthem about loyalty. On that song, Flock namedropped the folks in his circle that he felt you should know about before you fuck with him. Songs like "Bruvaz" are just a signature of rap at this point—the non-rappers in people's circles become myths that live on in lyrical form. But about halfway through the song, Flock mentions someone we'd get to know later: "When they let Lil Goonew off the box, he grabbed the choppa and he started clickin' at the opps." And there he was, right behind Flock with an American flag bandana draped around his head. This was before the hightop freeforms and a little over a year before he started rapping, but it's impossible to mistake him for anyone else.
When Goonew first hopped in the booth in 2017, it was clear he was still figuring things out. "I really started rapping because I didn't have nothin' to do," he told Lawrence Burney in 2018. "Started catching cases after cases. That shit got annoying… The police got me banned from one of the neighborhoods I'm from." "Booming," a floaty cut from his first mixtape Hey Auntie, sounds like a DMV version of "Magnolia" all the way down to the ripped Pi'erre beat. It's a bit distant from what he's known for today, but on that tape with Borleone and ChazBandz, the PG County, Maryland rapper and Cheecho laid a foundation for what would come next.
Over the course of his next few tapes, Goonew's voice would lower to an uncanny, sinister whisper. He sounded like was slumped over while rapping about taking out his enemies and dealing hand-to-hands with an off-kilter flow that rubberbanded all over the pocket. Compare how Hoodrich Pablo Juan's bars gently curl up at the ends to Goonew's rapid pivots on a song like "Young Nigga." In one moment, he's creeping behind you in the shadows; in the very next, he's taunting you right in your face. If you haven't heard Goonew, you might've heard something that sounds just like him. Whether it be one of the dozens of "DMV Rappers Sound Like" videos or French rapper Serane or even Enchanting's gravelly croaks.
Goonew was fatally shot on Friday. He was 24 years old. This week's Rap-Up is a tribute to one of the best rappers of the last 5 years.
---
"On The Block"
---
"I fuck with Audis, but we pulled up in a stolen car." I never knew if this line was supposed to be a joke or not, but it's always made me laugh. The Cheecho beat on the outro of this sounds like it's playing out of a cave that's 5,000 feet underground.
---
"80s"
---
To be honest, I didn't know the name of this song for a minute. There was a minute-long preview of "80s" in the "Shots Fired" video so I had thought it was just an unreleased song. "80s" is the blueprint to the DMV sound that Goonew and Cheecho crafted together. Dark keys, rattling drums, and punched-in bars all the way through. Listening to it now takes me back to when I was trying to tell all my roommates that the DMV was about to blow.
---
"Touchdown" feat. Esco
---
I always loved how the beat on "Touchdown" had the swagger and glossy finish of a 2013 Migos song. Just like they'd come in, Goonew bursts through the screen with a verse that's all personality and quotables. It felt weird to be nostalgic for a sound that was just 5 years old at the time, but rap moves so fast nowadays that 2013 might as well have been two whole decades ago.
---
"Drill Time" with Lil Dude
---
Goonew and Lil Dude always made for a potent duo, but 2018 had some of their best work. Lil Dude's sneaky wordplay is the perfect contrast to Goon's bluntness. Lil Dude's second verse has lived in my head for years: "I'm rockin' Dior, these niggas rock dada / The chopstick sing like fah-la-la-la-la."
---
"Drip and Ice"
---
The production of a lot of DMV street rap songs from this era tended to be minimal, but "Drip and Ice" sounded like a radio transmission from Hell. "Hundred pounds and it came in the mail/Beyonce, bitch I'm ringin' them bells," he raps over the buzzing noise. This song is 3 years old and 75% static but it's still harder than most shit out right now.
---
"TKO" / "Moesha"
---
In 2019, Goonew got real smooth without his writing losing any of its nightmarish edge. On "TKO," he's crooning about his usual activities to some Teddy Pendergrass. Meanwhile, on "Moesha," Sparkheem and Mannyvelli turn Brandy's journaling soundtrack into an ominous wind chill. Maybe sample drill wouldn't be a thing without these songs. (I'm only half-joking about that, btw.)
---
"Dragonball" with Lil Gray and Lil Dude
---
Sparkheem and Goonew did not miss.
---