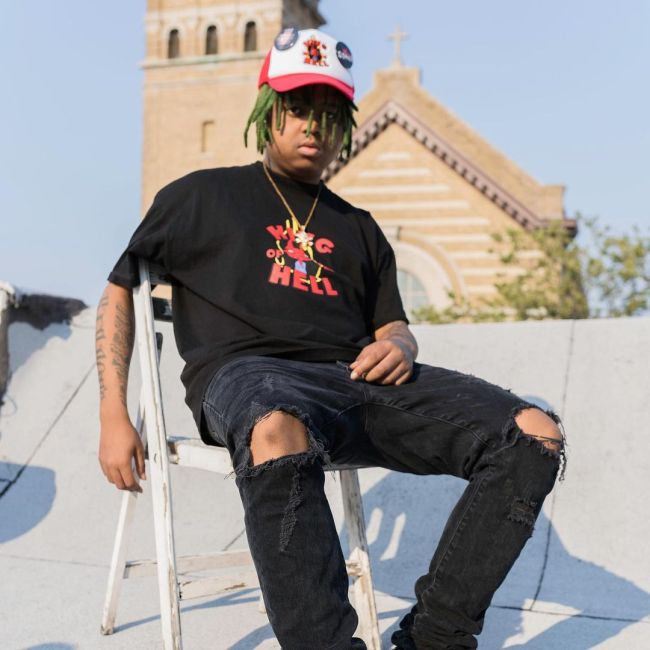 The Rap-Up is the only weekly round-up providing you with the best rap songs that you absolutely need. So support real, independent music journalism by subscribing to Passion of the Weiss on Patreon.
It took Brandon Callender 11 months to make it through Season 1 of True Detective, but it was worth it.
---
Caal Vo –

"HOMESICK"
---
"She just wanna live the life I'm living for the thrill—I ain't even been back home for a year," Caal Vo dejectedly opens "HOMESICK." There's little excitement in his voice as he talks about his fast-paced lifestyle over the warm electronic hums. EERA and EvilGiane's production moderates Caal Vo's ennui and world weariness, shrouding the song in a nostalgic haze that adds color to the grayness of his voice. "I can't even feel, nah, forreal/Man, I'm busting off this molly but I don't even fuck with pills," he sighs. "HOMESICK" is full of bittersweet reflections, but it goes down as easily as a spoonful of honey.
---
Yung Kayo –

"cause + effect"
---
Yung Kayo feels like he's secretly signed to Playboi Carti's OPIUM, rather than Young Thug's YSL. Art Dealer's brain-vaporizing synths make "cause + effect" feel like a night in a cybernetic club where robots have all but replaced humans. "Promethazine and the X/We call 'em the cause and effect," Kayo chants. With his go-to producer Warpstr, Kayo's built himself up on a foundation of electronic production: rapping over soothing lullabies and frenzied rage fests that are more in-line with what's going on on SoundCloud than anything else. Continuing to get weirder and weirder with Warpstr instead of chasing hits has made Kayo one of the only interesting things about current-day YSL.
---
Bobby 6ix –

"Guide My Steps Oh Lord"
---
Every few weeks I go on YouTube to catch up on singles from Bobby 6ix. It's easy to miss a string of singles from him and the rest of the Montego Bay-based 6ix collective. "Guide My Steps Oh Lord" is more of a prayer than it is a song. The soothing voices of the choir singing back-up on the hook relieves the song's tension as he asks God for protection. "Mi know uno see the shine, but uno nah know the fight," he soberly raps. The close-ups of his face reveal so much hidden pain. Two weeks from now, there'll probably be another Bobby 6ix loosie just as worthy of your attention.
---
BIGMUTHA feat. ZelooperZ –

"WRIST."
---
BIGMUTHA (fka bbymutha) and ZelooperZ take us back to the heyday of tall tees and ill-fitting denim on "Wrist." ZelooperZ raps about seeing a girl so bad that he lost his voice while BIGMUTHA lays down one of her most irresistible hooks. "He say he don't love them hoes like he don't know he the hoes/He gonna try to pay the bills and he gon' buy me some clothes," she raps over the beat that ping pongs from ear to ear. If you listen to it for long enough, a pair of Girbauds just might appear in your closet.
---
d0llywood1 –

"i almost puked at the mall"
---
I'm convinced that dltzk could produce whatever kind of music they set their mind to. From the fragile chiptune purrs of Teen Week to the internet melting, sample-heavy breakbeat chaos of dariacore, the digicore producer continues to push themselves—as well as the rest of the community—into new directions. "i almost puked at the mall," d0llywood1's latest single, is 2 minutes of anxiety-inducing terror. In the first half of the song, dltzk's brooding production collapses in on itself, boxing in dolly's vocals. She breaks free in the song's back half, swapping to an eerie sing-song to talk tough. "And I feel like Playboi Carti, bitch, I got a brand new tank/If he talkin' all that shit, Imma hit 'em with that shank," she raps. d0llywood1 and dltzk are pure magic together.