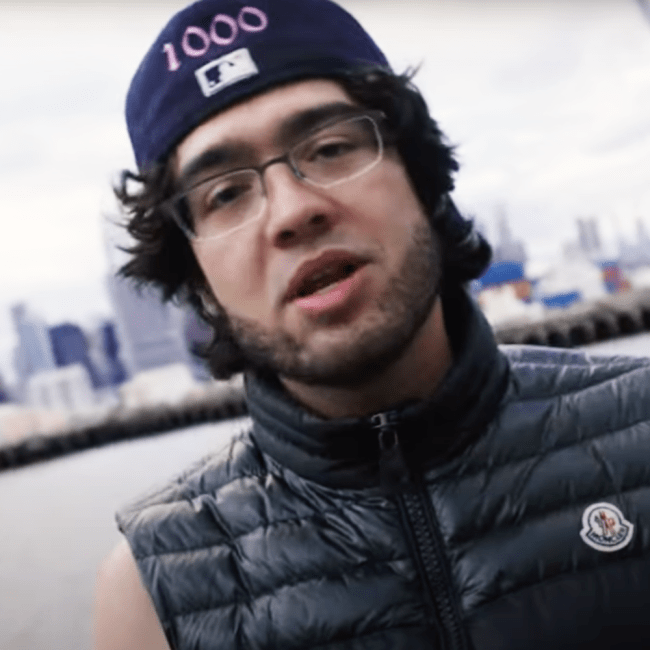 Image via Blaketheman1000/YouTube
The Rap-Up is the only weekly round-up providing you with the best rap songs you've yet to hear. So support real, independent music journalism by subscribing to Passion of the Weiss on Patreon.
Donald Morrison understands the importance of phone pleasantries.
---
Blaketheman1000

  – "Dean Kissick"
---
Certain rap is loved for its specificity and other rap is loved for its universality, but the best artists are able to speak universal truths through the prism of their specific and unique experiences. Blaketheman1000 refers to himself as the "downtown Dimes Square diamond" in his new song named after an editor and columnist at Spike Art Magazine named Dean Kissick.
"Dean Kissick" succeeds as an unlikely bridge between the hyper-pop adjacent, Gen-Z hip-hop scene and New York's litteratti, a loose collection of podcasters, fiction writers, wannabe fiction writers, book reviewers and cigarette smokers known for hanging out in a tiny part of Manhattan's Lower East Side collectively referred to as "Dimes Square." Blaketheman1000's decision to eulogize Kissick, known for his excellent Downward Spiral column, is a wise one in the wake of more than a dozen Dimes Square think-pieces maligning those closest to the scene as reactionary, alt-right, performatively religious and just generally annoying. Kissick has trafficked in none of that behavior and seems to embody the original mystique of Dimes Square as a place where important conversations are being had about art and criticism.
Blaketheman1000's voice kind of sounds like if Alvin and the Chipmunks used autotune and his writing is genuinely just as funny. "Dean Kissick, I pull to the club with my girl and five of her friends, I'm not a critic, but if I was I would say all of them are 10's." It's nice hearing someone proudly proclaim to not be a critic, or as I like to call us: professional snobs. The beat is built around a sample of a woman harmonizing and reminds me of something you'd hear in a warehouse rave. Kissick himself shows up for the video holding a book box and leaning against a Tesla. The song is a successful ode to a much-discussed microcosm of New York nightlife that should fill you with a sense of childlike wonder, unless you're one of those Ivy-leaguers still mad no one's invited you to Clandostino.
---
Paint Soup

  – "Colors All Around Me"
---
Paint Soup makes the kind of high-stakes, psychedelic music that could only come from Portland, Oregon. The duo, consisting of rappers Slick Devious and Old Grape God, AKA Tron 444, produce a limitless brand of art rap that's not easy to categorize and sounds like if Wiz Khalifa and Curren$y opened their third eyes with more than weed before recording How Fly. On "Colors All Around Me," off the pair's first record since 2017, titled "WHO?!," and released this week, the two rappers sound invigorated and heady as ever over lo-fi production that should satiate both 90s rap fans and fans of art rap.
I've always thought that Tron 444 would be a riddle writer if he wasn't a musician and painter. His lyrics are filled with witty aphorisms and head-scratching one liners that seem to stand separate from whatever precedes or follows them in the song. Lines like "can't remember the last day I was not, not sober," and "using my inside voice until I'm hoarse, man, like Bojack," showcases his natural ability to play with words and phrases. Slick Devious' dense rhyme schemes and Golden Era stylings naturally complement Tron 444's unconventional approach to song-writing and together they produce some of their overall best music.
The video, directed by Noah Porter, shows the two DIY rappers with a few friends in a small room making music on a laptop. The video is warped to make Tron 444's head seem gigantic in comparison to his body. All the better to write poems with, I suppose. Laced with mentions of Ol' Dirty Bastard and KutMasta Kurt, "Colors All Around Me," is a worthy first single to an album that makes good on the long-ago promise of Paint Soup the group, while also showcasing the artistic growth of its two irreverent members.
---
RXKNephew and Tony Shhnow

  – "Different Day"
---
RXKNephew has thus far kept up his onslaught of new music releases nearly every day for the past two years and perhaps longer. These are usually feature-less and chorus-less songs made on the fly over beats sent to Nephew by sometimes fledgling producers looking to have him grace one of their tracks. They're often messy and unmastered, but real RXKNephew fans will tell you that's half the charm, so there's no real reason to mess with that formula right now. However, evidence to the contrary exists in one of the The Rochester, New York rappers releases this past week, the Tony Shhnow-assisted "Different Day," a track that benefits from feeling slightly more thought-out, while still retaining the loose song structure and personality-driven flare of his best Youtube deep cuts.
---
Trapland Pat

  – "Big Business Remix" feat. Rick Ross
---
I sort of love hearing Rick Ross on a minimalist, DaBaby style beat. His signature staccato, boss-like flow pairs well with the sparse, hard-hitting production. His appearance on the remix of Trapland Pat's "Big Business," originally released in January 2021, proves that some remixes are still worth making in an era where they often feel like a label-driven afterthought. The video expands on the absurdity of the original, showing Trapland Pat riding a horse in the hood and dancing casually in front of a lamborghini with an elated Rick Ross. I wouldn't be surprised if the horse is actually owned by Rick Ross and currently staying at the stable on his property.
---
Shootergang Kony

  – "Bounce Out"
---
There's a joyous undertone to Shootergang Kony's most nihilistic lyrics. It's confusing at first. On "Bounce Out," over sunny production fit for a top-down situation, his natural charisma and smooth cadence reminds me of the laid-back, day-in-the-life raps of Larry June. Except Shootergag Kony isn't talking about smoothies and sushi; instead, he's bouncing out of cars with murderous intent and the nonchalance of a Baskin Robbins worker. "Jump out with the hoodie on, still breathing, something about a glizzy on me makes it feel easy," he says. Shootergang Kony has the ability to be the next biggest rapper from Sacramento, next to Mozzy, if he continues releasing music this good.