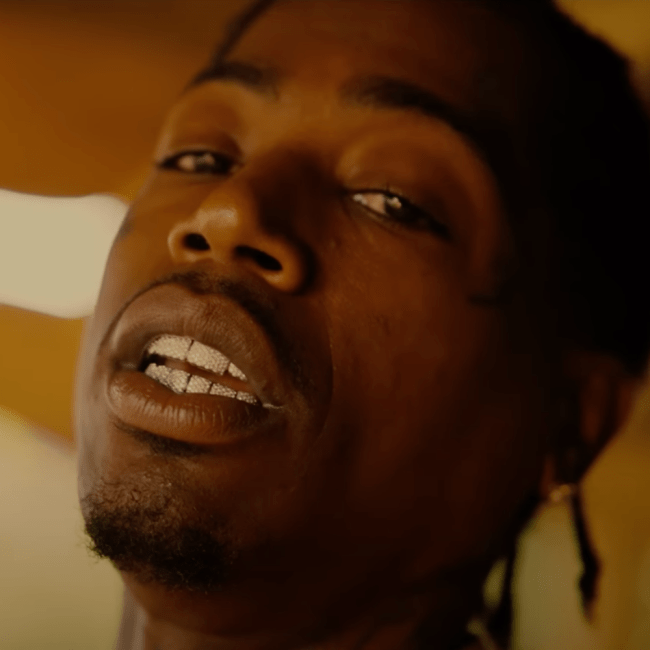 Image via Thizzler on the Roof/YouTube
The Rap-Up is the only weekly round-up providing you with the best rap songs you've yet to hear. So support real, independent music journalism by subscribing to Passion of the Weiss on Patreon.
Be sure to read Harley Geffner's latest feature piece on the Baby Stone Gorillas for theLAnd.
---
For more on Young Slo-Be's rise, read Yousef Srour's interview, published August 5, 2022.
This world we live in feels cold and dark. Every day, another tragedy. Every night, more scheming and plotting by the most powerful in society to keep things exactly the way they are, or worse, slide us even further into chaos. This is not to say that there aren't reasons for optimism, as there are many, but the constant reminders of the negative state of things is hard to ignore.
Disean Jaquae Victor, also known as Young Slo-Be, was slain this week in a drive-by shooting, leaving behind a young daughter and entire family. He was 29 years old, and one of the most promising young rappers working. He is one of more than 26,000 gun deaths officially registered in the country this year. It's a high number, but numbers will never capture the existential pain and heartbreak of the stories of those who are no longer with us because of this scourge of uniquely American gun violence. Every single one of those people had a set of people emotionally tied to them who will be forever changed by the ordeal. Family and friends see the world as a darker place for it, so it's not just the people who died, but the impacts that the mentality of those affected bring to their everyday lives that makes these instances even more tragic.
Slo-Be had made it. People from the Southeast part of Stockton, California, where Disean cut his teeth, rarely do. The stats are bleak, but Slo-Be overcame all odds to finally put himself in a position to financially take care of those around him. In an interview we ran on the site the day of his death, Slo-Be said "All we're trying to do is feed our families and get back home," before continuing on about how rap was his pathway out of the dangerous area in which he was raised.
At the heart of rap music, that is the promise. Not glory and fame, but a way to take care of your family in ways they have never been taken care of before. It's a promise many young men and women take seriously, and use as a way to funnel themselves out of poverty, and hopefully build generational wealth that usually requires higher education. In places where 11th graders are reading at 2nd grade levels, and school systems are underfunded with 45 checked out kids in a classroom with one overwhelmed teacher, the ability to make your own way and get into the higher education system is limited. There are certainly cases where people have been able to do it, but they are few and far between.
Rap, basketball, or a life in the streets are what most high school age kids from poverty-stricken areas consider to be their options. As easy as it is to shit on this system, it still should be noted here that there are other options, but most of these kids don't know about them because there's nobody to tell them how to chase those alternatives in their lives. Compared to the rest of the world, the U.S. is in the middle of the pack in terms of social mobility stats, so there are places where it is much more difficult than it is here to jump classes. But that doesn't change the on the ground reality that people from these areas are mostly stuck between those choices.
Slo-Be chose rap. And it was working for him until some assassins coldly ripped him away from us last week. As we look at the rap landscape, this is a near daily occurrence now. Rappers have targets on their back because of their success. Boosie explained it a long time ago in an interview with VLAD that people who tried rap and didn't make it will always be jealous of those from their area who did. Police target rappers for their craft, taking lyrics as facts and putting them on trial at every turn. Maybe it's always been this way and the media wasn't as quick or sensationalistic to cover it, but the realization that one of those pathways people can take continues to narrow is a harrowing gut punch.
As sad as the state of the world feels, the only way to stay afloat and not submit to the misery is to focus on those fighting for change, and try to be an agent for change ourselves. There are millions of people in this country and around the world who are fighting like David vs. Goliath to make the world a better place, and those people inspire hope. There are lots of anti-gun violence and gang advocacy groups doing ground level work to de-escalate beef on social media. There are lawyers fervently fighting for the rights of immigrants to come safely into this country to seek a better life for their families. There are community education pilots. There are universal basic income tests, one of which is operating in Stockton and showing positive early results. There are even people in finance who have dedicated their lives to micro financing small business loans for those in poverty with an idea.
The world can feel dark and lonely, but at the end of the day, it is not. People crave human connection, and mostly want to help others around them. Tap in with networks of people fighting for change, and feel the power of community. This is the only way forward.
Rest in Peace to Young Slo-Be, and may his family find solace in the impact he had in inspiring others. May we all seek out and fight for a better world.
Here are 5 of my favorite songs of his, in lieu of this week's edition of The Rap-Up:
---
Young Slo-Be feat. EBK Young Joc

  – "Most Hated"
---
---
Young Slo-Be feat. Bris, EBK Young Joc, EBK Juvie

  – "This Ain't Nun New"
---
---
Young Slo-Be

  – "21 Thoughts"
---
---
Young Slo-Be

  – "Stay On Point"
---
---
Young Slo-Be

  – "Program"
---