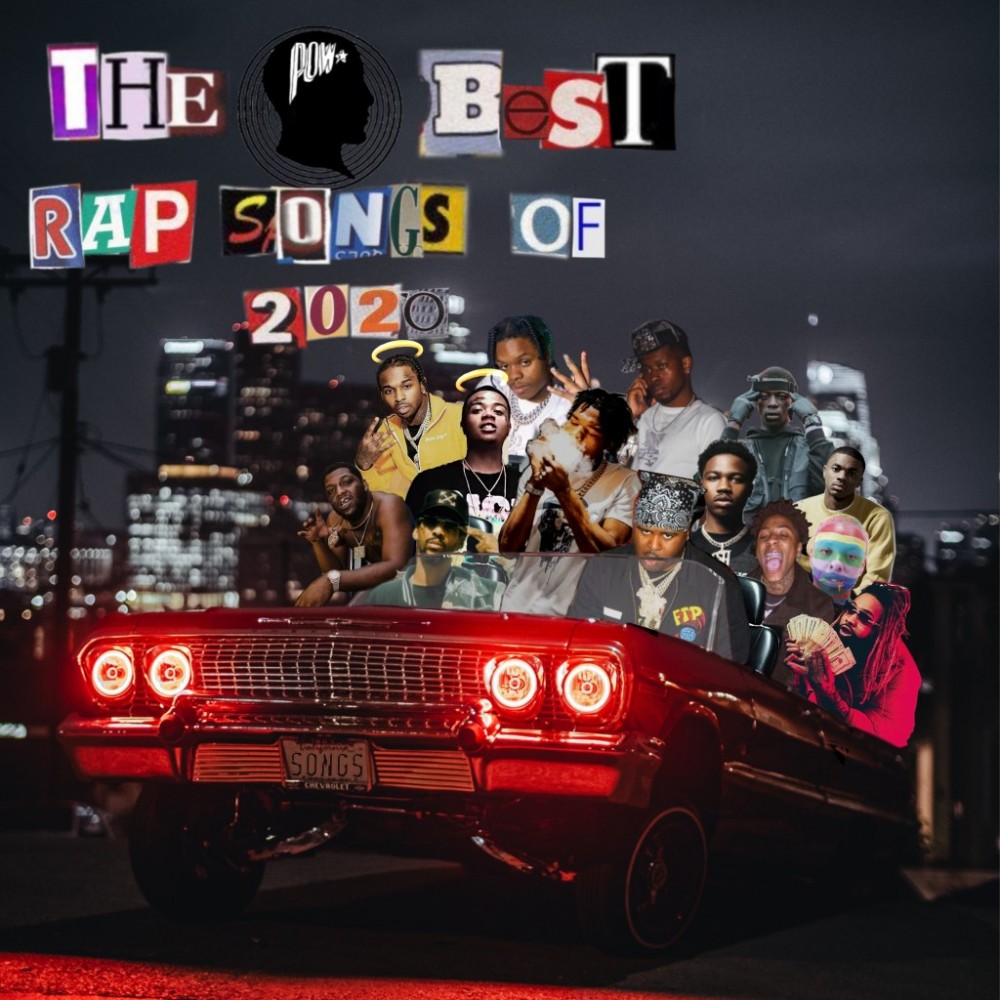 POW is a website without ads. We don't do sponcon, we don't do clickbait, we don't have any corporate overlords. This list that you're about to read is a labor of love, inasmuch as anything can be a labor of love in late capitalism.
Even labors of love come at the significant cost of time. This is the result of hundreds of hours of labor. Three editors and dozens of contributors attempting to capture the spirit of the old weird Internet.  Should you value what we do, please consider donating to the Patreon. It is the only way we can continue to survive.
As always, the same rules apply: one song per featured artist, "singles" prioritized over deep cuts, American rap only (sorry),  West Coast over everything. Your favorite song didn't make the list because we are spiteful and eccentric creatures. Thanks for reading. We tried.- ed
100. GMac Cash – "Coronavirus"
99. Shabazz Palaces featuring Purple Tape Nate – "Fast Learner"
95. The Koreatown Oddity – "Koreatown Oddity"
94. Key! featuring Bobby Raps – "Boys Don't Cry"
93. Key Glock – "Word on the Streets"
92. 9lokknine – "Why You Lying"
89. Armand Hammer featuring Pink Siifu – "Bitter Cassava"
88. Sheff G – "No Suburban Pt. 2"
87. Problem featuring Freddie Gibbs & Snoop Dogg – "Don't Be Mad At Me (Remix)"
86. YG – "FTP"
85. Larry June featuring Jay Worthy – "Orange Juice in Vancouver"
84. Fat Tony featuring Bun B – "What Wake You Up"
83. Shrapknel featuring Zilla Rocca – Gun Metal Paint
82. Fatboi Sharif & Roper Williams – "Smithsonian"
81. Wifigawd & Tony Seltzer featuring Wiki and The Khan – "Ten Toes"
80. Serengeti & Kenny Segal – "Ajai"
79. Poloboy Nunu – "Gang Ties"
78. Busta Rhymes featuring Kendrick Lamar – "Look Over Your Shoulder"
77. Guapdad 4000 featuring Denzel Curry – "Lil Scammer that Could"
76. Quelle Chris & Chris Keys – "Sudden Death"
75. Mozzy featuring Blxst – "I Ain't Perfect"
74. Future featuring Young Thug – "Harlem Shake"
73. Saviii 3rd featuring ComptonAssTG- "Knocc It Off"
72. NLE Choppa featuring Roddy Ricch – "Walk Em Down"
71. Wallie the Sensei featuring MAR and Yah-L – "Scandalous"
70. Azealia Banks featuring Lex Luger – "Black Madonna"
69. Ralfy the Plug – "Closing Arguments"
67. Lil Eazzyy – "Onna Come Up"
65. Doggystyleeee – "My Dayz Coming"
64. Chris Crack – "More Art Less Thought"
63. WTM Scoob – "Oxycodone Pt. 2"
62. Vic Spencer – "Dream World Immunity"
59. YTN Lil Greg featuring MurdaGang PB – "White Chalk"
57. YXNG K.A. – "It Is What It Is"
55. Clipping featuring Cam and China – "'96 Neve Campbell"
54. Mulatto & Trina – "Bitch from Da Souf (Remix)"
53. Beatking featuring Queendome Come – "Then Leave"
52. Tree – "Hope U Didn't Get Ova Me"
Vince Ash – "What It G Like" (Unranked: POW Recordings Release)
With his dexterous flow and booming microphone command, Vince Ash recalls the glory days of Ruthless, Death Row and No Limit. The highlight of the Hammond, Indiana don's Vito, is the tightly written and constantly shifting, "Whut It G Like," a cinematic banger with more twists and turns than a turbocharged championship race car. Creatively spinnng a story of confrontation over a vulkanized and minimalist beat, he channels NWA's seminal "Boyz-n-The-Hood." But the tale is punctuated by an idyllic flute line that offers contemplative gravity.
In less than two minutes, Ash is able to reach back to golden age gangsta rap yet sound completely modern. If he keeps making songs like this, he appears to be at the beginning of a very long career, reminiscent of another Indiana product who found his greatest success telling street tales over quirky, psychedelic beats, Gary native Freddie Gibbs — except that it's clear from his inimitable vision here that he's only trying to be the first Vince Ash.– Nate LeBlanc
50. Spillage Village featuring JID, EarthGang, Hollywood JB,  Mereba, and Jurdan Bryant – "End of Daze"
Holed up in a West Atlanta house, over the course of two months, eight of the city's top-tier artists congregated to condense their thoughts about modern life and the afterlife. The result was the Dreamville-released Spilligion, Atlanta octet Spillage Village's fourth studio album; the standout was a single called "End of Daze." On the five-and-a-half minute track, six of the group's members – EARTHGANG's WowGr8 (a.k.a. Doctur Dot) and Olu (a.k.a. Johnny Venus), JID, Jurdan Bryan, Mereba, and Hollywood JB – pass the mic as they put a mirror to the pangs of the time and how they would revel in their own last days on planet earth. While Outkast rang the alarm on America's burning facade in 2000 with "Gasoline Dreams," Spillage Village raised their hands many moons, fatal shootings, and a global pandemic later as a new generation bearing witness to the blaze.
Capturing the attitude of an explosive era, "End of Daze" points to traumatic decades and centuries past that make this year, at times, feel matter-of-fact. "It's been like apocalypse since I was on the teat," Mereba, the group's sole female member, sings on her verse's punctuating opening line. The song's lullaby-like closer finds EARTHGANG's Olu admitting fear and proclaiming love in the face of it all, wondering what tomorrow could bring should today surprise with "something pure." If the "End of Daze" are indeed upon us, Spillage Village has immortalized the last of them with a creeping bassline, rumbling drums, and a sweet, Southern, sticky-icky inhale, exhale, and slow, slow burn. — Paley Martin
49. EBK Young Joc featuring Bris and Armani Depaul – "Jokes Up"
EBK Young Joc is pretty good at rapping for someone who – by his own admission — fell backwards into it. When Thizzler — doing the yeoman's work of chronicling the Bay Area rap scene – asked who he was influenced by, he cited no one but his brother – whose death inspired Joc to start rapping.
On "Jokes Up," he both provides the densely efficient hook and spits a quick wordy verse about snakes and apes – this is not a zoo – in which the best lyric might actually be Joc's cough and scoff midway through. Bay Area vet Armani DePaul – he worked with Sage the Gemini and Iamsu a few rap generations ago – provides the beat, and Bris rhymes tummy with munchies with chunky with crumpy with stumpy with spunky.
Even on his first track with his crew – "Sweet Lady Remix" with the EBK Hotboiiz back in 2018 — he shined. "Can't wait to see her face when she smile and start cheesing," he raps about seeing his daughter first thing in the morning. Joc seemed to realize this rap shit could be more than a generational debt after that. The Stockton-based rapper has risen quickly since then, his slang, flow, and wordplay growing by leaps and bounds over the two-ish years since he started. Stockton is an hour and a half east of the bay, so if nothing else he's already forced a regional outlet like the Bay Area-centric Thizzler to expand its scope.
The cruelly sharp arc of Bris — who was killed just a week after the video for "Jokes Up" dropped – shows how quickly young rappers have to make their mark. Joc seems determined to do just that. No joke. — Jordan Ryan Pedersen
48. Isaiah Rashad – "Why Worry"
No one really knows what Isaiah Rashad has been up to the last four years. After releasing The Sun's Tirade in 2016, he vanished. Nowadays, we mainly see him on Instagram Live, where any snippets he plays are screen recorded and archived on YouTube by his most diehard fans. If Zay ever popped up on Twitter, he'd immediately be asked, "When is The House Is Burning dropping?" and disappear right after. After years of sparse appearances and a few scattered features, in the middle of TDE Fan Appreciation week came "Why Worry," Rashad's first solo song since freestyling on "The Race" in 2017.
On the Crooklin-produced "Why Worry," Zay picks up right where he left off, questioning his relationships and ruminating on his mental health. With his voice full of pride, he lets us know that there's no one who can get in the way of his success. "Lay back and calm your thinkin', ink pens, inkblot I'm sinkin'," he hastily raps over the buzzing horns. It's inspiring to hear Rashad, whose discography discusses his depression and struggles with addiction at length, sound so cheerful. The fuzzy "why worry?" looped throughout the song is warm and reassuring, like a hug from a grandparent. Rashad is easy to root for — it's part of what makes "Why Worry" such a fulfilling listen. You can hear the weight being lifted from Isaiah Rashad's shoulders in real-time. — Brandon Callender
47. Flo Milli – "In the Party"
The brace-faced 20-year-old from Alabama unexpectedly blew up last summer when her 2018 remix of Playboi Carti's "Beef" was one of the first memorable hits to spring from TikTok. Blessed with a cheerful voice that clashes with her aggressive flow and cutthroat bars, she followed it up a year later with "In The Party," which similarly inspired several dances and TikTok challenges. Any suspicion of being a one-hit wonder evaporated when she opened her second single with"Dicks up when I step in the party."
On the brisk two minutes of "In The Party," she manages to smoke all of some guy's weed then kick him out, steal someone's boyfriend then taunt her to win him back, and detail how her family doesn't approve of her, but they didn't raise her, so who gives a fuck what they think?
Like all her songs, "In the Party" is fun as hell even if she basically spends the entire song telling you not to fuck with her. Her music invites you to turn up alongside her, but also dares you to talk reckless at her and potentially suffer the consequences. — Marco Kane
46. OMB Bloodbath & Maxo Kream – "Dropout"
OMB Bloodbath and Maxo Kream are the perfect odd couple. In one corner, you have the ferocious Bloodbath, Houston's best female rapper (and one of the best rappers out period). Her voice cuts through her preferred bass heavy beats and is sharp enough to shape a diamond. Then you have Maxo, H-Town's beloved son, heavy in spirit and voice, built like a heavyweight but the sort of rapper who does his best work when he taps into his empathetic side, recalling hard days on the streets and the floors he swears he'll never sleep on again.
"Dropout" is a victory lap of sorts for Bloodbath, who's been making noise in the Third Ward of Houston for a few years, but really broke through in 2020. Her voice can carry any song she hops onto, and her ability to move from rapid, choppa style flows to a heartfelt croon is a calling card. On "Dropout," Bloodbath and Maxo share the stage with ease, trading verses of a bouncy, strip club beat from BBY KODIE that features a synth line heavily indebted to Pi'erre Bourne. It's an anthem to ride slow to, the rare track that blends densely worded bars and effortless one-liners with a laid-back pace that recalls the '90s heyday of Houston's Chopped 'n' Screwed era.
Both MCs bring tremendous versatility to their work, but here, they match dead-eyed, easy flows, spitting bars about enemies getting more lives than pussycats and picking bricks like Deion Sanders. On "Dropout," OMB Bloodbath proves yet again that she can go pound-for-pound with one of Houston's best, because she, too, is one of Houston's best. — Will Schube
45. Duke Deuce featuring Lil Jon & Juicy J – "Crunk Ain't Dead (Remix)"
Friends, ATLiens, crunktrymen, lend me your XXXL NBA throwback jerseys; I come to praise crunk, not to bury it. For crunk ain't dead, crunk ain't dead, crunk ain't dead, ho (break the law). The noble Brutus hath told you Lil Jon was ambitious; if it were so, it was a grievous fault, and grievously hath Lil Jon answered it, in the form of the first week sales for Crunk Rock. But Brutus says he was ambitious, and Brutus is an honorable man. Lil Jon hath brought hits and beats and hooks to the Atlanta rap scene, whose sales did the general coffers fill. When the hyphy movement cried, Lil Jon hath wept, and then produced "Tell Me When to Go." You all did love crunk once, not without cause. What cause withholds you, then, to chant Crunk ain't dead, crunk ain't dead, crunk ain't dead, ho (break the law)? O, judgment! Crunk ain't dead, crunk ain't dead, crunk ain't dead, ho (break the law). Bear with me, for my heart is in the coffin there with all the songs Lil Jon produced on Petey Pablo's second album, and I must pause till Duke Deuce, Lil Jon, Juicy J, and Project Pat bring it back to me. — Drew Millard
44. Bway Yungy – "Lost Soul"
BWay Yungy entered rap with a second-degree murder charge. In December 2019, Baton Rouge's WBRZ reported that Yungy, his brother Devaughn Tate, and their friend Kevin Anderson had an altercation with Javon Brown, 17. It resulted in Brown getting shot in the stomach. Brown died in the hospital the next day.
It makes the 17-year-old's devastating single "Lost Soul" even harder to listen to. In the first few lines, BWay Yungy wishes he was dead, wishes he was high, describes his panic attacks, worries he might overdose on drugs or die in his sleep, then sings the most pained, beautiful thing he's ever written: "I'm a lost soul, I'm a demon child, I can't take the devil off me."
"Demon child" suggests a character of evil, but "lost soul" carries the feeling of alienation — he never had direction. The devil isn't in him, it's on him. He's saying that his circumstances have broken him. This song is soul-crushingly bleak.
"Lost Soul" is BWay Yungy's second single ever. He's 17, and the younger brother of NBA YoungBoy, a superstar who's racked up millions of streams off similarly diaristic records. Across his first few singles and debut mixtape, you can tell the Baton Rouge rapper is still finding his voice, but "Lost Soul" suggests a level of introspection and transparency that may carry him far. But like YoungBoy, Yungy's story does not come without controversy, and it makes his music a kaleidoscope of experience, fantasies and mental states worth parsing and critiquing. — Mano Sundaresan
43. Ola Runt – "Osbourne Flow"
Deep inside the heart of Atlanta's Edgewood neighborhood, right across from the recently moved (ZONE 6) precinct, surrounded by gentrifying change that's more antagonizing than it is embraced, sits a strip as infamous as the gentleman who bestowed its name. "Front Street", as it has been christened, is the birthplace of the future legend that is Ola Runt.
In just a short period of time, the 24-year-old artist has left an indelible mark on Atlanta's music scene. "Osbourne Flow" is another sermon from the mind of a man who's sole focus, while sitting behind federal bars, is to stay alive, and come home to keep his foot on the necks of his competition. Floating in and out of an eerie, paranoid coated beat, Runt chops the instrumental with bars like, "I'm from the real 6. Hard head, real bricks," "My first hot box was a civic. Only drove it at night 'cuz the windows wasn't tinted," and "I was down the road with a sock and a lock. Locked down on the phone with a thot." Add a chorus that relies heavily on the imagination of Ola and his rendition of the burst from a high powered weapon. Mix in a wondrous ability to play with the pitch of his voice and "Osbourne Flow" is two large double cups full of inventiveness, spontaneity, and tension.– TE P.
42. Mari Boy Mula Mar – "Tailor"
Milwaukee's rap scene has to put up with a lot of shit. Constantly outsiders exclaim, "This sounds like Detroit!" about their music as if they're saying something profound. Maybe they're just jealous, I know I am. Milwaukee is one of the lucky few cities blessed with a good basketball team and a thriving rap scene. Who doesn't dream of this luxury? Like any major or mid-major rap region, Milwaukee has its own ecosystem of artists, producers, and videographers. Any day you can bounce around the city's homegrown rap-based YouTube channels like TeeGlazed It or Rich Nerds Productions, and probably come across something worthwhile. Because of the sound's ties to funky basslines, fast-paced piano melodies, and punchline-based flows, I suppose you could say that the sound of Milwaukee's street rap scene does have similarities to Detroit, but rap is so much more than that. It's the local fashion, the local references, the way a city has adopted outside influences, and how a good rapper can make you visualize their hometown without ever setting foot there. It's part of what has made Milwaukee appealing, especially Mari Boy Mula Mar.
In the video for Mari Boy Mula Mar's "Tailor," the grass is the color of cardboard, the sky is an unsettling gray, and the streets are vacant. Mula Mar makes it feel like he and his crew are stomping through a city that more resembles Escape From New York than any modern metropolitan. Though outside of the video, "Tailor" should best be known as one of the year's greatest rap hooks. Here, the uptempo beat, Mar's 1017 Thug-influenced screeches, and his colorful details, all converge. It's a melting pot of style that just belongs in Milwaukee. — Alphonse Pierre
41. Money Man ft. Lil Baby – "24"
A tribute to Kobe Bryant's memory (RIP Bean) and Money Man's introduction to rap's mainstream, "24" dominates off it's mellow guitar driven production, vibey cadences, and an assist from 2020's best rapper using "Baby" as a moniker.
Money Man only name checks Kobe on the hook, but between the hypnotically warbled verses and Lil Baby's valiant attempt to steal the show, "24" is a musical effort on par with the late great's virtuosic footwork: understated, efficient and effective.
Money Man was probably overdue a moment like this, given how prolific and proficient he's been since he first popped up on the Atlanta rap scene in the middle of the last decade. By my count, he's released 18 mixtapes of mostly fantastic songs mostly centered around his obsession with… money (along with the attendant risks and spoils). At 34, Money Man wisely tends towards a more subdued approach to song making in comparison to his Atlanta peers, but the overall effect is a bit like Pete Rock's horns: you're rhythmically lulled into his world. As such, "24" is essentially a perfect representation of Money Man's aesthetic and a fitting breakout song for the veteran. — Mobb Deen
Rhys Langston – "MacArthur Genius Grant Freestyle" (Unranked POW Recordings Release)
There ain't no MFA programs for rap, even though Kendrick won the Pulitzer. If Columbia ever deigns to open one up, there would be no better choice than Rhys Langston, the word-obsessed Black Jewish MC smart enough to likely coast his way to MENSA membership. Sounds like a recipe for pretentious, obtuse rap made for Vermont art-walks, but listening to "MacArthur Grant Freestyle" — lyrical content aside — isn't any different from the type of shit you'd crack on a drive to meet up with your plug.
On this, the closing track of recent EP Grant Money Raps, the nebbish Fredrick Douglass drops a lackadaisical, melodic flow over smooth trap bounce, navigating the algorhythms and acronyms as well as the MVNTRA-produced beat. Langston represents a burgeoning generation of literary-obsessed rap scholars, and lord help your fellowships and residencies if the MacArthur Genius of Black Twitter pulls up to your block with a book. — Martin Douglas
40. Run the Jewels featuring Pharrell Williams and Zach De La Rocha – "JU$T"
Killer Mike & El-P, the prophets of righteous indignation, tend to stick to two lanes: pissed off and really fucking pissed off. The former has more punchlines, but make no mistake, the duo are here to educate and elucidate as much, if not more, than entertain. On an album full of fiery observations and proclamations, "Ju$t" stood out as one of the more incendiary audio Molotov's thrown to the masses.
Only Run the Jewels could enlist both Pharrell, the guy as well known for happily sound tracking kids' movies as he once was for traveling to the eighth and farthest planet from the sun, and Zach De La Rocha, the machine raging, officially unofficial fourth Jewel Runner himself, on a rabble rousing group chorus. And when the boys call in Zach for a verse of his own, you know shit is about to get REAL (see: "Close Your Eyes (And Count to Fuck)," etc.) Over a jaw rattling bassline, Mike and Jaime decry contemporary ills: how a country stained with the original sin of slavery continues to opress, Instagram lifestyles, and capitalistic exploitation, to the reality of having a reality TV president and the seemingly non-stop murder of Black men by indifferent cops who are never held accountable for their actions.
Nobody expects tracks on the fourth album to be as strong and passionate as its predecessors because few artists can keep up the pace that consistently. On "Ju$t," Run the Jewels proved listeners wrong by just being themselves. — Chris Daly
39. Big Mali – "4,5,6"
If you haven't seen Uncut Gems yet, just take a listen to North Carolina rapper Big Mali's "4,5,6," and you'll get the idea. Like the Safdie brothers movie, every square inch of real estate on this track is filled with unrelenting, loud, rapid fire, anxiety-inducing shit talking. Over two minutes and 30 seconds, the South Coast-music signed rapper doesn't take a single breath while marauding over a bird-killing 808 bass bounce beat. The only break is when she switches to a menacing whisper to talk about guns like a subscriber of Guns & Ammo magazine; then she jumps back in, full volume, to remind you that "we say fuck 12 cause they the pigs." By the end, you're out of breath too.– Sam Ribakoff
38. Lakeyah ft. 42 Dugg – "Big Flex Her"
Everybody wanted Giannis. And after humiliating playoff exits in back-to-back years for the Bucks, who could have blamed him for leaving?
Lakeyah — formerly Lakeyah Danaee, now just the mononym — hails from Milwaukee as well, but she's got a bass-heavy sound indebted to the Bay, and she just signed with Quality Control in Atlanta. She could have easily decamped to one of the more fashionable sister cities. The Atlanta link is even stronger than just the QC signing: Lakeyah moved there shortly after high school for art school, but she ended up dropping out after a month to focus on music.
But here she is in her major label debut video, back home in Milwaukee. Showcasing helicopter shots of the Art Museum's origami crane facade and the iconic blue-and-yellow Hoan Bridge, spitting in front of the Fiserv Forum standing on her white Corvette – a Chevy, still repping the midwest. (She did shoot part of the video in Atlanta, to be fair, but those exteriors don't lie.)
Milwaukee may be the land of shitty beer, racist closing pitchers, and Laverne and Shirley, but it's a beautiful place to be in the summer with the wind blowing cool and moist off the lake. The video for "Big FlexHer" could double as an ad from the Milwaukee tourism board. (Honestly, between the state of Michigan rap right now and rising sea levels, y'all should seriously move to the middle already.)
Eventually Giannis resigned with Milwaukee – a 5-year, $228 million extension, the biggest one in league history. Lakeyah – even though she brags that they have to pay her to come back to the city – still has love for Cream City. And she can rap – here she spits fire for 40 seconds before the drums come in. It's a testament to her command that next-big-thing 42 Dugg doesn't steal the show. And she'll only get better from here. — Jordan Ryan Pedersen
37. Jay Electronica (featuring Jay-Z) – "A.P.I.D.T.A."
Until this March, the Jay Electronica album existed only as legend for 13 years — a period of time in which the world gradually (then, rapidly) grew darker and the project's two stars Jay Elec and Jay-Z both matured to the point of feeling parental. The album's arrival was anticlimactic, but the closing track "A.P.I.D.T.A." felt timely and deeply needed. Recorded on the night Kobe died, "A.P.I.D.T.A." is what it sounds like to process the emotional burden of death and its consequences. The song openly reflects on the passing of Jay Elec's mother last September, and more broadly is a meditation on loss at a time when death uncomfortably looms over our day-to-day. A time where lines like "the day my momma died, I scrolled her texts all day long," delivered like spoken word over a solemn Khruangbin sample ("A Hymn"), feel more palpable.
Not long ago I lost someone I knew to suicide, and the day after I learned my grandfather has cancer — it is a sadly fitting culmination to a year where lost lives have been reduced to incomprehensible numbers, fame feels more like a death sentence for ascending artists, and legends who once transcended reality tragically fall to their death. Through all this you learn grief is personal in that to move forward you must process it within yourself, yet universal in that we all understand how uniquely agonizing that process can be. The beauty of "A.P.I.D.T.A." is in how honest Jay-Z and Jay Elec contemplate this: For how complex death can be, there is a bleak comfort in understanding that we're simply left with phone numbers that will never connect, texts which will never ping again, and left to scroll through what once was. — Myles Andrews-Duve
36. Cash Kidd featuring Sada Baby – "Unappreciated"
In a year dominated by Michigan punchlines and punch-ins, it's remarkable that one of the best songs out of Detroit is on this list mainly because of the songwriting. Cash Kidd is a Detroit vet who has been rapping over-your-head punchlines with a sing-songy twist since before John Kerry took over as Secretary of State. In 2020, he dropped two volumes of his No Socks series, both of which are equal parts deliriously funny and melodically bouncy.
With "Unappreciated," a cut off the first installment, Cash Kidd goes back and forth with one of Detroit's breakout stars and ambassadors Sada Baby about their love lives. Cash Kidd turns to the bottle as he comes face to face with his trust issues and potential breakup, rapping the most relatably catchy hook of the year, "Ooh I've been drinking lately, 'cuz I been fighting demons babyy" before calling bullshit on his own claims that he can find someone to replace his girl. Sada jumps in as the devil on Cash's shoulder, rapping about everything that he doesn't like about his girl — from her mouth to the way she can't park. Eventually, Cash Kidd gives in to the pressure with an outro boomeranging the words "bitch" and "bye" over keys that are as downtrodden as Detroit's funky rap beats get. Earworm as it is, "Unappreciated" is more than just a catchy one-off from one of the many amazing Detroit rap albums this year; it's an emblem to the variety of flavors offered by rap's hottest region. — Harley Geffner
35. 21 Savage & Metro Boomin – "Runnin"
It would be hard to separate the visuals for 21 Savage's single off his sophomore effort from Drake's video for "God's Plan." Like that song, it opens with the explanation of the video's concept, a stunt of sorts. Rather than heading to a Spring Break locale to tug at heartstrings with a million dollars, Savage is taking the Grammy he won for "A Lot," a collaboration with *deep breath* J. Cole, to Atlanta, to film the award on fucked up couches and as a prop for locals to pose with. In its unsentimental verite, it's more subversion than imitation. And this feels appropriate.
"Runnin" is another hypnotic, bleak collection of brags and threats punctuated with rhythmic ad-libs over a Metro Boomin loop haunted by a wisp of (this time, Diana Ross) augmented vocal snippet that made Savage a household name on the original Savage Mode. This time around, there's a little more color in Savage's monotone, a little peak and valley to a level that was once a flat line. Like the entire sequel to his debut, it's more an embellishment than an upping of the stakes. Savage asks, "Are things better or worse the second time around? Can we really do anything more than once?" He seems to land on the same answer we did. If it's not broke, etc. — Abe Beame
34. OBN Jay – "Nola"
Yeah it's cute to call your song "The Ghost of Soulja Slim," but if you're going to pay true tribute to a legend, the most honorable thing you can do is remake their song in a way that preserves the spirit of the original while making it all your own. That's what OBN Jay does on "NOLA," whose "Slow Motion" sound-a-like beat is courtesy of the criminally underrated OG Parker.
He starts out announcing that the beat "Sound like NOLA, ha" in his best imitation of Juvenile's bassy honk, before clarifying he's not from New Orleans (he's from Baton Rouge) and running through his argument for why he's a super cool guy (he smokes a bunch of weed, he still eats cereal, he used to hustle at the racetrack but now he's got so much money his thumbs hurt when he counts it, etc.).
This song reminds me of Problem and Bad Lucc's "Like Whaaat," YG and TeeFli's "Do It To Ya," or — listen, what I'm trying to say is that I am an old man. My body is breaking down, I'm finding more hair in my ears by the day and recently I found one growing directly out of the tip of my nose, and I can't walk to buy a pack of smokes without feeling like there's a brushfire in my ligaments. The only music I want to listen to anymore is old stuff that I liked when I was young and beautiful and full of possibility, or new stuff that sounds like old stuff when I was all of those things. I am glad OBN Jay exists. He is flowering before our very eyes, confident and bold as I once was, full of infinite possibility. OBN Jay, do not make the choices with your life that I have made in mine. If my ex-wife's lawyer is reading this, please, let me see my son one last time, court order be damned. I think I have found a song he might like.  – Drew Millard
33. Ka – "I Love (Mimi, Moms, Kev)"
These pages are awash in stories of tortured youth and desiccated fame. Rappers often tell their stories with Cecil B. DeMille's camera and Opus Dei's self-flagellation. Raise your hand if you've ever closed a tab because a rapper's narcissism was crashing YouTube.
Ka is a rapper who ships his CDs from his apartment when you buy them from his website. His latest album is a bible epic absent the Hollywood soundstage and Charlton Heston cri de coeur. Ka describes a grayscale New York of desperate means, where men answered claustrophobic poverty with Faustian compromises. The trite ending to this story is Tony Montana-style martyrdom or glorious against-all-odds redemption. Ka is too sober for either. He closes his newest album, Descendants of Cain, with a tribute to his wife, his mother, and his best friend.
To his wife, he ascribes his professional success and confidence as an artist. To his mother, he attributes his strength and character, not to mention a torrent of guilt for the transgressions of his youth. In the third verse, he salutes his friend Kev with whom he shares a 1998 single called "2 Roads Out The Ghetto." They performed as Nightbreed and their careers foundered until Ka found his voice a decade later. Ka describes Kev as a loyal friend and a fellow traveler, a peer who inspired and supported Ka's creative ambitions. Kev died in 2015 when he crashed his Acura into a tractor-trailer on the Van Wyck Expressway.
In Ka's desolate sphere, the only salvation is the fleeting moments of warmth we find in the arms of our loved ones. — Evan Nabavian
32. R.A.P. Ferreira – "Leaving Hell"
The artist formerly known as Milo, still currently known as the producer Scallops Hotel, now known as Rory Allen Phillip (R.A.P.) Ferreira was born to rap. Assigning the mantle of artistic maturation to new work is fraught territory, but in this case it seems clear that for his first project under his given name, Ferreira set out in search of a higher truth. On this levitating jazz from his lauded Purple Moonlight Pages, Ferreira places syllables elegantly, enjambing lines and stretching the sounds while coming to grips with the difficulty of life as an artist.
His Milo music was buoyed by mostly minimalist beatscapes and reference-heavy poetic abstractions. Here, producer Kenny Segal and his fellow residents of Jefferson Park, Aaron Carmack and Mike Parvizi, build a beautiful, slightly mournful, organic beat with a hummable horn line. While Milo's music was insular and bookish, here R.A.P. Ferreira spreads his wings, ascending above the ground and reporting on what he sees below; in gestures both grand ("being piss poor corrupted the discourse") and granular (a recollection of memorable roadside restroom graffiti.) Toward the end Ferreira stops rapping altogether, communing with the postmodern jazz trio backing him, and finds that universal truth. Art and music are the only way out of this hell of our own making. — Nate LeBlanc
31. Westside Gunn featuring Joey Badass & Tyler, the Creator- "327"
There's no denying that Buffalo professional rapper turned sometime fashion designer Westside Gunn is mainly responsible for the Griselda Records aesthetic — one that has become such a dominant force in hip-hop over the past few years. Gunn harkens back to that golden age of mid-90's East Coast rap with a myriad of cocaine, high-end designer and wrestling references. But on Pray for Paris, Westside took a trip to the French capital for the first time and found a new world of gaudy fashion and art world opulence that he didn't know of back home.
"327" best exhibits Gunn's expert level curation. He pairs Brooklyn rapper Joey Bada$$ and Wes Anderson connoisseur Tyler, The Creator for the first time since Tyler and his Odd Future cohorts clowned Joey and his Pro Era friends on MTV via a FaceTime call a decade ago. The Camo Monk-produced instrumental is what happens when the Hotel Chevalier elevator doors open and its soundtrack ventures down the hallway, seeping into Gunn's luxury suite turned makeshift studio.
Westside showcases that he's always been a student of the game, quoting Gang Starr's "DWYCK" verbatim and painting a picture of mafioso villainy with, "body parts on Cavalli dishes." Tyler playfully harmonizes, urging listeners to sing-along as he reminisces about days spent watching Kenan & Kel and listening to "Frontin'" for the first time. "It could be the toughest dudes in the room and he might rap some off the wall sh*t and tell another dude that he'll kiss him. If you know him, you respect it because that's him," Gunn said of working with Tyler.
Lost in all of this is that the song is a reference to the forgettable New Balance 327 model, a shoe that Westside premiered during Paris Fashion Week. But hey, if his lukewarm fashion forays result in a product as pristine as "327," then we can't really knock it. – Patrick Johnson
Kent Loon – "Rax" (Unranked: POW Recordings Release)
The number of contemporary rappers courting their imitators is disheartening. Young Thug has embraced clones from ATL to LA, and Rico Nasty put ppcocaine on a remix. Chester Watson and Kent Loon are not part of the herd. Watson may have risen first, but Loon is no mime or follower. Ezra Pound's "make it new" ethos is embedded in their crew name: Nu Age. Loon and Watson have a rarefied synergy, their styles complementary but never mirror images. Their voices are equally benumbed by their preferred narcotics, but Loon's delivery is more forceful and playful. Where Watson is introspective and quietly swift, Loon smirks devilishly as he calmly maneuvers in humid trenches, rapping with clarity about dirty money and designer clothes as the world disintegrates before his bloodshot eyes. His quasi-psychedelic, Florida-rooted trap music is dark and eerie, what you might hear if you ingested several psychedelics and spliced together scenes from Spring Breakers and Donnie Darko.
"Rax" is the lead single from Loon's Watson-produced EP Endless Night. It's Loon's best song yet, a distillation of his strengths backed by a Watson beat that finds the middle ground between ominous trap and vintage cartoon score. Loon is confident and unconcerned, his resonant voice never betraying anything other than cool nonchalance. Each line affirms the titular aim. He prizes ends over new friends, his Nu Age "villains" ready to ride as he stuffs soon-to-be-laundered dollars in the Goyard duffle. Bouncing between Watson's cavernous drums, Loon makes new cadences seem easy. If the pair continually push one another into new (Nu) territory, Loon might soon cash legitimate checks. — Max Bell
30. Foogiano featuring Pooh Shiesty & Big Scarr – "SoIceyBoyz"
Long before Gucci Mane and Jeezy were beefing, and even further removed from when the two cashed in this feud for album promo via a Verzuz battle, the two Atlanta staples linked up on Gucci's 2005 hit "So Icy," a brilliant encapsulation and foreshadowing of how these two would proceed to dominate Southern rap (and, by extension, rap in general) over the next half decade. With Zaytoven on the beat, the duo essentially predicted where trap music would head in the coming years, and earlier this year, Gucci revived the Ice for a compilation album showcasing his label, The New 1017. Amongst So Icy Summer's 24 tracks, Foogiano, Pooh Shiesty, and Big Scarr stand out on "SoIceyBoyz," a posse cut indebted to Gucci's style but willing to push his vision to exciting new territories.
The track is credited to Big Scarr, but it's really a showcase of 1017 artists and how they further the slick trap Gucci pioneered over a decade ago. Scarr handles the chorus, playing narrator as he recounts being so poor that he and Sheisty used to wash their shoes with rags. Beneath the pummeling bass, a subtle acoustic guitar line infuses the song with a sturdy melody, allowing Scar, Foogiano, and Shiesty to bounce off one another, trading lines about their new roles as Gucci proteges and feeling disconnected from the lives they used to lead. Scarr and Shiesty are from the same hood in Memphis, and alongside Foogiano, who's from Greensboro, Georgia, the trio envision a new iteration of trap that blends the muddy nihilism of Memphis rap with the flossy trapping of Atlanta's biggest stars. Together, they both align with Gucci's vision and more forward with it. It's the next generation of rap stars, forging their sound in live time. — Will Schube
29. Open Mike Eagle – "Death Parade"
The craziest thing about Open Mike Eagle is the way he's able to isolate individual events and interrogate the history, systems, and institutions which begat them. Why do couples get divorced? Why are people so mean? Why did Americans put the dumbest, pettiest robber baron of the last half-century in the White House? OME has an idea, and in sixteen-bar increments he's generally able to attribute causes to their effects. The claims staked by fate and free will were abundant on 2017's Brick Body Kids Still Daydream, and they're a bit subtler on this year's Anime, Trauma, and Divorce. Regardless, he's still trying to determine if his subjects are actually helpless or just unhappy. On "Death Parade," the causes and effects are stark and sweeping; the phenomenon of people mistreating other people is inescapable and overwhelming. Eagle's anxiety gradually gives way to resignation that he can't escape the history of human violence. Yet as the album's opener, the song poses a broader question for Eagle to explore: How much of helplessness is learned, and how much is an excuse? — Pete Tosiello
28. Shootergang Kony – "Jungle"
While ShooterGang Kony is from the same Sacramento neighborhood as Mozzy, and his music unfurls in a similar series of vignettes and coded references, there is something wholly different about his songwriting approach. He's not one for stoicism and the darker moments are balanced with hilarious asides. The deadpan delivery on something like "when you walk into the building, they play clown music" is easy to miss the first time around. That's one of the many reasons "Jungle" merits so many listens.
Another is the L-Finguz beat, which functions as a refraction of the more pop radio-friendly California Sound. The bass line feels familiar but there's a certain unease baked into the production. It will always live on in my memory as one of the last bangers before America significantly hastened its inevitable descent. One of the last songs I was excitedly playing for friends as we hung out together indoors.
The Titanic and Dora The Explorer references are merely icing on the cake.. — Harold Bingo
27. Rico Nasty – "OHFR?"
Rico Nasty's next move is impossible to predict. Her early mixtapes, Sugar Trap and Sugar Trap 2, were named after the rap subgenre that she coined – a sound consisting of ethereal, Sanrio-type-beats and syrupy melodies about not wanting to deal with your shit. Her latest projects, Nasty and Anger Management harnessed her abrasive streak, fueled by punk fits of rage and belligerent microphone screams. Working with Kenny Beats' popping hi-hats and squealing basslines, Rico transitioned from soft and dreamy to metallic and destructive, making her a rockstar amongst poppier peers.
"OHFR?" is Rico Nasty proving that she doesn't give a fuck, and if you push her hard enough, she might just start a riot. She's constantly being spoken down to by her contemporaries for being too vulgar and for being too "weird;" for signing a deal with Atlantic to release her debut album, Nightmare Vacation; and for, once again, wanting to "Smack A Bitch." Rico Nasty's a trend setter. When you walk through a college town and notice students with colored hair & septum piercings & oversized t-shirts & tooth gems & strikingly intricate makeup walk past you, you're witnessing the impact of Tacobella. She's unapologetically herself and it empowers her listeners. You see this in the "OHFR?" music video – from her grill made to look like braces, to her metallic, mad scientist goggles, to her iconic, spiked-up hair.
After testing the waters in the land of PC Music and hyperpop with her remix of 100 Gec's "Ringtone" and her other Dylan Brady-produced single, "iPhone," Rico's back in her trap-metal element. If you have any complaints, her response is already in the title and the hook — Yousef Srour
26. The Lox featuring DMX – "Bout Shit"
Watching The Lox and DMX rap together in 2020 feels surreal. Forget the last quarter century of chaos: The Lox leaving Bad Boy for Ruff Ryders, DMX's rise and fall, the nearly 16-year hiatus between albums from the Yonkers trio. If you took a trip to the "Money, Power and Respect" video shoot and played your future self "Bout Shit," you'd be hard pressed to guess that it was released over two decades later.
In the video for "Bout Shit," the reunited crew push past avenues of brownstones. Sunbeams poke through chain link fences, incense and nicotine burn, solo cups are stuffed with ice; and water rushes from the fire hydrant. Growing up, DMX used to wander the streets of Yonkers to avoid beatings at home, which led him to find comfort in befriending stray dogs. No stranger to shit talking, X spazzes on the younger generation of MCs. Like Tyson stepping back into the ring, DMX hasn't lost any ferocity. After all, this is the guy who played Buns in Belly, and gave us "Who We Be."
"Bout Shit" feels like a full circle reunion; two veteran forces in the game linking up for a trek around the neighborhood. Grown folks hanging in the park as 4-wheelers spin donuts on the sticky summer asphalt. This is a lesson on longevity. Over their expansive career, The Lox never released corny music or turned soft with age. Despite the many challenges of keeping a group of three together, and a nearly-two decade break from collective jigginess, on "Bout Shit," both The Lox and DMX sound as hungry as ever. — Evan Gabriel
25. Roc Marciano – "Downtown 81"
As a rapper who has inspired an entire generation of spitters, Roc Marciano doesn't need a pitch for you to buy his product. Take his latest effort, Mt. Marci — which sold very well as a $30 digital album before it was released to digital streaming providers — where he pushes his sound to new territories (and new extremes) while taking his manipulation of the English language to another level. But as the cliché about things not being broken goes, "Downtown 81" is exactly the type of Roc Marci joint that other rappers have been using as a template for their own work for the past decade.
Over a lush Blaxploitation film soundtrack type beat from Seattle journeyman producer Jake One that fits very nicely in the Roc Marciano Cinematic Universe (alongside bangers from the Alchemist, DJ Muggs, and Marci himself), the Hempstead-bred MC peppers his typically brilliant verse with patois and his trademark hysterically dry sense of humor. Here, he's waving hello to a hater like it's still 2009 and favorably comparing the backside of his Rolls Royce sedan to whomever Drake is currently fucking. (Let's hope she is appropriately older than barely legal.) "Downtown 81" represents Roc Marciano elevating to a new plane of artistic achievement. Like Jean-Michel Basquiat wandering around the Upper East Side, like Kobe Bryant putting Jalen Rose on the wrong side of history. — Martin Douglas
24. BlueBucksClan – "Walkin In"
From my particular vantage point of the rap universe, BlueBucksClan's take on nervous music – the wiry, jittery, ever so slightly offbeat L.A. street music of the moment – may as well be an alien transmission. Despite clear antecedents in Drakeo's flow and Shoreline Mafia's energy, as well as a fruitful artistic exchange with an entire cohort of artists in Detroit, I don't think Jeeezy and DJ's rhymes will ever sound quite right to me: too blunt force, too many words to the beat, too conversational. When I hear "Walkin' In," I hear the specter of my dad complaining that rap music is just talking. Except it's also the flyest talk ever, and that feeling of unease is the perfect artistic refracting of a moment that had us unsure if that stranger walking by us just signed our viral death warrant.
Yet "Walkin' In" is celebratory, it's quite literally about pulling up, stepping into the function and being ready to ball, with all eyes on you. It's that contrast, the stylistic twitches colliding with the boastful content, that makes the song so captivating. Even as a pedestrian– and this song really does need to be bumped loud in the whip – the tension of a night in LA permeates every second. Listen to it on a hot night, and you're Howard from Uncut Gems, simultaneously about to hit the biggest lick of your life and descend into the depths of hell at the same damn time. — Son Raw
23. Babyface Ray, Icewear Vezzo, GT & Veeze – "Meg The Stallion"
"Meg Thee Stallion" gives off the same energy as a group of dudes showing up to a basketball court on the eastside of Detroit and dominating a pickup run for a few hours. Babyface Ray, Icewear Vezzo, and GT all get going early, setting the next man up, until Veeze calls iso and immediately threatens to have you whacked for a few thousand.
After dropping his debut project Wavy Navy in late 2019, Veeze was relatively quiet for the better part of the year compared to the insane output of some of his Michigan rap peers. He had a habit of picking his spots and dropping direct-to-YouTube loosies when he felt like it. Rapping over the Law & Order theme song was enough to cement him near the top of my personal "MVP" list for 2020 (see #91,"Law & Order"). The verse on "Meg Thee Stallion" is Veeze at his best — firing off disrespectful punchlines with a cold disinterest, like "don't look for the shit I'm rocking, it's hard to find just like Bin Laden."
Veeze may be the star here, but the supporting cast don't disappoint and as many times as I've played this song over in the car (ask Spotify Wrapped) I never skipped through to the last verse. Icewear arguably makes the best use of the Roccaine beat's trunk rattling bassline, laying down bars that sound like the rap version of a putback dunk. The GT verse grew on me for the masterclass in old head shit talking it is. — Daniel White
22. Megan Thee Stallion featuring Beyoncé – "Savage (Remix)"
Megan Thee Stallion achieved the kind of cultural ubiquity only matched in 2020 by Joes Biden and Exotic. "Savage" was the stepping out of rising superstar—Snoop's "Who Am I? (What's My Name?)" for the TikTok generation. Megan wasn't reinventing the wheel here by dubbing herself the "hood Mona Lisa" or boasting about her whip, but when she flosses that ultra-confident swagger into a warning to women to stay away from gaslighting men, it feels like a powerful flex.
As for J. White Did It's beat, bangers don't come much more high-art or high-end. No wonder those spotless piano keys—a kind of slowed down deep house riff that would appease Crystal Waters—caught the ear of the rapping Beyoncé we heard on the expensive pop of Everything Is Love. Bey jumped on the remix and duly put money in the pockets of OnlyFans creators.
We now know that the success of the all-conquering "WAP," with Cardi B, forced Megan to push back against attacks on her sex-positive message. In the lead up to an election that saw Black women put the team on their backs, the Houstonian penned a piece on America's assault on Black women's humanity that included details on the gunshot wounds she suffered in July, allegedly at the hands of Tory Lanez, for the New York Times. These were significant cultural contributions. Here's the thing, Megan didn't just appeal to chart music consumers and media drivers, but to all varieties of rap fan as well. She was free to let her existence become mainstream discourse, safe in the knowledge she had the charisma, hooks, mic skills, and firestorm singles like "Savage" to stand tall in the conversation. — Dean Van Nguyen
21. Pink Siifu & Fly Anakin – "Richard Pryor"
One of them comes from Richmond, Virginia, where he rolls with the Mutant Academy crew. The other has roots in Cincinnati, but is mostly known from his involvement in LA's rap scene. One raps like he's trying to keep the smoke from leaving his lungs, a swift flow bursting out in a single breath that's perpetually on the brink of running out. The other sounds like he's already enjoyed the exhale, mellowing out while sharing his thoughts. Fly Anakin's voice is a yelp, adding texture to the beat. Pink Siifu's is a thick warmth melting into it.
Fly Anakin and Pink Siifu reference the legendary standup show by the song's namesake, which is sampled in the song's outro. It was a set in which the immensely popular but tortured Pryor opened up about lighting himself on fire while freebasing. The laughs were born from pain, each one pointed towards publicly exorcising his demons. That's not what Flysiifu is explicitly doing here, but like Pryor's, their work is rooted in honesty. Over a jazzy vocal ad-lib looped up by beat creator Playa Haze, they shoot the proverbial shit about all that matters and nothing particular. It's a temporary relief from society's craziness, found by two blunted record store clerks between the dusted crates at Flysiifu's Records and Tapes.
Why would you want to be anywhere else in the world? — Jaap van der Doelen
Archibald Slim featuring Father – "Till I Wake Up" (Unranked: POW Recordings Release)
After several years without a consistent release schedule, Archibald Slim returned from the ether with the pensive and brutal "Until I Wake Up". In his own words, Archibald "lost his mind "for a little bit" in the time between his Awful Records departure and his 2018 arrival in Los Angeles. "Until I Wake Up" is Archibald's shimmery take on those years and an exciting taste of his evolution. It doesn't fall victim to the preachy tendencies of "rap reflections"—you wouldn't realize its weight if he didn't say so—and showcases his almost instinctual lyrical technique. He gets an assist from Father, who spits a typically fun and esoteric verse, reminding us how well the two work together. I don't care who's spinning the world, as long as it sounds like this. — Miguel Garcia
20. Preservation featuring Mach-Hommy – "I-78/Capillaries"
After a long admirable career, DJ Preservation hit the 2020 sweepstakes with some of the best rappers alive. Known for his work with Yasiin Bey (and as ½ of Dr. Yen Lo with Brownsville Ka), the producer's Eastern Medicine, Western Illness is constructed entirely of obscure samples sourced from Hong Kong record shops where Preservation once lived and frequented, vividly conjuring the mood of shadowy Chinatowns with caged storefronts and foggy alleyways.
The minimalist approach is at times contemplative, perfect for Roc Marci's breathy quips ("Medicine Drawer") or billy woods' blistering realisms ("Lemon Rinds"). Preservation is masterful at allowing his guests breathing room, true collabs where both artists retain the edge that got them there. Movie dialogue samples and appearances by A.G., Navy Blue, and the Ka round out the rest.
But this is what Mach Hommy's crimping delivery was made for. On "I-78/Capillaries" he juts in-and-out of a glowing beat, connecting Superwoman, Donald Trump, Fred Hampton, and Thelonious Monk in one fell swoop. He's the cunning, quiet guy in class; face covered and enigmatic, despite his voice being one of the era's most coveted and recognizable. At times he peppers his rhymes with Creole. At others, he conveys sharp ideas within broad strokes. Rolling Chinese melodies cut through "I-78" along with random street noise, lending an almost field recording nuance to it. After cascading visuals about mascara, uzis, turnpikes, and princesses, Mach proclaims: "It's basic." — David Ma
19. Playboi Carti – "@ MEH"
In 2020, Instagram Live snippets and relentless zoomer handiwork on leakth.is threads has finished the job that SoundCloud, YouTube, and DatPiff once started. Celebrity may be ephemeral but music superstardom is a 24/7 occupation, and "view all albums" buttons are proving to be increasingly futile constructs to capture the totality of a musical artist's output in 2020. If you're Rylo Rodriguez, perhaps that drip-feed of leaks earns you a pleasantly forgiving fanbase — and in Playboi Carti's case, it gets you all the way to billboards and odd mutterings soundtracking Givenchy commercials.
In music, myths usually dissipate as quickly as their legends are constructed, and even years of goodwill prove fickle when the shroud falls away (just ask Frank Ocean). But for Carti, it's becoming increasingly believable that maybe there's no curtain of Oz to be pulled away, no disappointingly mortal visage hiding behind the cape. For now, the possibility remains that his impossible image — the abstraction, the mystery, the weak grasp on capitalization rules — is him, and whether this is collective delusion or collective religion, Carti is a reliable druid.
The long-promised sophomore album, Whole Lotta Red, is the metaphysical pinnacle of this half-decade-long jig: the SoundCloud Commandments, etched in binary into remarkably easily hacked USB drives. "@ MEH", unceremoniously dropped into the ether back in April as the long-promised return, is surreal — its existence may even pose a fairly robust existential question (can this be a lead single if the album is an imaginary construct?). Carti's music has always been an exercise in paint splatters, more Rorscach than Manet — but rather than delving deeper into the head-banging, brain-tenderizing distortion that ruled DIE LIT, "@ MEH" somehow digs up warmth. It's digitized touch taps, an 8-bit lullaby that conjures familiarity through repetition without settling for hypnotism. Dating back to the red SoundCloud cover era, unfamiliarity was always Carti's primary medium: but here, his plain voice (the most raw it's been presented formally on record in years) becomes his currency. Whole Lotta Red is finally here, but "@ MEH" will always remain the most visceral reminder of Carti's self-imposed exile and his watchful gaze. — Sun-Ui Yum
18. King Von – "Took Her to the O"
"Just got some top from a stripper bitch, she from Kankakee" is easily the opening line of the year. King Von starts his O Block odyssey in media res and hits the one harder than anyone since James Brown. Von's narrator is trying to bring a woman home to Parkway Gardens with the promise of weed and sex but runs into a rival while she's inside picking up her purse. Von's narrator doesn't want any trouble, but when the rival throws a brick at his car, Von shoots him twice and peels off, with the woman in tow against his better judgment. Like the best crime stories, the violence feels inevitable, both cause and effect. The closest thing to a twist is that she's unfazed by the violence too, since the victim is from the wrong block.
Von wrote "Took Her To The O" a capella while incarcerated, inspired by the crime novels he relied on for entertainment, turning to frequent producer ChopsquadDJ to outfit his verses in a pummeling piano beat after his release. While his peers like Lil Durk and Polo G have combined drill rhythms with Auto-Tuned stream of consciousness vocals, Von's voice is unadorned as he tells his story with relentless forward momentum like a shark.
When I interviewed Von this October, he made it clear that he saw rapping as a process to be perfected, rather than an art form to experiment with. "It's practice," he said. "If you're doing something and keep doing it, you're gonna get better results." The practice was obviously paying off on his storytelling songs, growing more vivid from his 2018 breakout "Crazy Story" to "Took Her To The O" through "Wayne's Story," the last track on his last album Welcome To O Block. Von's life ended in tragedy this fall, but his stories are already spreading across generations. — Jack Riedy
17. Conway the Machine featuring DeJ Loaf – "Fear of God"
Between premium-vinyl prospectors, Virgil-worshipping hypebeasts, true-school crusaders, and Shady Records moneymen, Conway had a lot of people to please in 2020. Opposite the Alchemist-produced LULU EP and the Big Ghost-helmed No One Mourns the Wicked, September's From King to a GOD was the big-tent record, as evidenced by the crowd-pleaser "Fear of God." Hit-Boy's cavernous drums and sinister synths create pockets for Conway's blunt delivery and DeJ Loaf's mesmeric trills. If they're an unlikely match on paper, the two vocalists share a precise viewpoint: their celebrations are tinged with grief, as if pleading a case or begging for absolution. This fundamental wariness—of pinnacles and their long comedowns—surfaces even in quick asides, Conway's familiar entreaty of "Look what I became" as much a boast as a lament. Every year about this time we look back and wonder how Griselda could possibly go bigger and better, but visceral collaborations like this hint at what Conway might still become. — Pete Tosiello
16. BbyMutha – "11:11"
As BbyMutha, Brittnee Moore takes southern rap idioms and dips them in stardust. It's a curious kind of alchemy: take-no-prisoners shit-talk, psychedelic and spaced-out beats, and studiously stutter-stepping flows combine to make something both deeply familiar and wholly alien. (It's no surprise she names Gucci Mane as a key influence.) This combination's power was clear as early as 2017's "Rules," which fused blackened humor, hard-earned advice, and spaceborne keyboards to winning effect. The woozy instrumentation made her bleakest lines hit harder by contrast alone; her straight-ahead delivery kept it from drifting too far into unmoored psychedelia.
Released a week prior to Muthaland—her debut, and supposedly final, album—"11:11" takes the uneasy foundation of "Rules" and uproots it further. She moves between conversational and confrontational flows with disarming ease; the beat, all high-end keyboard shimmers and skittering hi-hats, seems to move in both slow motion and double time. Her flexes, hard-headed as they may be, convey a kind of dream logic: anonymous men give way to the blood of Jesus, which turns to rosé, which turns to MDMA. From the start, "11:11" sounds like it's on the verge of disappearing. One pause too many or tumble too far and it could all vanish into space.
For a moment, it does. Halfway into the track, Moore's younger brother calls from jail. He gives her a shout-out, asking her to repeat her rap name and promising his return; both siblings palpably grin. Near the end, she breaks into barely stifled laughter. Together, they give the bad trip the kind of joy that BbyMutha—ever the unreliable narrator—only gestures towards. Soon after, though, she's straight back to it: she returns to her incantations, the haze deepens, and the walls melt away. Inasmuch as it can, "11:11" distills her approach into a relatively tidy two-minute package: joy, pain, and delirium blurred together into an otherworldly fog. — Michael McKinney
15. 03 Greedo featuring Chief Keef – "Bands in da Basement"
On paper, an 03 Greedo x Chief Keef song shouldn't work. The Chicago's Glo Gang member and the Wolf of Grape Street have a way of warping a track's gravity and eclipsing any featured rappers. Instead, on "Bands in Da Basement", they find a way to exist in the space between similar magnetic charges. One of the highlights from 03 Greedo's late summer collaboration with Ron-RonTheProducer, Load It Up Vol. 1, "Bands in Da Basement" has a lingering sadness like many tracks recorded just before Greedo's 2018 incarceration. He's reciting the hook like a calming prayer, talking about the money stashed in the house as if it's already out of his reach. The Watts' rapper compares earlier, violent parts of his life to a present where popping is very much a good thing. I would shout out whoever thought to pull the drums for Chief Keef's verse but it was probably Keef himself. It's the kind of Keef verse that inverts the musicality of the track for a quick moment before throwing us back to Greedo's interpretation of the melody. Looking forward to better days when Keef and Greedo can be in front of a camera lens together. – Miguel Garcia
14. Moneybagg Yo ft. City Girls & DaBaby – "Sad Sum (Remix)"
Every day since it came out in June, the faux confusion of Moneybagg Yo's hook provided a repetitive sense of comfort as it rattled through your speakers, a consistent form of clarity in a confusing time.
Huh? What?
Time Served propelled Moneybagg Yo from an up-and-coming Memphis rapper into a national star. His drawl and beat selection will forever bind him to the place in which he was raised, but in 2020 he moved into the city-agnostic land of national charts and radio.
He resurfaced half-a-year later with "Said Sum," a song for the summer catchier than Time Served's tracklist combined. The YouTube comment section on the remixes video would understandably suggest that people are only there to hear JT's blazing opening verse about luxury sports cars and Ray J nostalgia, but then DaBaby comes in, wearing a Huge Hefner robe and rapping in that same cadence he always uses. The one that somehow hasn't gotten old yet. Yung Miami follows bragging about jewelry like she was rap's Cleopatra. Then Moneybagg Yo comes in with a goofy, endearing and deceptively lyrical barrage reminiscent of Tru Religion 2 Chainz, but for the Amiri jeans era. After the second run-through of his infectious hook, chopped up so perfectly in a stuttering cadence, it's over. Four rappers with distinct styles demolish TurnmeupYC's beat. Period. — Will Hagle
13. GlockBoyz TeeJaee & OnFully' ft. the Godfather & BandGang Lonnie Bands – "Wack Jumper"
The best Detroit rap sounds like a casual conversation. Rapper build on each other's bars and addict listeners with their punchlines, lingo, and smooth baton passes that would barely register if not for the quick hesitations. If it's hard to discern where one verse stops and the next starts; that's by design, as the mind meld between the rappers is the point. There have been hundreds of memorable crew cyphers coming out of the city this year, but "Wack Jumper," with a cast of Glockboyz Teejae, OnFully, The Godfather, and Bandgang Lonnie Bands sits in the top echelon. A true Detroit spiritual, it kicks off with a biblical reference to Caine's betrayal and includes the necessary beat stoppage for the whole crew to yell a line.
"Wack Jumper" is an anthem for the broken jump shots and poorly-trained marksmen of the city. It's probably the song that's been most remixed by rappers you've never heard of this year. And it's a testament to the strength of the smooth Italian mafia-ass violin-laden beat by Michigan super-producer ENRGY that every damn one of them sounds good. — Harley Geffner
12. Freddie Gibbs & the Alchemist – "1985"
In the first episode of 2020's tentpole cultural event The Last Dance, Michael Jordan is asked about the Chicago Bulls' locker room culture during his sensational rookie season. The interviewer refers to an article calling the team "the Chicago Bulls' Traveling Cocaine Circus," and Jordan lets out a hearty laugh. He said he'd never heard the specific term but still contained a deep understanding of the environment it hinted at. The moment was a gram of 80's excess and drug culture rife for a quick rap reference.
Lo and behold, Freddie Gibbs — part of a very short argument regarding the best rapper alive today — uses it at the thesis statement for the opening track of yet another classic album.
Over the Alchemist's climactic, lighters-in-the-air arena-rock moment, Gibbs takes the opportunity to rap his ass off (as expected), to assert his dominance as the elite of the rap game, to rain fire on motherfuckers like Jordan at the '85 NBA Slam Dunk Contest. He facilitates a flow truly artful in its metronomic precision to compare phony gangstas to Joe Exotic (after all, Tiger King was basically The Last Dance for people who don't care about sports). He stops just short of banishing the Maserati brand to Range Rover 4.0 territory. And as always, he paints a portrait of street life so vivid, he should be compared to Donald Goines rather than other rappers.
Not to say Gibbs has transcended being a rapper, it's just that he's been so good for so long the only competition he's in league with is his own greatness, much like Michael Jordan in the 10-part docuseries. Through the various eras of writers for this website, one thing which has remained constant over the past decade is having many people in our ranks who claim Gibbs as the best rapper of his generation. — Martin Douglas
11. YN Jay & Louie Ray – "Coochie"
It was inevitable that Detroit street rap would break into the mainstream. There's an abundance of talented rappers from the Motor City — Sada Baby, Payroll Giovanni, 42 Dugg, Babyface Ray — who've gotten people to pay more attention to what's going on in the 313. But in 2020, their neighbors in Flint forced their way into the spotlight too, largely thanks to the efforts of Rio Da Yung OG, RMC Mike, and YN Jay. Flint rappers are habitual line-steppers. Nothing is off-limits to them. In one punchline they'll have you laughing your ass off and in the very next, they'll be shaking you down for re-up money.
There isn't a person from the Great Lakes State hornier than YN Jay, better known as the Coochie Man. Jay capitalized on Flint's moment like no other with "Coochie," where he and Louie Ray, his partner-in-doonie-beating, go back and forth about how they like to get down. The pounding bassline, courtesy of ENRGY, knocks the dust straight from your speakers. "She said I fuck her good, I make the coochie smile," YN Jay raps while humping the air. A few lines later, peeking from behind a tree: "I'm out here looking for the cat, I'm a coochie scout."
But in all of their madcap comedy, no funnier moment comes than when Louie Ray pauses mid-verse to clap into the microphone, mimicking backshots, before casually saying "damn her coochie loud." When you hear it, you can't help but bust out laughing and immediately replay it, because there's no way in hell that someone actually said that on a beat. In a bleak year, YN Jay and Louie Ray's out-of-pocket, raunchy jokes kept folks laughing all throughout. — Brandon Callender
Chester Watson – "Life Wrote Itself" (Unranked POW Recordings Release)
Over a mid-tempo beat populated by a few koto notes and what sounds like a muted synth choir, Watson melds shamans, prisms, and Nipsey shoutouts, while operating "on some samurai stealth shit", letting life happen to him as a witness, stoic and observant. What he's leaving out is that life — in order to be processed into a piece of art as potent as his 2020 offering A Japanese Horror Movie — needs a ton of discipline and courage to jot down and dissect what is thrown at you for its universal qualities. Mind you, this is rough labor. (And that has never been more evident than this past year, which degraded us all to ever-anxious bystanders accumulating self-hate for being unproductive during times of greatest distress.)
Watson's talent has been evident for a long time, but A Japanese Horror Movie found him discovering a sonic throughline and imagery that took his wordy rapping from mere multi-stacking practice to a dense narrative universe. His biggest trick might be somehow squeezing new life out of a beaten rap trope like combining faux-Far Eastern sounds with lyrical Samurai antics. He extends the galaxy with themes of astral projections, cryptic balling, and imaginative skits that actually do create a mystic atmosphere. Considering "Life Wrote Itself" a single, or standout track might seem off at first. It's not a banger, but a mellow grower, and a sophomore mission statement that impeccably sets the stage for the record to slide into all kinds of intense scenarios – a final warning sign at the rabbit hole's entrance. — Julian Brimmers
10. Hook – "Answer"
Hook sounds as influenced by L.A.'s Drakeo the Ruler and the Bay's SOB x RBE as Back From the Dead 2 and any rapper who has ever rapped on a Plug! beat (OK, maybe not D Savage). These influences are so widespread because she is of the internet, even though her hometown is Riverside, California. Growing up outside of a major city has both its positives and negatives. For Hook, she had to pack up and move to have access to L.A.'s resources, but also the distance has made her music have a different bounce Some of it has no problem fitting within a DJ set at a house party down in Compton or up north in Vallejo. The Nedarb-produced Crashed My Car will make you want to take a Louisville Slugger to the windshield of that nosy neighbor you hate. These songs are filled with rage, but this year Hook's best music came when she was a bit more reserved.
The most West Coast thing about Hook's "Answer" is her delivery. Even when she tries a sweet-sounding sing-rap flow, she sounds like she has flem stuck in her throat (this is the same Hook who once, pre-COVID-19, spit in a fan's mouth). But this is essential to what makes "Answer" so special. There's a dreamy Mexikodro beat that'll make you reminisce about Carti's SoundCloud page, and Hook goes on and on about a stressful relationship with the bad emotional judgement of Lil Durk, but that slight scratchiness in her voice keeps the song's heart in Cali. — Alphonse Pierre
9. Boldy James featuring Vince Staples "Surf & Turf"
The legions of young street rappers from Detroit and Los Angeles don't want to know their futures when their odds are this grim, but if they did, they'd listen to Boldy and Vince's "Surf & Turf." A funhouse mirror take on the jittery, run on sentence rap dominating rap's current Midwestern and Left-Coastal capitals, "Surf & Turf" is an older, wiser, bleary eyed take on the drug game and it's pitfalls, courtesy of two veterans who've made it out, if only just barely.
Alchemist provides the foundation, making a mockery of any drumless rap accusations with a shuffling, delay-soaked percussion loop and a haunting melody to score this, 3 a.m. trip down a lost highway with birds in the trunk. Not quite psychedelic, not quite pitch black, this is that nocturnal knock that gets played when the drugs stop working and the cases start piling up. Then there's Boldy James, the year's breakout star in the 30 and over league, whose breathless flow manages the difficult task of conveying exhaustion without letting up on the gas for one second. The easy comparison here is to the late Prodigy, but Mobb Deep were vicious and almost gleeful in their malice, having made their names just as they entered adulthood. Here, a worn down veteran sounds haunted, delirious and mournful as he leaves his son behind for yet another long night.
Finally, Vince Staples has the unenviable task of cleaning up, yet somehow manages to steal the show, taking Boldy's flow for a joyride in his Tesla only to commit an autopilot drive by, nearly confess to a few shootings, and threaten to leave you under the white sheet in the most gruesome way possible. For an emcee who spent the past few years adjusting to rap careerism, it's a menacing, snarling comeback, and one that bodes well for his next project, should he keep it this dirty and this street level. – Son Raw
8. Bris – "First 42 Hours Freestyle (Back In Action)"
Between 9/11 and the more recent invasion of Iraq, Jay-Z's raps got a lot less muscular. After The Blueprint, he started lapsing into little bits of whisper: he would talk about faceless coke runners getting "tied up for product" with a lightness that attempted to signal distance, introspection, growth. It was as if he really did internalize "the theme song to The Sopranos" and all that show's attendant am I a good man? handwringing. Jay's turn to this approach––widely understood to have been cribbed from Young Chris of the Young Gunz––coincided with his grasping at a sort of prestige rap, marked by finesse and sophistication and smart brand management. What Bris, the South Sacramento rapper whose verses are delivered in gruff but hushed tones, supposed was: what if that sort of whispered restraint could be wielded instead as an extended threat, a pose of controlled menace?
Recorded shortly after Bris's release from jail––and just weeks before he would be tragically murdered at the age of 24––"First 42 Hours (Back In Action)" is a superb entry in the first-day-out canon, in large part because its measured tone casts it not as a celebration, but the suggestion of a coming storm. Like the rest of his signature songs, "42 Hours" takes the similarly muted, so-called nervous music that Drakeo et al. have popularized in L.A. and reorients the writing just enough to make it more legible for pop purposes, while sacrificing little in terms of tone or regional specificity. In other words, Bris's project was one of exporting his neighborhood's style to the world rather than auditioning for more market-tested roles. "They in love with the fit," he raps just a few bars into the song. "This not Rocawear." – Paul Thompson
7. Rio Da Yung OG featuring Louie Ray – "Movie"
I don't know how many times I've heard rappers describe music as a "movie." On paper, the description never really meant anything. Imagine if we watched our favorite films and then said, "This shit is an ALBUM."
But it's different, right? Somehow, we know what they're talking about. It's the thing you say when nothing else could describe a beat's immersiveness, when the sound waves flying out of the speakers turn to architecture in your mind. It's music that's also a screenplay with set design and cinematography, that deserves a red carpet and a premiere. It's the word Rio Da Yung OG landed on seven seconds into hearing Pablo616's sample that sounds ripped from a Mission Impossible chase scene. "Let's do it like that, then, Ray, we gon' make a movie."
Those opening notes became the aptly-titled "Movie," one of the most absurd and vivid Michigan rap songs of the year — maybe ever. It starts and ends with the seismic drums that flesh out so many Flint tracks, less markers of rhythm than bludgeoning blows, Godzilla's heartbeat layered with steel drums. The verses, too, feel like volleys of percussion, maybe because when Rio and his brother Louie Ray rap, they sugarcoat nothing.
These bars are unimaginably reckless. Some rappers write like they're filling pages of the Art Of War, while others, like Rio and Ray, prefer to dish out moral philosophy. Aristotle may have laid the groundwork but he never had to give his FN tips a pedicure. Rio would rather pay off his girl's student loans than buy her a Birkin bag. Ray offers to cut his arms off before he balls to "make it fair." Listen for yourself to their unspeakable (and unquotable) thoughts on women cheating, pregnant women, women in general.
Of course, neither of them endorse any of this shit. It's all in good fun. Rio and Ray and YN Jay and the rest of these floor-humping shit-talkers out of Flint are simply making what they enjoy out of whatever comes to mind. They don't care about song structure, they definitely don't give a fuck about hooks. They just sit around and come up with the wildest shit they possibly can. It's music that was likely even more fun to make than it is to listen to, born out of 12-hour studio sessions, a twisted alchemy of weed, lean and liquor, and the authentic bonds between a bunch of friends trying to make each other do double takes. Those nights have led to the biggest looks they've had this year, including a steady collaborative streak with Lil Yachty. But it's clear that the movie about this crop of Flint rappers is still in its opening credits. — Mano Sundaresan
6. Drakeo the Ruler – "Fights Don't Matter"
Rap has always moved at a different rate. Dominant styles change with a single song. Relevance is tied to talent as much as it is visibility, maybe more. In other words, a prison sentence of any length is potentially career-ending. Forget the time it takes to recover from gross racial injustice, from being treated as subhuman for months or years, from every horror witnessed inside. For every person waiting on your return, countless more have moved on to the next rapper. Drakeo the Ruler knows these realities too well.
Fortunately, Drakeo was so far ahead of his time that L.A. rap is still catching up. In December of 2017, he dropped Cold Devil, a record that announced the arrival of a singular stylist and defined the sound of contemporary L.A. rap. Backed by ominous yet thumping beats he called "nervous music," Drakeo delivered E-40-level slang while narrating tales of flocking houses and dropping the spoils on designer clothing. Then, he was arrested for an alleged connection to a 2016 shooting. Drakeo was found not guilty of murder and attempted murder. Still, he sat in L.A.'s Men's Central Jail awaiting what amounted to a double jeopardy murder trial that could've resulted in a life sentence. 34 months total, including a year wherein a once-in-a-century pandemic ravaged prisons everywhere. Meanwhile, a proliferation of Drakeo clones had risen, capitalizing off of his slanted and nonchalant delivery, adopting the slang but never originating any. Before he got out, Drakeo wrote and recorded Thank You for Using GTL, arguably the greatest rap album ever made via prison phone. It was an attempt to cope with the stress and reclaim his deserved relevance. It worked.
"Fights Don't Matter" was the first song Drakeo recorded when he was released on November 4th, the first song from the brilliant We Know the Truth. The single and the album are more Mac Dre circa Stupid Doo Doo Dumb than Pac recording "California Love" fresh from Clinton Correctional. Drakeo is recovering from the last three years, but he's also trying to turn up while reminding the city what they've missed. The menace is undercut by a wisened and weary perspective. Produced by Thank You Fizzle and Al B Smoov, "Fights Don't Matter" is peak nervous music: funereal keys, creepy synths, skittering percussion, and low-end that slams harder than prison cell gates. Drakeo doesn't waste another second, rhyming as soon as you hit play. Then he's finding pockets in and outside of the beat, running one vivid run-on into the next. He's beating opps with a Neiman Marcus bag before "Paisa dancin" after hearing the prices from his plug. This is unparalleled stream-of-consciousness from the originator. Drakeo in top form, sounding as though he never left. If you've followed L.A. rap for the last three years, you know he never really did. — Max Bell
5. Bfb Da Packman & Sada Baby - "Free Joe Exotic"
Since he burst onto the radar with songs like "Return With My Strap" and "Peacock," Sada Baby has firmly established himself as one of the best working rappers, one who has mastered the art of demolishing his rivals, unleashing demonically funny punchlines while doing the Skuba dance on their graves . On his much sought-after collaborations, he's often the clear standout and usually ends up overshadowing anyone remotely near the beat. But BFB Da Packman is a different animal entirely.
The Flint rapper-turned-Dallas postman-turned breakout star of 2020 actually had a brief spurt of social media fame last year when his infamous "my b—- gave me gonorrhea but I still love her" bar from "Tamika" made the rounds. This did not lead to the success BFB may have hoped for, but it set the table for what to expect going forward. He's not here to engage in any myth building exercises. It's "real rap" in every sense of the phrase.
Even a fully engaged Sada, mixing top flight social commentary into his verses ("fuck a pandemic, Flint water been fucked up, nobody sent nobody down here to help us) is no match for BFB. He's the most self-deprecating rapper out right now by far. He's not trying to sleep with your girlfriend because BFB can't even keep his own happy. He's too fat and sweaty to make love without ruining the mattress. While he is complimented afterwards, he responds by telling her to "stop capping" about his…..size.
Even when he brags about the $1,100 Valentino runners he just bought, it's counterbalanced with an anecdote about being so poor that he had to sell plasma. Poor Rihanna catches a stray for reasons that are unclear. By the time he's talking about getting head from a snaggle toothed fiend and name dropping Carole Baskins (Joe Exotic gets his own name drop in verse 1), the track has already become an instant classic. — Harold Bingo
4. Youngboy Never Broke Again – "The Story of O.J. (Top Version)"
The idea of YoungBoy freestyling over a late-era Jay-Z song is novel enough as is, but the unexpected approach he takes gives "The Story of OJ" a rare urgency and desperation.  He taps into an anger and ferocity…a wildly gifted and snarling shit talker, moving between flows like he's dodging New York City traffic, nimbly controlling beats like he's been performing for ages. When YoungBoy is on, you almost need to hear acapella versions of his performances. His voice is that engaging.
On "OJ," he taps into everything special about him. He sounds like Boosie, and while the comparison has always been there because of their shared hometown, on the track, YoungBoy builds his verses with the patience and cadence reminiscent of Badazz. It's a far more direct look into YoungBoy's brain than we get in interviews and on typical album fodder, with the MC unloading on enemies both real and imagined. He cements his status as one of the most important rappers of his generation rapping, "Young n***a, OG demeanor, they don't fuck with him/Rap n***a, trap n****a, lover boy, gang member" during the chorus.
Even when he's fully immersed in his bars, YoungBoy has never fully left the lifestyle he cultivated as a young hustler in the Red Stick. This has allowed YoungBoy to always rap from the perspective of a street kid first, an MC second. But on "OJ," he's entirely present, actively looking to prove his mettle, and the result is one of the most dynamic performances of the year. He touches on trendy topics like record label malpractice, but never sounds like he's chasing an audience. It's still confounding that he chose a 2017 Jay-Z song to flex his best work, but nothing about YoungBoy's career has been predictable. He's an enigma, thrilling because it's less of an act than a total unwillingness to play the game. At times, that can result in predictable efforts. But when he comes guns blazing, like on "The Story of OJ," few in rap do it better. — Will Schube
3. Pop Smoke – "Christopher Walking"
Pop Smoke rapped like a polar cyclone whistling up from the sewer gates of Hades. A voice like a bazooka concealed inside a tuba. Thor's Hammer disguised in Dior. A sub-zero boom created by a team of Bad Boy research scientists working non-stop for nearly a quarter century, finally correcting their missteps after the Shyne fiasco. A hijacked truck of quarter waters converted into enough liquid nitroglycerin to blow up a thousand bodegas. "Christopher Walking" sounds like that scene in Game of Thrones where the Night King lifts his arm to resuscitate the murdered white walkers, except this time everyone is Woo and wearing shredded Amiri jeans that cost one month's mortgage. If you bump it loud it enough within earshot of the Woodlawn Cemetery, it summons the blood-stained dancing duppies of Lucky Luciano, Vito Genovese, Carlo Gambino, and John Gotti. I assume that KD and Kyrie heard "Welcome to the Party" once and immediately packed their bags to Brooklyn. A voice and flow so powerful and invincible that it could make you believe that if the Knicks played it enough in warmups they actually could make the playoffs.
In a monarchy, successors automatically fill the void, but art doesn't respect patrimonial lineage. Thrones are vacant for years, sometimes decades. Rap history is littered with pretenders to the crown, would-be saviors promising restoration by "restoring the feeling," forgetting that no slick tagline or media coronation could replace what is essentially both a divine gift and an honorific bestowed by the people. Popularity doesn't equate to immortality: it just means you're the temporary occupant of playlist real estate. With Pop Smoke, the city that invented the rap messiah complex, finally received a legitimate savior. The first since 50 who had the alchemical combination of charisma, voice, melodic sense, and star power. A party rapper named after a lethal act, whose ode to 5th Avenue shopping trips became a protest anthem in the wake of his death at just 20 years old.
If the operative cliché is that "it's a movie," Pop was the one that cameras naturally gravitated towards, destined to be an icon, cast as a thinly veiled and terribly nicknamed version of himself in a stylishly inventive film, cashing six figure checks for awkward appearances in Hennessy commercials in 2042. But after the fatal home invasion in the Hollywood Hills during this past nuclear winter, all the diabolical promise became a "what if" scenario. You can turn to the poignant love songs and Pop Sinatra turns on the official album to glimpse his pop crossover potential, but his brief and meteoric impact is best understood through a song like "Christopher Walking."
This is a classic New York rap song extending in an occasionally interrupted lineage that dates back to 1520 Sedgwick. The wild style in Louis. The Brooklyn drill executioner's stutter-step beat binds it to a time and place, but it taps into an eternal reserve of gulliness. The stick up kids out to task that Guru warned of. Stab your brain with your nosebone rap. The RNA that runs through DJ Clue's cells. In its title, he references the erstwhile King of New York, Frank White, whose alias was swiftly adopted by Brooklyn's finest. Now that it is all tragically finished, it's Biggie whose trajectory and talent he most closely resembled: from his Jamaican ancestry to his BK roots to their untimely demise in L.A., their tectonic rumble and ability to discover unseen pockets in a beat. As with Biggie, there are no bad Pop Smoke verses, just ones that allow you hear the holy spirit a little louder and make the dance with the devil a little jiggier. As he said on "Invincible, " you can ask Diddy."
A simple line like "send the addy, we gonna slide" sounds like an ominous biblical omen. He interpolates 50, matches designer bags with the Draco, and silences all contenders for the crown. Far from the inventor, but he had this rap shit sewed, and when the mac unloads….– Jeff Weiss
2. Roddy Ricch – "The Box"
Surely, there isn't a vocal effect sonically infectious enough to take a rapper/singer from "interesting prospect" to '"viral megastar'" in the same amount of time that it takes a teen to upload a clip of himself fake cleaning a bathroom mirror on TikTok. If anything in the last sentence confused you, then it's possible (but unlikely if you're reading this list) that you went through the entirety of 2020 without hearing "The Box." Roddy Ricch would be impressed; after all, he didn't even plan for "The Box" to be a single.
In the absence of a monoculture and with the variety of ways to access music, it's harder than ever to predict which songs might capture the zeitgeist. However, it sort of makes sense that a song by a young Compton rapper synthesizing Atlanta and Chicago influences was recorded in New York, and captured the 2020 zeitgeist via an imitation of a windshield wiper that went viral on a Chinese-created music app that the President tried to ban. Even the vagueness of the meaning in the title feels fitting in this context since "The Box" seems to mean many things or nothing, depending on who's listening to the song. It's like an audio Rorschach test, the Bible or Barack Obama.
Roddy Ricch made a hit firmly within rap's grand traditions of braggadocio, paranoia and excess. It's in line with what we'd heard of his work prior to the release of Please Excuse Me For Being Antisocial, especially the trio of songs that heralded his arrival: "Die Young," "Ballin," and the hook of the great Nipsey Hussle's "Racks in the Middle."
Prior to "The Box," Roddy had already displayed the trappings of a singular song and hook writer, but this represented the moment when he managed to put that gift over the right orchestral swells and propulsive trap drums, to create something both of its time and strangely untethered from it. Yet it's Roddy's vocal performance that carries the song over the top: his squeals, yelps, elongated syllables, and yes, his "eeee-err" adlib.
Then again, maybe I've overthought this a bit. Maybe making a hit is as simple as the right ad-lib meeting the right group of teens on the right social media platform. EEEE-ERR! What's more random and 2020 than that? I guess we're right back where we started. — Mobb Deen
1. Lil Baby & 42 Dugg – "We Paid"
In October, after finally collecting enough cash to better my life, I made a much needed move to Brooklyn from the Bronx. Once I settled into my apartment, the only song that made sense was my personal headbanger's anthem, "We Paid." Working  as a designated essential worker throughout the worst stretches of the pandemic left me feeling undervalued. We weren't treated as essential, but merely as people given a task without nearly enough protection;  our safety was treated as an afterthought. I was told that Black workers were valued but not enough for me to wear a pin that valued myself.  But getting my own space allowed me to finally start my life in the way that I want to live it. After I left my job at the grocery story, I marched at protests that were painful to endure, but necessary. Nobody wants to march because of Black people being murdered and dehumanized by the state. However, there was a sense of catharsis because it meant we were fighting for ourselves. Change doesn't happen overnight; it's a long and grating process, but seeing just how many people marched in multiple locations on a daily basis could give goosebumps to the biggest cynic. To overcome is to not only feel relief, but also a feeling of joy — relief mixed with celebration. 
In 2012, Atlanta's Lil Baby was like many Black men in America: incarcerated due to a racist federal prohibition of marijuana, and the victim of a parole system that constantly used minor violations to keep people trapped in the system. Charged with possession with intent to sell, a fight with a racist inmate compounded his sentence, taking two full years of freedom from him. Afterwards, Lil Baby was paid by Young Thug to come to the studio and stay off the streets. If you listen to the Atlanta phenomenon, you hear a guy who manages to rap as hard as the speaker bludgeoning beats. Someone who goes to church with a cup in his hand, wishing he would give up the habit but never asking for forgiveness. 
This was the breakout year for the Oakland City native born Dominique Jones. His co-sign from Thug certainly helped, as did the imprimatur of Quality Control, but no amount of endorsements can allow you to win the soul of the block. And you can't go out on the streets in any hood without hearing Baby blasting. His smash with 42 Dugg, "We Paid'' is simple effortless brilliance: the bass drums are minimal but hit like an assassin . Baby's flow descends to a near-whisper level, nimbly ransacking the beat like a thief that doesn't leave a fingerprint, in and out in 30 seconds flat. He and Dugg trade bars like a classic tag team rap duo: Rae and Ghost in the traps of the Westside Atl, Thug and Quan for the next generation, the celebration less vibrant but no less real, reflective of a more ominous era. 
Where Baby is controlled, Dugg is chaotic. The type of person who picks his outfits based on if he can hold his Glock in his sweatpants. Detroit rap is the one of the hottest regions on the planet right now, and Dugg's snarl is a wolf calling before it stalks its prey. Getting these two together is an example of how great local rap regions are, but also the new creations that can form from their combination. 
To hear hip-hop is to hear those largely oppressed by the vicious U.S. class system who have defied the odds and quickly become affluent. What is hip-hop without the flexing of people who now have enough money to buy courtside tickets while spilling cough syrup on the floor? What is the most important musical genre of American life in the past 40 years without the celebration of making money when it didn't seem possible? At its core, flexing is when you turn the downtrodden to the triumphant. It is when lines about dope boy dickies, diamonds, and Timbs don't just refer to articles of clothing, but become statements of victory from people who weren't supposed to get to the top. Beating the odds in America is coronation day.
Capitalism and oppression can grind you and gaslight you into thinking that you're the problem. Time again, I couldn't shake the feeling that I wasn't doing enough to gather enough money to get my own place. Every time I'd look up and it would show me that I didn't have enough, I'd be sick. Finally, in October, I did it. I moved and now you can say my name from Bushwick to Flatbush and they know me. Once you let the racist and degrading systems of this country grind you down, it can leave you mired in these negative cycles forever.  Lil Baby and 42 Dugg pushed against that. ''We Paid'' isn't only the best song of the year, it is flaunting as an act of rebellion. — Jayson Buford