Earlier this year, Taxstone was found guilty of first-degree manslaughter, two counts of assault in the first degree, one count of assault in the second degree, and two counts of criminal possession of a weapon in the second degree in the killing of Troy Ave's bodyguard  Ronald "Banga" McPhatter.
He faces up to 25 years when he is sentenced next week.
For now, he's locked up but with access to social media.
Today, he offered up his opinion on whether or not Gunna snitched when he took a plea deal in Georgia's RICO case against Young Thug and the other YSLs.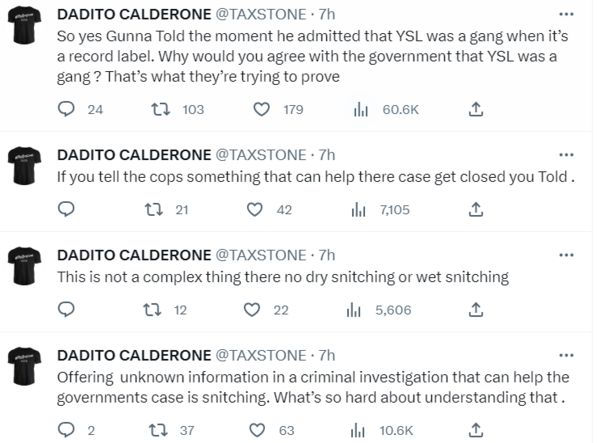 "Offering unknown information in a criminal investigation that can help the governments case is snitching. What's so hard about understanding that," he typed.  "This is not a complex thing there no dry snitching or wet snitching. If you tell the cops something that can help there case get closed you Told. So yes Gunna Told the moment he admitted that YSL was a gang when it's a record label. Why would you agree with the government that YSL was a gang ? That's what they're trying to prove."
Agree?