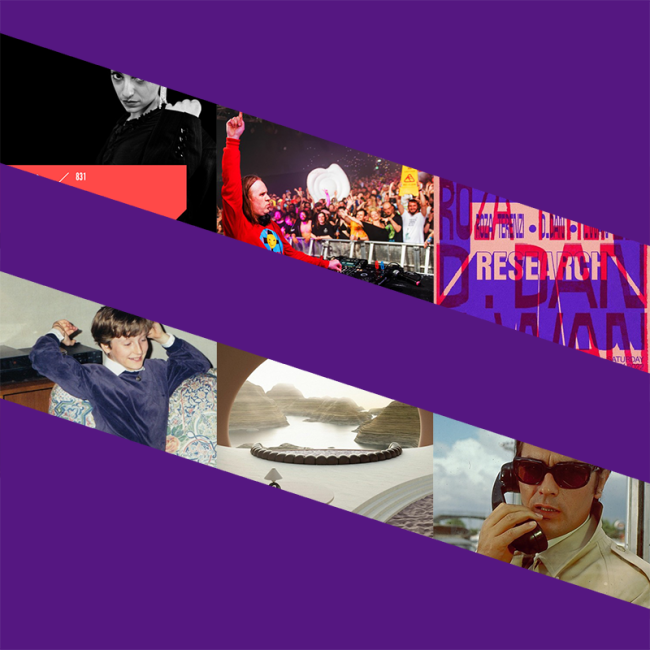 Independent rap journalists will recommend you new music until their voices give out. Keep it that way by supporting Passion of the Weiss via a subscription to our Patreon.
Michael McKinney understands the cultural importance of Kreayshawn's "Gucci Gucci."
---
Sometimes, the joy of a great DJ set comes from the way it bridges gaps, whether those are in scenes, styles, or histories. Some of May's most exciting sets made this obvious: Madam X, mixing for Resident Advisor, turned in a set that traverses countless shades of post-dubstep dancefloor sounds. Ciel, one week later, pulled off a similar trick with a wider range, grabbing a wiggly and unpredictable set of dub, dubstep, breakbeat, and plenty else. Saint Acid, mixing live from Bang Face Weekender, put together a two-hour blur of high-energy rave blasters. CCL and Physical Therapy went long and weird at beloved NYC hotspot Nowadays, and Low End Activist assembled a set of bass-heavy screamers that stretched from grime, breaks, and still-unclassifiable scorchers. Experimental-electronics hub Other People's latest offering connects four decades of uncanny-valley classical music; Time Is Away looked backwards as well, conjuring a sepia-toned haze of spoken word and glacial ambiance.
Other names dug into more exact sounds, showing just how deep their USBs go in the process. Atrice cooked up a wild-eyed hour of breakbeat and dubstep for Ilian Tape, while Carlton Doom looked to the sweat-soaked sounds of ghetto house. Orpheu the Wizard and Powder put together a set of gentle and joyous four-to-the-floor rollers; elsewhere, T.Wan explored wigged-out dancehall and dubstep styles. Conna Haraway turned in a session of anything-goes new-school IDM, and Nora Zion zoomed in on east-coast breaks and drill sounds. Nick León and Manuka Honey showed off the range of modern dembow, reggaeton, and dancehall; over at NTS, dub specialists Blood & Fire dug deep into their crates. DJ Possum dug into wistful old-school electronics for her offering, while Low Flung looked towards taut tech-house. May's edition of Sounds on Screen focused on the work and attitude of Alain Delon, moving between interviews, film clips, and late-night jazz.
Here are some of the best DJ sets May had to offer.
---
Atrice – ITPS079
---
Since its foundation in 2007, Ilian Tape has become one of Germany's most reliable providers of outré club tools: its material is largely floor-focused, but its roster is full of artists unafraid to go into deeply weird directions. It's only sensible that Atrice found their way there; Q, their Ilian Tape EP from last year, is a pile-up of brain-bending dubstep, with drums cracking underfoot and scattering into a million rhythms afterwards. On their set for the label, Atrice burrow ever deeper into their sound, assembling seventy minutes of zonked-out bass grinders and percussion flurries. (The vast majority of the mix, unsurprisingly, seems to be unreleased productions of their own.) After a cheeky start, with creaking electronics suggesting something more akin to musique concrète than bass-blasted dancefloor fodder, ITPS079 quickly reorients into their comfort zone. It helps that their comfort zone is so disorienting: over the course of the set, they trade in busted-machinery dance music, with abyssal bass and manic drum breaks, slowly moving from vertiginous drum workouts to lightspeed dubstep. The result is a set that fits comfortably among Ilian Tape's best material, full of warped contemporary club sounds and a DAW-busting intensity.
---
Blood & Fire – Godzilla Special
---
The names on the tin ought to give it away. Blood & Fire is a critical label for reggae and dub devotees, thanks to their deep catalog of reissues and resurfaced ridddims; and Godzilla's every step, of course, lands with an earth-shaking force. Godzilla Special is a correspondingly bracing hour of dancehall, reggae, and dub. This is sometimes thanks to a particularly incisive MC, like on Baby Cham's "Wah dat Fah," a firestarting anti-war anthem; other times, it's due to the sheer minimalism of the rhythms, like the kick-and-hoot riddim for T.O.K.'s "Haters" or the shot of MIDI-string dancehall that follows not long after. The set's most surprising turn comes late in the hour, with a sudden hard-left into junglism, all blistering Amen breaks and dubbed-up basslines. It might move a bit hotter than the rest of the session, but its bones are the same; it's yet another demonstration of dub's range in an already expansive hour.
---
Carlton Doom – Untitled 909 Podcast 113
---
Carlton Doom has spent the better part of the past decade slinging bone-crunching dance music. His catalog stretches between nail-biting techno, flurried breakbeats, and manic garage, so it's an unusual thrill to see him zoom in a bit for Untitled 909. His latest set, subtitled as "Carlton Doom's G House Special," is chock full of ghetto house, the sweat-soaked take on house music that pumped out of Chicago in the '90s. This specificity allows the set a satisfying aesthetic continuity: the rickety kick drums sound like they're going to split the amps in half, the ever-present vocal samples drag any listeners to the dancefloor, and the occasional splash of acid keeps any ravers on their toes. Doom returns to the late Paul Johnson throughout the set, which makes both sonic and historical sense; his music offered a foundation for this stuff, and his tightly wound grooves hit just as hard twenty years later. (The one-two punch of "Muthafucka" and "The Party Horn" is particularly satisfying; the former is hardly light fare, but its vocal chops sound downright fleet-footed when the latter's chest-rattling kicks first drop.) Untitled 909 Podcast 113 plays like a love letter to one of dance music's million niches; throughout, Carlton Doom explores ghetto house with a contagious joy and the ear of a seasoned crate-digger.
---
CCL & Physical Therapy – Live @ Nowadays Nonstop
---
CCL and Physical Therapy are both column mainstays at this point, and with good reason. CCL is one of the Berlin scene's most exciting names; between their radio show, mixes, and productions, they have repeatedly demonstrated a commitment to full-on dancefloor psychedelia, turning both genre and form inside out along the way. Physical Therapy is similarly omnivorous; he is as likely to go deep on a very particular strain of dance-music history as he is to throw his entire collection at the wall. In their latest transmission as a pair, the DJs go deep and strange, pushing each other into blind alleys full of left-field club sounds. Over a riotous three-odd hours, they stretch into all sorts of corners of UK-inflected dance music: skittery and acidic dubstep, new-school breakbeat-techno, pointillistic trance burners, pumping bassline, steamrolling garage and house, white-hot tech-trance, and about a thousand forms that fall between the cracks. This kitchen-sink dancefloor selection is paired with a slippery approach to blends: high-speed breaks melting into old-school hip-hop, perhaps, or, in a particularly oddball bit, a segue from Tears for Fears to dubbed-up dancehall-techno and neon-blasted Neil Young covers. Between its masterful mixing and why-not selections, Live @ Nowadays Nonstop offers yet another round of evidence that CCL and Physical Therapy are two of modern dance music's most exciting names.
---
Ciel – RA.832
---
Ciel has rightfully earned her name as a chameleonic producer and selector, with a discography that is ostensibly rooted in house and techno but frequently stretches into the sounds of electro, breakbeat, trance, and plenty of styles in between. On RA.832, she dives into the full breadth of these sounds, drawing on a seemingly bottomless well of warm and joyous dance music without settling into a particular genre or era. The result is an effervescent grab-bag of dance music, all mixed with a veteran's touch. RA.832 might be in peak-time mode one minute, all slamming breakbeat-techno and blistering trance records; the next, Ciel's turned down the temperature with the flick of a switch, diving into simmering tech-house or dubby dancefloor rhythms. As the set picks up momentum, her blends get more both more daring and more successful: in one particularly incisive stretch, she takes DJ ?????????'s "Trippin Like Wet," a dreamy Digable Planets breakbeat flip, slides in a bit of hallucinogenic garage courtesy of Physical Therapy, and heats things back up with a bit of Bassbin Twins's wigged-out techno-breaks. In her interview with RA, Ciel drew lines between J Dilla, '90s house records, and DJ Premier, and later said that in her work, she tries "to meld everything I have ever loved into a perfect piece." With RA.832, she succeeds with flying colors.
---
Conna Haraway – Heads Radio 0094
---
As co-head of INDEX:Records and Appendix.Files, Conna Haraway pushes a wildly exploratory vision of dance-music futurism: recent releases have stretched from downtempo drum-and-bass to slippery club-rap, between blissed-out ambience and cavernous techno-minimalism. This anything-goes approach is bound by a strong connection to new-school IDM, with tightly coiled breakbeats and unspooled synthesizers stretching towards a new kind of headtrip. Haraway recently took over the decks at Heads Radio to show off the potency of that approach. Throughout Heads Radio 0094, she trades in disorienting drum patterns, triangulating the space between drum-break freakouts, tectonic-bass dubstep, and left-field techno. The result is at once familiar and deeply weird, full of dancefloor idioms flipped inside out. This is perhaps best typified halfway through the set: first, Haraway plays a bit of light-speed breakbeat, with scuttling rhythms slicing through murky synthesizers; then, she drops the tempo to a crawl, only to move towards more drill-and-bass-oriented sounds thanks to a gnarly buzz-saw bass and chopped-up vocals. It's a session of oddball thrills and beguiling blends, all delivered with a steel-eyed intensity.
---
DJ Possum – FHUO # 69
---
When she was making her For Home Use Only entry, DJ Possum—née Maria Gallo—was thinking about her parents. About stargazing with her father, and about her mother, who Gallo calls a "true contemporary philosopher." "They made what was truly a war zone into a magical place, taking us four kids out of the concrete jungle and giving us instead the sky and nature," she writes. FHUO # 69 is shot through with this magic realism, with selections that unfurl with grace and mixing that gives everything plenty of room to breathe. For the most part, Gallo draws from old-school electronic and ambient records, stuff defined by a slow wash of synthesizers rather than any sort of obvious production tricks; if you squint, you can see moss growing on the keyboards. As the set runs on—slowly, patiently, quietly—Gallo moves into more exploratory territories, folding hushed bossa nova, ECM-indebted jazz records, spooked-out minimalism, and spindly folk into the mixture. The result is a set that sounds like staring up at the night sky: a thousand pinpricks of light illuminating forms just out of reach.
---
Low End Activist – Fact Mix 858
---
Patrick Conway heads a seemingly unending list of projects, aliases, and labels, but if you're looking for his modus operandi, look no further than Low End Activist. The name lays bare his approach: pushing bass-heavy club sounds. On Fact Mix 858, Conway makes his focus tighter still, zooming on creeping dancefloor numbers, with each kick and snare optimized for maximum tonnage. The near-uniform focus on sheer heft still affords him plenty of wiggle room, though, and over the course of the set he finds the intersections between all sorts of contemporary dancefloor stylings: Time Cow's paranoid dancehall, Aardvarck's ground-up dubstep, Flowdan's apocalyptic grime. Conway frequently pulls off impressive BPM jumps and genre flips without diluting his approach, making for a set that's joyously unpredictable but always anchored; he's able to move from slow-motion dubstep weapons to sped-up breakbeat-jungle and pitch-black techno-grime to almost-UKG without anything feeling out of place. Fact Mix 858 is a statement of intent carved into tectonic plates.
---
Low Flung – Animix Eighty One
---
As Low Flung, Danny Wild exhibits a wildly exploratory ear: past releases have included deep-sigh ambience, delirious IDM and choral-music selections, scrambled-up drones and sludged-up percussion. Even with that kind of range, though, Animix Eighty One comes as something of a surprise. Wild keeps things short and tight throughout, eschewing any sort of field-recording wizardry or dub-techno theatrics for a set of taut tech-house stylings. Throughout the mix, Wild selects with an ear towards loopy and minimal sounds, with synthesizers spiraling into infinity atop a sturdy low-end. He balances chilly drum machines with outright humorous tones here: a keyboard gurgle that goes on a bit longer than expected, perhaps, or a synthesizer that sounds like rubber striking metal. Like much of the most impressive tech-house out there, it's both prime dancefloor fodder and a bit wigged-out; for all its gestures towards four-on-the-floor patterns, it's constantly feinting towards off-kilter forms, daring dancers and listener alike to make the leap.
---
Madam X – RA.831
---
One of the greatest joys of the UK club scene is also one of the simplest: it seems to be in a perpetual renaissance, with a million micro-scenes locked in constant conversation. The result is a dance-music language that is both historically rich and filled with rapid-fire evolution, with offshoots of offshoots spawning entire styles. Madam X understands this as well as anyone. She cites post-dubstep sounds, specifically those of the always-essential FWD>> and Hessle Audio, as foundational to her style, and their ethos—bass-heavy dancefloor bombs with an eye towards anything-goes futurism—shines throughout RA.831, making for an electrifying set that runs over two hours but feels half that. The tracklisting doubles as a survey of contemporary UK club fuel: Two Shell's off-kilter dubstep wizardry crashes into tech-trance courtesy of Pluralist; unreleased heaters by scene mainstays like Piezo, Ploy, Lurka, and Sputnik One underline Madam X's club-circuit bona fides; a healthy dose of techno and breakbeat keeps things hurtling forward; and the occasional touch of grime shows that she's got her ear to the ground. Over the course of the set, a veteran of the UK's dance-music scene shows just how deep that rabbit hole goes, tracing the million intersections between all sorts of classic club stylings and rocketing them into the future.
---
Manuka Honey – Fact Mix 860
---
Manuka Honey is one of London's most reliable providers of reggaeton and perreo sounds, with a repertoire that spans the Latin-music diaspora. (It should come as little surprise that Crack commissioned them to cover Daddy Yankee's discography a few years back.) In their mix for Fact, they offer a world tour that's as energetic as it is varied, shooting between shatta, baile funk, reggaeton, and neoperreo with an irrepressible joy. Storming dembow rhythms and a rolodex of MCs hold it all together, allowing Manuka Honey to pull off all sorts of genre olympics while keeping things under the same tent. This approach is clear from the beginning. After opening with the creeping slow-mo reggaeton of DJ Gere & Lautaro DJ's "Bajalo Suave," they move to Safety Trance's "Agarra Lo Que Es Tuyo" and Alan Gomez, Lucas Rmx, and Matias Mareco DJ's "Raka Taka Taka"—the former a white-hot bit of club-music futurism, all scraped-metal keyboards and chest-rattling kicks, the latter a bracing shot of dembow laced with chopped-and-scattered MCing. From there, they move further afield, threading serrated club tools courtesy of dembow innovators King Doudou, Merca Bae, Florentino, and Nick León (who appears later in this column) into a slew of full-throttle rap cuts from around the world. Fact Mix 860 is a thrilling document of dembow's stylistic possibilities; throughout the set, Manuka Honey pulls a wildly exciting range of contemporary club-music scenes into one sweat-soaked session.
---
Nick León – RA.833
---
It doesn't take long for RA.833 to set alight. Sixty-one seconds after opening with a tumble of hand-drums and a steady drip-feed of hi-hats, a hefty dembow rhythm drops in, locking the percussion in and instantly reframing it as dancefloor fuel. Nick León spends the remaining hour-plus racing through the modern sound of Miami, linking together reggaeton, techno, perreo, and hard drum—all styles built around thundering rhythms with a bit of swing in their step. León's most exciting work is built around reggaeton, so this should hardly come as a surprise, but it is nevertheless exciting to hear him filter so many sounds and styles through a highly specific lens. Here, Hagan's slamming post-dubstep fits comfortably next to skittering neoperreo cut courtesy of EL PLVYBXY, and modern steamrolling tech-etc. slots right next to high-octane '90s house records. The foundation, as always, comes in the dembow rhythms of reggaeton. Whenever it starts to feel like León has burrowed deep into pitch-black techno or hyperkinetic dubstep, that ever-familiar drum pattern emerges, pulling things back towards his modus operandi. It's a thrilling tightrope act: an opportunity for a masterful new-school DJ to show off his foundational sounds and hint towards countless new directions.
---
Nora Zion – JEROME #2
---
It's tough to summarize what JEROME sounds like, but that's half the fun. The long-running mix series and label houses wildly exploratory takes on contemporary electronics: a quick survey offers up anything-goes UK drill bootlegs, slow-motion gabber, blistering Baltimore club, and blissed-out ambient-trance. It's fitting, then, that Nora Zion's set for a JEROME radio show is just as kitchen-sink. Over the course of a breakneck half-hour, they mix with an eye towards the chaotic, cartwheeling between corners of the hardcore spectrum, tying high-octane drums to countless sounds along the way. In one particularly memorable portion, they grab a Sean Paul track and lace it with scorching tech-trance synthesizers, turn its potential energy kinetic with some old-school jungle sounds, and proceed to up the temperature further with a shot of UK-via-Jersey club-rap bootlegging. The mix is full of canny and sly flips like this, with genres stretched to their breaking point and linked in unpredictable ways. Throughout, Nora Zion holds the whole thing together by keepings things in the red.
---
Other People – OP ? mix 29 – Would It Sound Just as Bad If You Played It Backwards?
---
Other People has a storied history with quietude. Their first record, the various-artist compilation Trust, was rooted in dimly lit house records, but its most impressive moments were its slowest, with each silence turned preternatural. There is a long line between Trust and Would It Sound Just as Bad If You Played It Backwards?, the label's latest compilation, but that sense of barely audible awe remains. Across two disks and three hours, they document four decades of experimental electronic composition emanating from the Polish Radio Experimental Studio; the whole thing is a bit surreal, sounding like the digitization of analog forms, or perhaps the reverse. To coincide with the release of the compilation, Other People provided a mix of the same name, blending snatches of this material into a fantastical and deeply strange hour. Bohdan Mazurek's "Canti" gets things off to a foreboding start, with digital artifacts scraping against the drones of some far-away choir; Magdalena Dàugosz's "Yes and No" ups the artifice further, taking seemingly random synthesizer tones and slowly revealing an abyss underneath. This approach—alien forms flickering to life, only to morph into something else entirely—holds throughout the release, which is disquieting and serene in equal measure. Would It Sound Just as Bad If You Played It Backwards? is a remarkable collage of slow-motion experimentalism.
---
Orpheu the Wizard & Powder – Transmission to Tisno
---
Orpheu the Wizard and Powder make for a sensible pairing. Both have built up reputations as fearsome and unpredictable selectors, with strong roots in their local dance-music scenes. Their mixes, more often than not, are playful and a bit delirious, full of lopsided grooves that split the difference between a chilled-out opening set and peak-time firestarting. On Transmission to Tisno, they show off this shared affinity for nearly two hours, diving into their crates and finding bottomless rhythms from all over, tracing the intersections between blissed-out Ibiza ambience, miles-deep techno, and low-slung house scorchers. Thanks to a focus on slick mixing, playful rhythms, and sun-kissed sounds, Orpheu and Powder effectively find a middle ground between their styles. Neither as energetic as Orpheu's typical sessions nor quite as outré as some of Powder's offerings, it lands at a joyous and tripped-out sound perfect for muggy summer mornings.
---
Saint Acid – Bang Face Weekender 2022
---
As the head of Bang Face, Saint Acid is responsible for some of the UK's most over-the-top hardcore. At their annual weekender, it seems like anything goes, as long as it's fast, hard, and deeply tongue-in-cheek; it's appointment listening for anyone who's still deep into happy hardcore, gabber, and hardstyle euphoria. His session from 2022's edition makes good on the festival's promise: he vaults between a seemingly endless number of hardcore styles throughout, keeping things moving with deft mixing and breakneck tempi. One moment, he's working with vintage breaks and piano-house belters; next, it's pitch-black drum-and-bass, maximum-impact jungle, or careening dubstep shot down the amps at a hundred miles an hour. On paper, it's a minor miracle that he keeps the energy up for so long without things getting exhausting. In practice, that hardly matters: Bang Face is about getting stampeded by lightspeed rhythms and covered in buckets of sweat. On those fronts, Bang Face Weekender 2022 passes with flying colors.
---
Sounds on Screen – Sounds on Screen: Alain Delon
---
The central tenet of Sounds of Screen: Alain Delon arrives early. It begins with a back-and-forth between the French film star and the television personality Dick Cavett over French pronunciation; it is playful, full of quick humor and an unmissable joie de vivre. (At one point, Cavett asks Delon if it "feels like a conversation or more like a performance"; Delon doesn't have an answer.) This old-school cool and ineffable charisma carry through the rest of the set, which combines interviews, soundtracks, and film snippets from across Delon's career: from L'Eclisse to Nino Rota to the BBC and back again, all mixed with a grace befitting Delon's appeal. The music selected is varied on paper—chanson balladry, big-band jazz records, lushly orchestrated almost-western ambiance—but it all holds a shared patience, with each piece slowly revealing itself with new turns of melody and rhythm. Sounds on Screen: Alain Delon is an ode to an iconic actor stitched together with a curatorial eye befitting the subject.
---
T.Wan – DILA / Opening Set for Research
---
T.Wan, a.k.a. Seattle selector Tiffany Wan, is perhaps best known for her endlessly deep crates, which allow her to comfortably DJ left-field techno, disco, and all sorts of contemporary dance-music styles without breaking a sweat. For an example of her encyclopedic approach to club sounds, look no further than the one-two punch of DILA and her set for local haunt Kremwerk. DILA, created as a soundtrack for "a warm, intentional meal with friends," is both light on its feet and thoroughly trippy, meandering between zonked-out dancehall, minimal dub techno, and bracing percussion workouts. Listening to it brings to mind the way that dance-music iconoclast Kode9 memorably described gqom: something akin to "being suspended over the gravitational field of a black hole." Opening Set for Research starts somewhere similar, but quickly diverges into more overtly clubby stylings, racing from speedy techno-dubstep to acidic tech-trance, hard-drum barnburners, bass-blasted grime, chase-scene Björk bootlegs, and a million other dancefloor-oriented blind alleys.
---
Time Is Away – 1994
---
In their work, Time Is Away—a.k.a. Jack Rollo and Elaine Tierney—explore histories. Their mixes share a musical throughline—they tend to favor generous ambient music, paced so slowly as to stretch out time, and musical forms that predate the drum machine—but the more striking pattern is one of tone. The duo offer the DJ set as a window into other worlds, weaving traditional folk musics into a seemingly unending tapestry of histories. 1994 continues this quilt, stitching in relatively modern histories along the way. The centerpiece of the mix is neither Rollo nor Tierney, but instead Christina Petrie, a literary editor who spends the bulk of the piece sharing memories of the titular year. Nine minutes into the set, she turns her eyes skyward and traces the silhouettes of clouds overhead: Britains and Frances, hips and torsos and "peachy bums," which made her and her siblings burst into laughter.
"The boundaries of nations," she says, "are very soft." It's a neat encapsulation of 1994, which rests in a sort of uncanny valley between states: Petrie's delivery is neither nostalgic nor entirely present, with nearly everything afforded the same level-headed tone; Rollo and Tierney, for their part, select music that lies between ambient electronics and close-miced field recordings: voice memos scrambled into new forms, or ambient music coated with a thick layer of dirt. Petrie spends the rest of the session exploring boundaries, both porous and opaque. One moment, she's speaking body language with peers in dance class, hearing all sorts of languages ring off the hardwood floor; in another, she's watching the President of France and the Queen of England opening a tunnel underneath the English Channel. Atop a bed of barely heard synthesizers and slowly rippling keyboards, she describes the physical and temporal aftermath of the latter. "There have been years since the machines began scooping out the soft, fossil-laden layer of rock: the passageway for the engineers. Here, on the beach, you can pick up the rocks and break them between your hands," she says, scrambling up both time and space in the process. "The boundaries of nations are very soft, until they aren't."
---