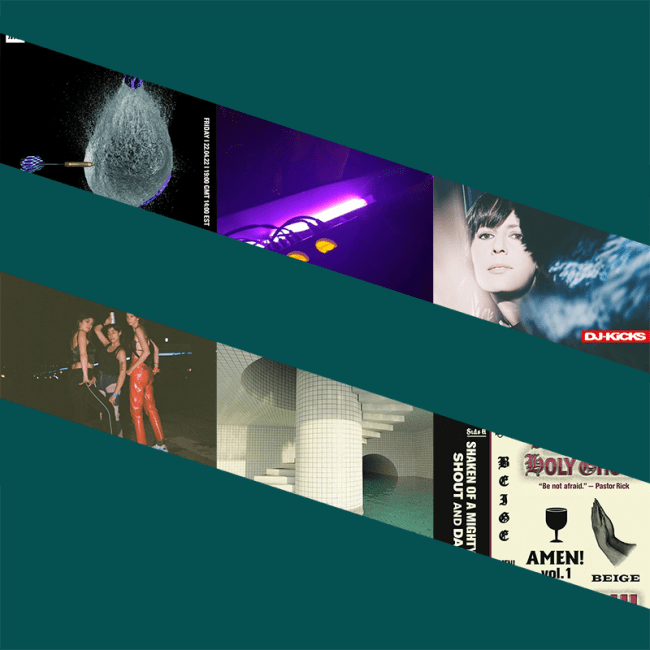 Independent rap journalists will recommend you new music until their voices give out. Keep it that way by supporting Passion of the Weiss via a subscription to our Patreon.
Michael McKinney understands the cultural importance of Kreayshawn's "Gucci Gucci."
---
April brought about yet another slew of great DJ sets, with the best stuff spanning styles, decades, and countries—but what else is new? Mixing live from Brooklyn, Amelia Holt, Yumi and deep creep vaulted between futuristic techno, cheeky bootlegs, and sweat-soaked club-night stompers; in his Animix entry, Melbourne's Ricci explored a million corners of hypermodern and percussive dancefloor tools. Physical Therapy turned in a killer trifecta: lovelorn UK garage and 2-step, chameleonic CDJ burners, and, finally, speed garage slowed to a crawl. Glasgow's always-essential ELLL cooked up a hot-and-fast mix for Crack in anticipation of festival season, and the always-woozy Ghost Phone turned R&B and UK bass tools into a full-on rager.
A few DJs zoomed in ever further, pulling apart styles to see what makes them tick. Footwork godfather RP Boo did so in a maddening set of Chicago originals, while Darcy Mahady looked towards the blissed-out and slowed-down sounds of IDM and ambient music. Gi Gi explored the space between ambient, jazz, and downtempo records; DJ Klapsalon and Human Nature DJ turned in a masterful slow-burner, taking the typically chilled-out energy of a great warm-up slot and stretching it into the cosmos. Hard-drum architect DJ Plead turned in an uncharacteristically laid-back and queasy mix, playing Jenga with polyrhythmic hand-drums. DJ Wawa, Hannah D, and Job Jobse dug deep into the sounds of techno, tech trance, and trance, respectively, offering up three wildly exploratory visions of club-music histories. Essential Berlin selectors DJ Pete & Finn Johannsen went long, mixing up eight hours of jacking garage-house, slamming breaks, and chunky house records.
Cinthie and Theo Parrish, both house-music lifers, turned in two radically different takes on the style: Cinthie's set plays like a love letter to deep and souled-out house in all its forms, while Theo Parrish deconstructed the genre, sifting through his record collection to find its progenitors in jubilant funk, jazz, and soul. Beige looked to their relationship with organized religion and their baptismal in the club in a house-music set that moves from Genesis to Revelations, with plenty of swinging rhythms underneath. The Pine Walk Collection, a recently unearthed collection of house and disco mixes recorded during the height of the AIDS epidemic in a thriving LGBTQ+ community, captures joy and pain and irreversible changes one night at a time.
Here are some of the best DJ sets April had to offer.
---
Amelia Holt, Yumi & deep creep – False Peak b3b
---
New York's modern dance-music scene is wildly exciting, fueled by producers interested in genre gymnastics and tangling up histories. Amelia Holt, Yumi, and deep creep sit at the epicenter of the storm. Their mixes are reliably playful and unpredictable, shot through with a devil-may-care approach to club-night bombs. Their sound often starts with a bass-heavy take on dubstep and breakbeat, but the real fun is seeing where it goes from there. False Peak b3b shows all three operating at peak form, stretching 140-BPM club tools into territories unknown: industrial-grade percussion stompers, disorientingly spare bassline workouts, screaming techno, spoken-word ambience, teeth-chattering grime. In a particularly energizing segment, they move from neon-blasted hardcore to a chopped-up techno-breaks edit of 50 Cent's "Just a Lil Bit," drop in a bit of sweat-soaked eroticism with LSDXOXO's "Sick Bitch," and then slide into the neck-snapping club-music futurism of Henzo's "FSOTM Anthem." This variety is likely owed in part to it being a back-to-back-to-back set, but it's nevertheless indicative: throughout False Peak b3b, three of New York's finest modern DJs vault between a million colors of nightclub fodder, electrifying the rave along the way.
---
Beige – AMEN! Vol. 1
---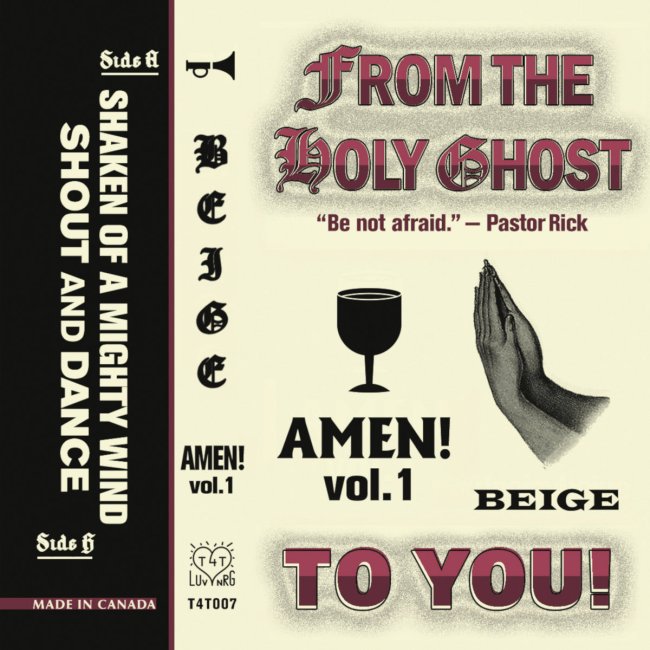 AMEN! Vol. 1 was a long time coming. Beige grew up surrounded by organized religion: their mother, a "promiscuously Christian divinity school dropout," took the family from conservative church to conservative church, and their father's family—"career scientists and committed atheists"—nevertheless sang in the choir. Beige has since left both their family and organized religion, but they never let go of the music that reverberated through those church halls and their home: Bach and Beethoven, spirituals and gospel. On AMEN! Vol. 1, Beige collides the sounds of traditional Christian worship with the sounds of the clubs they found a new home in, setting full-throated devotionalism atop a mountain of deep-house belters and storming breakbeats. The set begins with Lil Louis's "Blackout," a funked-up and foreboding house track featuring Psalm 23 and Genesis, with an Old-Testament God of terrifying and awesome power: "Imagine this, the lights in the universe are all on / And at the flick of God's switch, all the lights in the world are all out / You can run, but you can't hide." (That piece comes back throughout the mix, each time in a different incarnation, lending a satisfying narrative depth.) Beige blurs together fear and jubilee with startling acuity throughout the set, offering a multifaceted portrayal of an institution they left behind years ago. Along the way, they offer a tour de force of house and breakbeat, stitching together liturgical organ-house, vintage gospel records, and peak-time Amen breaks with an energy suited for any great night out. For seventy firestarting minutes, Beige finds a space between the church and the club, resulting in a deeply felt and wild-eyed version of each.
---
Cinthie – DJ-Kicks
---
The first song Cinthie grabs for her DJ-Kicks entry might as well be a thrown gauntlet. Terrence Parker's remix of his own "I Love the Way You Hold Me" is as straight-ahead as it is floor-focused, with a kick, hi-hat, and organ jostling for position around a vocal sample that could have come from any number of soul records; in other words, it's highest-order deep house. That selection was no accident: throughout DJ-Kicks, Berlin selector Cinthie makes good on that track's implicit promise, reaching into her house crates and pulling out a blast of sunlight. Her own "Organ," which appears early on, is a particular highlight, thanks to its titular lead, which traces elliptical melodies atop a jacking house rhythm, but there's plenty of other peaks, too. Her forays into more mechanical territories, like Boo Williams's "Emergency Tech" and Adryiano's "Non____Stop," feature a straight-ahead chug that contrasts nicely with the shuffle-and-swing from house-music mainstays like Paul Johnson and Amir Alexander. DJ-Kicks is a testament to the sheer joy of house, mixed to perfection and packed with plenty of skip in its step.
---
Darcy Mahady – FHUO # 68
---
If there's any electronic music genre due for a public-image refresh, it's got to be IDM. From the name on down, it's got a reputation for stuffy and too-clever songwriting, with outré synthesizer programming taking precedence above all else. But, at its best, the style can encompass all sorts of emotive depth, too, one whose heart beats slightly differently from more ambient-leaning or dancefloor-oriented sounds. On his entry in the essential For Home Use Only mix series, Darcy Mahady digs deep into the sounds of heart-on-sleeve IDM, ambient, and downtempo, blending nearly two hours of the stuff into a blissed-out and quietly exploratory session. The set frequently brings to mind a few notable names in downcast electronics, linked by approach if not by generation: Boards of Canada in its moss-covered synthesizers, sepia-toned electronics and slowly unfolding compositions, and A Colourful Storm by way of their crate-diggers's attitude towards open-hearted almost-dance music. Never mind any possible progenitors, though: FHUO # 68 is assembled with enough care and patience to make it stand on its own, a monument to sounds aimed at heartstrings and headtrips in equal measure.
---
DJ Klapsalon & Human Nature DJ – @ Murmur
---
It's not uncommon for DJs to open long sets with laid-back selections: a slow start offers plenty of room to ratchet it up later. So when DJ Klapsalon & Human Nature DJ's six-hour back-to-back session begins with cocktail-hour jazz and slow-motion chamber-pop, it comes as little surprise. Slightly more shocking is where it goes from there: rather than picking up the tempo or making a show of genre jumps, they stay in that more reserved mode for the rest of the night. It's a set for the slow-dancers and extended-version enthusiasts alike: sun-baked funk and sun-kissed soul, vintage boom-bap and high-velocity bebop records, lushly orchestrated bossa nova and lengthy forays into the percussion section. Tying all the styles together is a patient approach to mixing that gives everything plenty of room to breathe, with the DJs offering chief real estate to warm and generous grooves. It's a freewheeling set of dancefloor numbers kept at a simmer: frequently ebullient, occasionally beguiling, and always joyous.
---
DJ Pete & Finn Johannsen – Live at Power House
---
Finn Johannsen started Power House in 2017 as an outlet for what he calls "anti-shoegaze house music," a.k.a. anything high-energy and pointedly playful, especially if it's got a healthy dose of kick drums. Johannsen has legendarily deep crates, the product of decades of digging; at Power House, he uses this for marathon sessions of house, techno, garage, and old-school rave sounds. It's little coincidence that DJ Pete is his most frequent collaborator behind the decks: the DJ is a long-time employee of legendary record store Hard Wax, so his knowledge of dance music is just as encyclopedic. This makes their back-to-back sessions reliably thrilling, with stomping grooves and million blind alleys, as two veteran DJs test the depths of their collections in real time. The latest Live at Power House demonstrates the power of the pair, making good on the promise of joyous dance music and blasting it in countless directions. (It helps that they have plenty of time to work with: at eight hours, the set is clearly an all-night affair.) From the jump, Johannsen and Pete triangulate the space between house, garage, and techno, jumping between the white-hot synth lines of acid house and shuffle-and-stomp breakbeat-techno. Each blend only deepens the rhythms, with the ever-reliable four-to-the-floor offering more than enough foundation for a positively kaleidoscopic vision of blissed-out rave music.
---
DJ Plead – Truancy Volume 292
---
DJ Plead has built a career off of rough-edged and barnstorming percussion tracks, taking the timbres and tones of his Lebanese roots and wrapping them around contemporary club styles. This places him squarely at the center of hard drum, an essential dance-music scene centered around—you guessed it—tough and million-limbed percussion. Truancy Volume 292, then, is both a thrilling continuation of his style and a bit of a left hook: Plead is working in a familiar wheelhouse throughout, but he spends a good chunk of the mix in uncharacteristically muggy territories, turning the BPMs down a notch and dialing up the humidity. The first hints of his tripped-up percussion don't land for nearly ten minutes, and when they do, they're muffled, with buzz-saw ambience nearly drowning them out; not much later, Plead offers equal space to abyssal drones and skittering hand-drums. He gradually picks up steam, tightening the snare drums and speeding up the kicks, but that spooked-out atmosphere never quite leaves. It's proof of hard drum's range that it works so well. Truancy Volume 292 shows Plead launching peak-time club tools into spooked-out and unexpectedly bleary territories.
---
DJ Wawa- From Fumiya to the Jacking Zone
---
Ever since their dance-music radicalization in 2015, DJ Wawa has been a quietly essential part of Brooklyn's underground dance-music scene, looking towards their new-school peers and old-school forebears while keeping their eyes trained on the dancefloor ahead. (From Fumiya to the Jacking Zone, fittingly enough, was recorded live at a party with a similarly wide-spanning lineup.) Wawa's entry into the reliably great Mixtape Club gets its name from two of its tracks: it opens with "Polyrhythm" by the minimal-techno mastermind Fumiya Tanaka, and one of its peaks comes from Risqué Rhythm Team's "The Jacking Zone," a wigged-out and thundering bit of Chicago house. On their face, the songs couldn't be further apart—one is borderline-mechanical minimal, all kicks and clipped hats, while the other has reverb-drenched vocals floating atop spooked-out synthesizers and an acidic bassline. But they're both oriented squarely towards any would-be dancers, prioritizing groove above all else. That proves to be the throughline for the rest of the set: Wawa moves between playful organ-house belters, rickety electro, slippery breakbeats, and old-school techno, keeping the rhythms rolling without so much as a scuffed blend.
---
ELLL- Crack Mix 443
---
ELLL, a.k.a. Berlin mainstay Ellen King, said that her set for Crack Magazine was put together amidst "anticipation of the heat of summer and festival season." (Case in point: Elkka's woozy techno number "I. Miss. Raving." shows up midway through.) As much is clear from the jump: The Ahadadream & Sam Interface remix of Sonia Calico's "Neo Tokyo Folk" is bottled lightning, all galloping percussion pointed squarely towards any prospective ravers. From there on out, Crack Mix 443 works as a survey of polyrhythmic club tools, jumping from blistering techno to skittering hard-drum and light-speed dubstep. Here, the sheer range is the point: in one particularly incisive segment, she vaults between the slippery electro-techno of Fatima Al Qadiri's "Spiral," the scuffed-up broken-beat of Glimmerman's "Oxygen Sum," scorching bass numbers courtesy of Ma Sha Ru, and DJ Plead's slippery percussion workouts. On paper, few of these tracks would make sense next to each other, but ELLL teases out their shared focus on blistering rhythm and turns them into firestarters. She pulls this trick off throughout Crack Mix 443, and it's hard not to picture amps buckling in the near future.
---
Gi Gi- Origins Soothers 003
---
Writing about their mix for Origins Tapes, Gi Gi described it as "an exercise in tying together two disparate but interconnected styles: 21st century electronic jazz & a loosely idm-y strain of 90's downtempo electronic music." These interests should be of little surprise for anyone familiar with the producer, whose mixes and LPs are uniformly slow and meditative, with an approach to beatmaking that seems to stretch out time. The joy of Origins Soothers 003, then, is twofold: first, in the straightforward beauty of many of its selections; and second, in how different sounds fold into each other. Here, the splash of a ride cymbal might as well be the chime of a patiently played synthesizer, and its rolling snares and elliptical keyboards are both laced with the same kind of stardust. In both approach and sound, the mix recalls Lumino Pleco, his quietly masterful ambient-etc. record from 2020. On that LP, Gi Gi worked samples of otherwise recognizable names—Prince, Miles Davis, Erykah Badu—into a kind of blissed-out new-age head-trip, with instruments and voices and textures melting together to make something wholly new. On Origins Soothers 003, Gi Gi zooms in just a bit on their approach, letting the details catch in the sun before drifting away.
---
Ghost Phone – PAMMIX028
---
Ghost Phone has quickly become one of the UK's most delightfully off-kilter dance-music labels thanks in large part to their near-singular approach: each of their releases takes the sounds of pop radio and UK dancefloor idioms, blurring them together and flipping them inside out along the way. In Ghost Phone's world, Erykah Badu might as well be a dubstep emcee, and why not throw Ty Dolla $ign atop some junglist rhythms? That approach—blurring the million histories of UK club tools with lovelorn R&B and rap hits—is by no means new to club music, but it is incisive all the same. PAMMIX028 takes the label's stylings and turns the heat up a bit. After a bit of slow-motion ambience, things break open with a shot of depth-charge bass and space-age synthesizers, which in turn gives way to a veritable kaleidoscope of club sounds: garbled-up dubstep, skittering almost-techno, woozy breakbeats. As the set builds up momentum, it turns from disorienting to outright delirious, tossing Lil Pump atop shimmering synthesizers and pairing Dead Prez with a bass-grinder low-end. It's as close to an outright rager as anything the label's presided over, but it's still deeply strange. Throughout PAMMIX028, Ghost Phone turns up the smog machines and strobes in equal measure.
---
Hannah D – Mantissa Mix 241
---
Sometimes, all you need is a miles-deep groove and plenty of room to stretch out. Hannah D understands this as well as anyone; she's been spinning deep and playful techno, trance, and house records for years. Her latest set is no different. Billed as a selection of "some of [her] favourite epic and emotional progressive tracks" with plenty of emotive moments mixed in, it's a wide-ranging and tightly sequenced tour of progressive dance music's idioms. Crystalline synthesizers and chugging percussion are the order of the hour, with a healthy dose of breakbeats sprinkled on top. The result is both wide-eyed and floor-focused, with a focus on hypnotic rhythms and a starlit top-end. Hannah D mixes it with a tight grip, allowing her to traverse plenty of territory without upsetting the groove: spaced-out techno, acidic and gnarled-up trance, dreamy house, and plenty of sounds in between. Mantissa Mix 241 is yet another set of blissed-out club music from one of Melbourne's finest.
---
Job Jobse – Essential Mix
---
Just as London birthed UK garage, Sheffield lays claim to bassline, and Detroit boasts techno, the Netherlands has trance. The sound, which has been filling clubs with pounding kicks and promises of elation since the early '90s, has earned equal parts adoration and derision from the dance-music world, thanks in no small part to its overt focus on euphoria. It's perhaps due to this push-pull reception that the genre seems to be in a perennial resurgence. Cue Job Jobse: the Dutch DJ has made a career off of trance records, lacing the style's trademark hypnosis with flecks of techno and house along the way. His first pass at the BBC's turntables is as good a crash course as any. Over the course of two hours, he links golden-era trance classics with new-school firestarters, dropping dancefloor bomb after dancefloor bomb along the way. Thanks to his genre focus, it's a tightly engineered set, with a uniform focus on four-to-the-floor kicks and lighter-than-air synth work. Even the occasional venture into more the headstrong territories of tech-trance and tech-house can't pull away from that; even when Jobse leans on the gas, he knows when to dial things back just enough to keep the rave a few inches off the ground.
---
Physical Therapy – RA.826 / Big Sad UK Megamix / Slow Garage
---
Physical Therapy is a lot of things—a DJ with maddeningly deep crates, the curator of New York's Allergy Season, and one of the only names brave enough to crash Radiohead into ghettotech—but he's a bit of a softie, too. (Don't take our word for it.) On Big Sad UK Megamix, he leans into that side of his sound, stitching together shuffle-and-skip UK garage selections with plenty of tearjerkers along the way: Pinkpantheress and Sisqo, Frank Ocean and DJ Deller, Imogen Heap and Doctor Jeep. For Resident Advisor, he turned the heat up, turning in a characteristically omnivorous set that runs the gamut of uptempo sonics, from slippery techno to sun-kissed trance, from blistering breakbeats to full-throttle electro, from acidic indie-rock refixes to wigged-out IDM. Slow Garage is perhaps the best of the three, and it's just what it says on the tin. Throughout, he drops the tempo on rough-and-tumble garage numbers, leaning into the funk of the drums and tossing the vocalists into the uncanny valley along the way. This playful unease comes through strongest with D'n'D's "Diamond Rings (No MC Mix)": a speed-garage belter slowed to a crawl, its baseline turned seismic and its vocal snippets coming off, somehow, as a bit mournful. But of course it turns out that way. No matter his chameleonic stylings, Physical Therapy's greatest skill might lie in his ability to wring unexpected emotion out of well-worn material. Big Sad UK Megamix, RA.826, and Slow Garage show a masterful DJ playing with USBs and heartstrings in equal measure.
---
Ricci – Animix Seventy Five
---
Animix Seventy Five starts quietly: a bit of birdsong, syrupy synthesizers, and little else. But, less than a minute in, the drops drop in. From there on out, Ricci spends the next two hours exploring the possibilities of percussive club music. He leans towards of-the-moment UK tools throughout, making hard drum, dubstep, and deep techno all appear sewn from the same cloth thanks to slick mixing and a playful ear. Highlights abound: acidic techno powered by a warehouse's worth of synth pads; bass-blasted dubstep with chopped-and-garbled vocals scattered atop; full-throttle tech-trance with elliptical and steamrolling grooves. No matter the form, Ricci's selections are uniformly propulsive and frequently knocked a bit left of center, with rhythms jostling against each other to thrilling effect.
---
RP Boo – 02:30:22 Mix
---
Sometimes, the joy of footwork comes in hearing the way it works other styles into its folds: plenty of genre classics have come from a well-placed and wholly unexpected sample. RP Boo, of all people, ought to understand this. He's both an originator of the stuff and one of the scene's most unpredictable characters—past releases have encompassed disorienting minimalism, free-improv collaborations, and rubbernecking sample chops. 02:30:22 Mix is a case study in the sheer stylistic range of footwork, stretching anything-goes samples atop a skittering and ever-evolving bed of drums. Boo seems to lean into unpredictability here, oscillating between downright tender R&B flips and ice-cold drum workouts. R&B and rap staples, crumpled up and stretched out, make up RP Boo's stock and trade throughout, and he's in good company there: between his own productions, Boo reaches for hometown favorites like DJ Rashad, DJ Clent, DJ Phil, and EQ Why. At times, his interest in whiplash supersedes all else—DJ Clent's "Blood on the Leaves" flip is perhaps a bit too jarring for its own good—but even that has its own kind of roughshod charm. This is the sound of a master at play, pushing footwork into new directions while looking to its past for inspiration.
---
Theo Parrish – 24th April 2022
---
Theo Parrish is undoubtedly one of the best house DJs working, but that's only half the fun of his NTS residency. Through long-form and deeply exploratory sets, the prodigious producer zooms in on the bones of house music: buried deep in the swing of its rhythms, Parrish argues again and again, are the sounds of soul, disco, afrobeat, gospel, and jazz. His latest show is as fine an exploration as any. Over the course of an uncharacteristically taut four hours, he works into all sorts of deep and playful territories: low-slung and sun-baked funk, souled-out hip-hop, manic art-rock, slow-and-low jazz fusion, and plenty of miles-deep house records for good measure. Parrish leans towards grooves that feel like they could go on forever, with drums that sound like house and techno classics if you squint just a bit. Perhaps that's the point.
---
Various Artists – The Pine Walk Collection
---
The Pine Walk Collection started as a set of milk crates filled with scrawled-over cassette tapes, unearthed by a couple during their move to Fire Island, a storied LGBTQ+ community in New York. The pair, wanting to archive the tapes, reached out to a friend who DJs; this friend realized that they were sitting on a veritable gold mine. The tapes, largely recorded at Fire Island clubs and resorts, run from 1979 to 1999, tracing the evolution of house, disco, and dance-music escapism during the height of the AIDS epidemic. Clubs were—and are—a fundamental part of Fire Island when these were recorded; like the community itself, they were a space for activism and jubilee in equal measure. In the New York Times piece on the tapes, a friend of the couple encapsulated the dynamic of dancing through a time of immense communal loss: "There were times on the dance floor where some of us would have breakdowns, because a song would come on and it reminded us of somebody that we loved and had lost. But in spite of all that strangeness, there was still joy. We kept trying to stick with the joy of trying not to get morbid and bitter and angry. That was our release." The Pine Walk Collection honors that release with a time capsule that shows communities, sounds, and histories being reshaped in real time, for better or for worse.
---