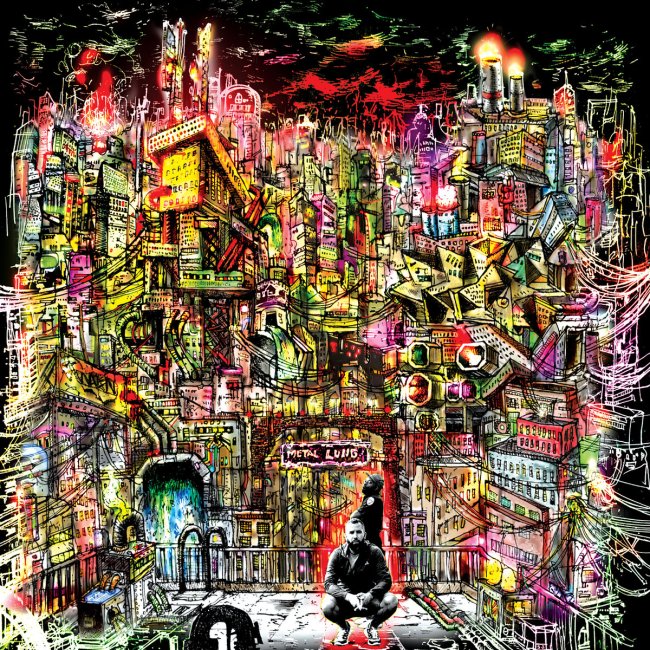 Artwork by Shane Ingersoll
Support real, independent music journalism by subscribing to Passion of the Weiss on Patreon.
Son Raw stays pondering the dual consciousness of double classics.
---
Underground rapper is a tough job description. While rockstar iconography will outlive rock music itself, and plain old "rapper" is a label now so predictable as to spawn algorithmically derived minstrelsy (bye, FN Meka), current underground emcees do the hard work of expanding hip-hop's stylistic breadth – in an era where it seems like rap is all encompassing. Mostly, the results struggle to break through, but with Metal Lung, Shrapknel's Curly Castro and Premrock transcend not only Hip Hop's limitations, but also any preconceptions of what their music sounds like, both solo and as a group. Despite both of its creators already being highly decorated underground veterans, Metal Lung feels like a rebirth and a reinvention, one set to elevate the duo and expand their reach beyond indie rap circles and into the dorm rooms and headphones of psychedelic imaginauts of all persuasions.
This rebirth imagery is almost literal, given the album is dropping as Castro recovers from a tough medical diagnosis, but his performance on the record justifies all superlatives. Always the energetic emcee, tracks like 'Damn Alice!' and 'Metal Sum Kids' find him at his most locked in, combining apocalyptic imagery to reimagined 504 Boyz and Wu-Tang hooks, to brilliant effect. Premrock meanwhile, is the ice to Castro's fire, balancing out the street sermons with laid back, sardonic beat poetry, serving the perfect foil to his partner's energy. It's not just that both rhymers are delivering their very best work here, it's that Shrapknel has fully clicked as a duo, with the group's chemistry gelling into a brand-new animal. Compared to their debut, and even the two emcees' recent solo outings, the songwriting is clearer, more focused, and above all more fun, a rarity for spacey, intellectually challenging underground rap.
(It's worth mentioning here, that both emcees also deliver impeccable performances on the recently released 'Sedale Threat' Wrecking Crew, alongside Zilla Rocca and Small Pro. Very different project, perfect companion piece to Metal Lung.)
While this chemistry comes courtesy of years of friendship and artistic collaboration, Metal Lung's production, mostly from MVP Steel Tipped Dove, glues the project together. "Psychedelic" as a rap music qualifier can be a mixed bag: for every Beauty And The Beat or Madvillainy, there are at least 5 records full of crazy space shit that don't even make no sense. Across Metal Lung however, Dove cannily avoids hippie dippie clichés, mining underground rap's past but also jagged shards of jazz, the dark side of Lewis Carroll, and even the weirder, slower, sludgier end of forgotten subgenres like illbient. His soundscapes, in turn, provide Castro and Prem with the focus and direction necessary to craft the album into what's sure to become a stoner favorite: heady without being ponderous, dark without being oppressive, druggy without being self-indulgent. 
Ultimately, Shrapknel have delivered the best kind of musical surprise, giving us the album underground rap didn't even know it needed, but desperately did. Even next to the heavyweight Backwoodz solo releases like Aethiopes and I Told Bessie, projects dominating album of the year conversations, Metal Lung stands out by simultaneously pushing rap's underground side deeper into a blunt smoke-blackened headspace and into the light of college-show ready anthems. Best believe, by the time album three drops, they won't be underrated no more.