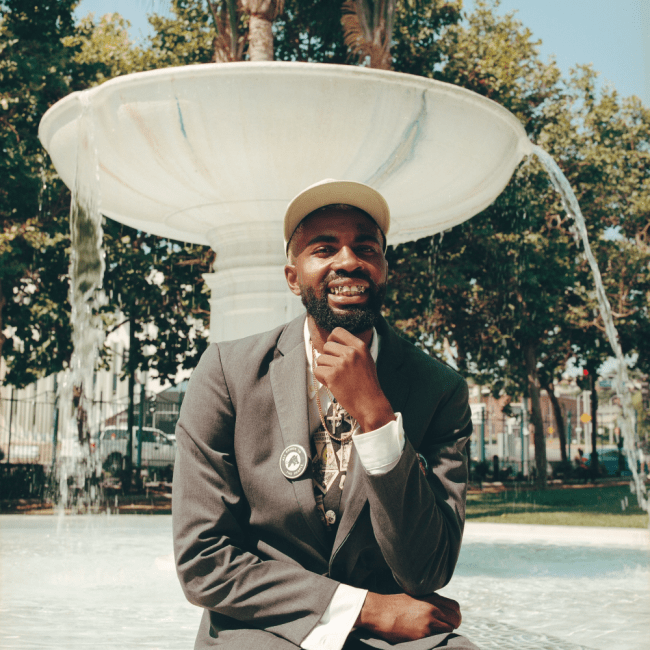 Photo via Brandon Hicks
---
Show your love of the game by subscribing to Passion of the Weiss on Patreon so that we can keep churning out interviews with legendary producers, feature the best emerging rap talent in the game, and gift you the only worthwhile playlists left in this streaming hellscape.
---
Following Six Sev's motions, you may think he's got a hand in everything. From rapping, running his own label ENIAS Records and clothing brand "Every Nigga Is A Star," curating events and show series "Pray For The Hood," to community work and political organization, it seems like he does it all. If versatile is an understatement when talking about his activity, you cannot call it unfocused as everything he does has clear roots in South Central community culture and history. Grounded in an ethic of love and in community as practice, his work reflects a lineage of South Central artists and organizations, from Horace Tapscott and Linda Hill with the Pan Afrikan Peoples Arkestra, Lula Washington with her Dance Theater, Ben Caldwell with KAOS Network, Ron Finley and his gardening activism project, to Lauren Halsey with the Summaeverythang Community Center, and many more who have used culture and art to raise political consciousness and foster community.
Six Sev's music not only echoes these elements of community-building and knowledge of self, it's also a space for personal reflection and creative expression, a space he shares with a batch of hyper-talented friends – DJs, producers, rappers, singers, visual artists, designers, hair stylists – most of whom you'll find involved through his various projects. Released earlier in 2022, on Chace Infinite's Harun Records, his last album Give Thanks marks a clear evolution from his previous project Sevshaw (2019). Where Sevshaw expressed fun, carefree energy, Give Thanks appears as a highly polished and curated album that shows his growth as a musician. The fact that the album was made at the height of the pandemic played a significant role in the production process, giving Six Sev time to sit on it, revisit it, and perfect it while going through life events and living in uncertain times.
The album includes a wide range of contributors, from beat-makers, live musicians, background vocalists, to features, making it a layered and cohesive project. Grammy-nominated artist and L.A. legend Terrace Martin is the most prevalent contributor to the album, and is featured on the single "Fuck Gentrification," a G-funk influenced track with deep bass, synth melodies and talk box vocals about the displacement of Black communities in Los Angeles and throughout the country. If the single obviously references classic 90's L.A. hip hop sounds, the rest of the album can go from soul and jazz sample instrumentals ("Frozone Pt. 1" or "Give Thanks" feat. Navy Blue) to smooth beats ("Oval Office" or "Makeshift feat. Nathan Austin and Mo Thoro") nodding to local influences, from OverDoz and Dom Kennedy, to Nipsey Hussle. The scope of the album however goes way beyond these simple identifications, and stands uniquely within the current landscape of L.A. rap. If the live instrumentation and background vocals have a part in it, it is Six Sev's idiosyncratic style and laidback presence over the music that makes Give Thanks an important album, that can't easily be put into a box. And for those who would use the "conscious" tag, Six Sev has a line in "Frozone Pt. 2" – "I'm in the hood this ain't conscious hip hop, fuck all that fake woke shit this is real rap."
I originally met Six Sev in 2019, as we both were part of We Love Leimert, a collective of young Black individuals organizing in Leimert Park, looking to enhance community, bridge generational gaps, and fight gentrification through art and culture. For this interview, we caught up in front of Harun Coffee while sipping on ginger pineapple juice from Ackee Bamboo. Our conversation ranged from the production process of Give Thanks, his musical growth and the recurrent themes found in his music, to the future projects in the works. Not surprisingly, the interview very much reads as an expression of gratitude towards the community that has nurtured him and which is the source of his inspiration, and towards the pillars that have supported him along the way, Lauren Halsey, Chace Infinite, and Nipsey Hussle just to name a few. – Samuel Lamontagne
---
---
You released your new album Give Thanks in February 2022. What was the inspiration, or the concept behind the project?

---

Six Sev: I was talking to a girl and she was in horticulture and I was already trying to do a garden project at my old school, a restorative garden. So I was really into putting my hands back in the earth and just give it thanks for life and the shit that we take for granted, you know? So that whole project was just about showing gratitude for Mother Earth, life, your family, everything. It was just about perseverance, gratitude, and just taking my influence that I got from Leimert and put it into my music. So that was kind of the inspiration behind that project. I got a lot of love from my community when I dropped my first album Sevshaw, so I just wanted to show like, "Yo, I'm grateful to have this." I can come to Leimert Park and go to Harun Coffee and get a smoothie for free, essentially. The currency is love. So that was kind of what I was trying to express with Give Thanks. Also, everybody has everyday life stuff, so it ain't always like "I'm happy, I'm grateful, I'm this, I'm that." You have to learn how to still have that within the tough times, within the struggling times.

---

Because you worked on it at the beginning of the pandemic. What was the process of creating an album like during those times?

---

Six Sev: Very difficult, very very difficult. Sometimes I felt like I was overthinking it because of the pandemic and everything that was going on. I would try to make it make sense to the time of what's going on and I'm like, "Well, we're not going out and partying because we're on quarantine, so why the fuck would I make a party song?" You know? So the pandemic was kind of making my creativity more… Just making the process less fun and a more serious unloading of emotion than just expression.

---

When I was checking it out, I was pretty surprised. One of the things that first came out was that it's a big difference from Sevshaw, your previous project. Sevshaw was very fun, all the homies are on there. So what sparked that evolution, even just sonically?

---

Six Sev: I wanted to do less features for Give Thanks. Because I'm like, "Okay, now I need people to hear me." And then, sonically, I had more producers. I already had my hands on producers. So that was that, but then I went to Terrace Martin, he kind of executive produced it. My engineer, Federico "c sik" Lopez, he got me some congas played by Eric "Bobo" Correa. Then this other guy named Duante St. Louis, he came and played some keys. We have interludes, songs that lead into the next song, intros, outros, songs that are two parts like the beat switches. So sonically, I was just trying to take it to that next level. Making this project was way different from my first one. Sevshaw was a lot of fun, just me and my friends getting in the studio. This one was kind of more serious. But I feel like now it has to be a mixture of that, plus Sevshaw, the fun and everything, and then I feel like I found my sweet spot in my creative process with the music.

---

In terms of the production, producing the album. What was the process like? Because it's an intricate album, there are the beat parts, but then musicians came and played on there… There's layers to it. How did it happen?

---

Six Sev: My process is always scattered, so sometimes I'll have lyrics sitting here. I have a beat that I've been sitting on. I have a new beat. Sometimes I have old lyrics in my notes, I have new beats I'm getting sent, I have old beats… I never throw nothing away until I finally decide like "Okay, this is a finished project." So anything could make it into it. I might take a beat and redo it, or add something new, now it's a whole new beat. So it wasn't like I just got a whole bunch of beats and then say "Okay, these are all for the project." It was an accumulation of shit that didn't make Sevshaw, or shit that didn't quite fit this project and I just kept it for this. A lot of those songs were written in 2020. So even me I feel like I was catching up to my creative self. Now I'm in a space where I'm not feeling like I'm catching up. I still have old songs I haven't put out, but I don't feel like I'm trying to catch up. So Give Thanks was actually supposed to drop in 2020 because Sevshaw dropped in 2019. But like I said with the pandemic and life and everything it kind of got overthought, and 2021 we were going to release, but then the whole roll out plan and budget pushed it back to early 2022. So yeah, it wasn't fun, but it was one of those push through projects, you know, push through it.

---

You can feel it when listening to it.

---

Six Sev: Even mixing it. Some of those songs have like five different versions, five different mixes. I executive produced and mixed everything with my engineer. There wasn't one time where I wasn't in the room telling him, "this is what I want, this." You know? So everything came from my brain.

---

Terrace Martin contributed to most of the project. Can you talk about the connection with him, and how he came to be part of the project?

---

Six Sev: He just told me to come to his studio, invited me over. I played him some songs, and he was like "Oh this is different from the last shit. I can hear you really sonically getting better. This is what I'll do for you. Bring the project to me, I'll play on some songs for you, but don't have me play on no songs you're not going to use. Whatever I play on, use it." I wasn't even done with the project yet. These are rough drafts, half of the songs are not done, but he put them all on one track and he just played through the whole album. One take. That was it.

He approached each song individually, but he had it on one session. So it was just like, "All right, let me add to this song, okay next song, let me add to this song…" He was going crazy. He got into a zone where I didn't even had to tell him what I heard. He was just…, and I was like "That's perfect, that's exactly what I need on here." The single "Fuck Gentrification," he actually did some talk box vocals, but that's the only one that he's featured on. The rest, he's just doing background music. That's how that came about and we had previously been connected. He did like a pop up here at Harun Coffee, he sometimes does stuff in Leimert. Before I ever knew him he did a concert with Robert Glasper here a while ago. And I'll never forget that concert.

---

Yeah right over there.

---

Six Sev: Yeah, right in the alley. So it's a full circle moment for me, you know. I think I met him that night if I'm not mistaken.

---

---

It makes sense that you two work together, because he's been involved in Leimert Park since he was a teenager as part of the World Stage and the jazz community here, so he's got deep roots in the village.

---

Six Sev: It's a lineage of Leimert Park artists.

---

Are there other artists in Leimert Park you have a similar connection with?

---

Six Sev: Dom Kennedy. That's the big bro. Yup. He'll give you advice, he'll let you play him some music. He always has so much sound advice. It's just so cool, the way he puts shit, it's simple and cool, and it's like "Alright, you're right bro." I've been plotting up with him. We got some stuff in the works, but I don't want to announce it just yet.

---

Why did you want to make a song about gentrification?

---

Six Sev: I feel like I had a bird's eye view of everything that was taking place in terms of gentrification in the community. So as far as the train happening… I started back from when they brought the space shuttle through and cut down all the trees, I feel like that was their first step in gentrifying our community. If you recognize Sevshaw I have the spaceship on the front of the cover so it's an ongoing story I'm telling. When they brought that through, they cut down a lot of trees, and then they announced they were going to build a train and so forth and so forth. So I kinda talk about this stuff in Sevshaw about how it's changing, and Crenshaw is not going to be the same, "Make Crenshaw Great Again." "Fuck Gentrification" was just encapsulating all of that into one song, into an anthem of what I was feeling.

People in the community loved it, the people who were trying to buy the Crenshaw mall or leading organizations in the community, they were using that song when they were doing protests and rallies. I remember they went to Eric Garcetti's house and they played it loud. I'm like "Wow, the song is doing what it needs to do on a ground level." It may not be a mainstream song, but in the community it's giving people the energy that they need. Also I just wanted to talk my shit. I was feeling like "fuck gentrification." People come and they shoot stuff in your community, they bring police, and they talk to you crazy. You're here everyday and one day they pull up and they're telling you how you're supposed to be in your community like, "you can't stand right here." And not in a respectful way it's like "move." Certain incidents like that provoked me to make that song.

---

Because everybody knows about it but not a lot of rappers talk about it.

---

Six Sev: Yeah that was another thing. It was like "Do I dare make a song about this?" Basically, I'm going to do something that niggas ain't talking about. Some rappers mention it here and there but not really, they don't go into the issue of why this happens over and over every twenty years to different Black communities, because it's not just Los Angeles. I wanted to connect what's happening in different communities, like Brooklyn, where it's super gentrified. And not even just South Central, like Inglewood… other places are going through this at the same time. So it wasn't just for Leimert Park, it was for Black communities all over America.

---

Give Thanks came out through Harun Records. What's the connection with Harun and Chace Infinite? And how has he been helping you with this album, but more largely how he's been supporting you over the past years?

---

Six Sev: Chace is a mentor of Leimert Park. I met him through his nephew, he was like, "You need to meet my unc Chace." So I pulled up. We chopped it up. First he would always let me sell my merch out of the shop. So at times where I really didn't have funds, he would front me. He'd buy my box and resell it. So from the beginning he was giving me opportunity as an entrepreneur and an artist. He helped me get my LLC for my record label Every Nigga Is A Star. He also helped me finance my album and distribute it through his label and empire. Everyone knows Chace is a legend in hip hop, so just having any association with him makes your shit legit, you know. He actually named the album Give Thanks. We were just chopping it up and I'm like, "Man, what should I name my next one?" He was like "Give Thanks, you should name it Give Thanks and make it about Leimert and this, this and this." Chace sees everything from a bird's eye view because we be out here, playing music, rapping… He sees the movement and everything. So when he gives me advice I got to listen. I was glad to be able to put it out through Harun because Harun is like a brotherhood and this is a place that I go to every morning, it's a place of salvation. It was a blessing to work with Chace.

---

In the production and features there's a lot of homies on the album, like DJ Smiley.

---

Six Sev: Yeah I always got four or five beats by Smiley (Kabakaba). Cam, the Chef again. Cletus Strap played a little on one song. Danielle Davis's doing background vocals on a song. Fih is also doing background vocals on a song. There was another producer named KeilyN, he's from Ohio. He produced the actual song "Give Thanks" with Navy Blue.

---

---

I wanted to talk about your song "Lauren Halsey." Why did you want to dedicate a song to her?

---

Six Sev: Lauren is one of the leaders in art today. She breaks boundaries, she's unconventional. She would always help me get gigs and different stuff. When she did her first Nike shoot, I got to perform at her event. She had a commercial with Snapchat, they synced my music. She was just giving me so many opportunities and I just wanted to enshrine her, you know. Lauren is the best, she's the greatest. Her brain is just away from here on so many levels, so for her to recognize my work it's just like, "Wow, if you can recognize, I feel like I got something good because your shit is amazing." I actually wanted to make a song that she loves. Because she told me "South Central Sev" was her favorite song. I would always go to her art studio and spend time. So I'm like "I wanna make a song that makes her happy." Another "South Central Sev" but just for her.

---

Because knowing her work and knowing your work, there are a lot of connections. Especially in the ways you two work in deep relation with the community.

---

Six Sev: Yeah the way she references community in her work, and I do the same with like the Nipsey Slauson Supermall hoodie. There were a lot of nuances that both of us did, so it just connected. She was also working with Nip around the time I was. So they were doing some work too. After the tragedy, everyone who was around him just kind of came together and was like, "We've got to keep this going." She was a big part of that also. And yeah, like I said, Lauren's the greatest. I went to her show in New York in May, and she had Lauryn Hill perform at the after party. It was drinks on the house. That was one of the best nights of my life. No cap.

---

---

The Slauson Supermall hoodie, the Latasha Harlins hoodie, the Leimert Park building fits, the Make Crenshaw Great Again hats, the Rodney King/1992 Uprising jerseys, the Pray for the Hood events… Your clothes, your songs, just your work generally references the culture and the history of the community.

---

Six Sev: I like to design based off nostalgia a lot. So a lot of these places that I'm taking and reflecting into the art, into the designs, they're landmarks I've been seeing my whole life. So it doesn't only encompass the now of what the community is, but it's kind of just my whole life put into a sweater. I have so many memories of just passing this building, or going through this. So it represents the growth of me, from a young man to now, and everything in between. I love using the community and using designs from it. They say nature is the best designer. I feel like the buildings aren't natural, but it's a part of our nature. This is our nature, our natural habitat, you feel me? So I'm just taking shit from my natural habitat. It's a luxury, it's just all perspective. I see it as a luxury. Some people just see it as a rundown, poverty community. But I see it as "that's the building."

---

Art imitates life.

---

Six Sev: Yup, art imitates life. And then it just all makes sense, me being the mayor of Leimert, why wouldn't my art imitate the community? Or have some type of uplift in it? It's like pride in where I'm from. Nipsey was kind of like the first to do that with the Crenshaw logo and made us want to be from Crenshaw. We were from Crenshaw, we repped it. But when we put on that Crenshaw shirt, it felt different. Like "I'm from Crenshaw!" Especially like someone who wasn't really from there, it was like, nah, this means something different to me when I put it on, you know?

---

Nipsey is another person that has been a big influence on your work, and who has supported you early on. You want to expand on your relationship with him?

---

Six Sev: I met him at a smoke shop coming from a class. I had a design on my phone. I showed him and he was digging it, but he was also busy working on Victory Lap. From the initial time of showing him the concept to when the sweater actually came out was about a two-year period. It was a lot of patience, like he said, "dedication, hard work, plus patience." I would go to the studio with him some time to show him designs. I'd see the process of him, how he worked on his album, how the people around him worked on it. I would just take notes. I didn't want to tell him I made music yet. I just wanted to play my role and stick to why I was in the room. From there, we dropped the hoodie. It did well. Tragically he passed away shortly after. So our relationship, it didn't have a lot of time to grow, it was business-oriented. But that's what I needed, that battery. I got to buy me a car off of that collection. I got to make my first album Sevshaw. That just propelled me into who I am today.

---

What was it like to be in the studio with him?

---

Six Sev: I was just a nervous kid around his idol. Trying to make sure I don't do nothing weird, like let me just be cool as I can be. I didn't even want to ask for a uber home. Nip was a humble person so he understood different backgrounds and different people. Even if he always asked "Do you need this? do you need that?" He was more like a big bro, and I could just sit back and soak up game and just see how he moves and just understand "Okay when you're making an album, this is how you operate in the studio." One night he kicked a bunch of people out the studio, he was like "We don't need everybody here, I paid for studio time." He called my name out like "We need Sev for the designs," and I just felt like I belong. That night was a memorable night, just to know that I played a role in that shift he was doing when he was about to drop Victory Lap.

---

You do a lot besides the music. You design clothes, organize pop ups and events, do community work and organizing. Can you talk about all of that?

---

Six Sev: It all intertwines. I started a movement named Pray for the Hood. We would do concerts for the community. So local artists would have a platform to perform. When they did festivals in our community, there wasn't really a space outline for young artists or younger people at all. It was more so elders, gospel, family-oriented events. But for young people who didn't have a family or whatever situation, we didn't have nowhere to feel where we would belong. So when I did Pray for a Hood, it started off as a little local concert. Then we integrated into with the Leimert Park Juneteenth Festival in 2020.

From there, with George Floyd and everything that was going on, that event blew up and now it's the biggest event in L.A. every summer. We have the Pray for the Hood stage, where I still curate it with local artists and also bigger artists. We grew in capacity and we're going to start doing concerts around venues around the city and bring in local artists around, you know, giving them the experience. That's a part of my community work and how it intertwines with the music, but also doing pop ups at different community spots, helping the elders with resources, using my social media platform to bring awareness to different stores and events that they got. I want to be the liaison for Leimert Park, the spokesperson.

---

How about the clothes and design?

---

Six Sev: We're starting to do initiatives behind it. I have a collab coming up with Anwar Carrots. It's about restoring Crenshaw High School's garden. So through Pray for the Hood, it's not only concert, entertainment, it's also philanthropy. We did a garden day earlier at the Compton Community Garden. We gave them tools and passed some T-shirts. I want to make my designs about something. It's not just the designs. We made the design, but we also did this, we also gave away, we also gave back to this. Give and take.

---

In terms of L.A. hip hop. Where do you see yourself fit in that landscape?

---

Six Sev: I feel like I don't fit, like I stand out. But I am a L.A. hip hop artist. I represent L.A. I represent a whole community in L.A. But I don't feel like I fit in the stereotype of L.A. music right now.

---

Are you working on anything new? An upcoming project? What's next for you?

---

Six Sev: Right now I'm working on a concert at the Roxy in December. We got the shop on Crenshaw and Stocker "Every Nigga Is A Star." Next year, I'm trying to drop a new album, I'm thinking of calling it Pray for the Hood, the album.

---

You told me something else the other day.

---

Six Sev: Mayor of the Ghetto. But that's going to be my persona. So now I'm the mayor of Leimert, but I'm going to upgrade to mayor of the ghetto. Pray for the Hood is going to be the album. So that needs to encompass everything that's been going on with Pray for the Hood and intertwine the community with the music all the way.

---

You just mentioned the store, you want to talk about the recent controversy around it?

---

Six Sev: We have the store on Crenshaw and they have this app called "Nextdoor," but they say that more of the gentrifiers are on this app and not the actual community. They were making a ruckus about us having the logo "Every Nigga Is A Star" on the storefront. Most of the people in the community know who I am. The people who are actually on the ground didn't have a problem with it. They kind of gave me some good publicity, all the old people mad at me for having a star up… But at Taste of Soul Festival, people were coming in, shopping with us, spending money, we had some kids coming. I even did a segment where I went around asking people how they feel about it, so I'm going to post that soon. But yeah man, 4110 Crenshaw Boulevard, right now we're open occasionally on our pop-ups, but next year we should do a grand opening so look out for that.

---

Any closing words?

---

Six Sev: If you got a community you love, make sure to show love to your people, show love to your circle. Love what you do, or else don't do it. I don't get paid a lot to rap or do this community work or none of this. But I love it. If you're looking to do something I would say that's the reason to do it. Love.

---

---