The Migos are probably done.
The group had problems even before Takeoff was murdered.
But the Atlanta trio leaves quite a legacy.
According to Billboard, they are the 11th greatest rap group of all time.
Quanvo reacted to that.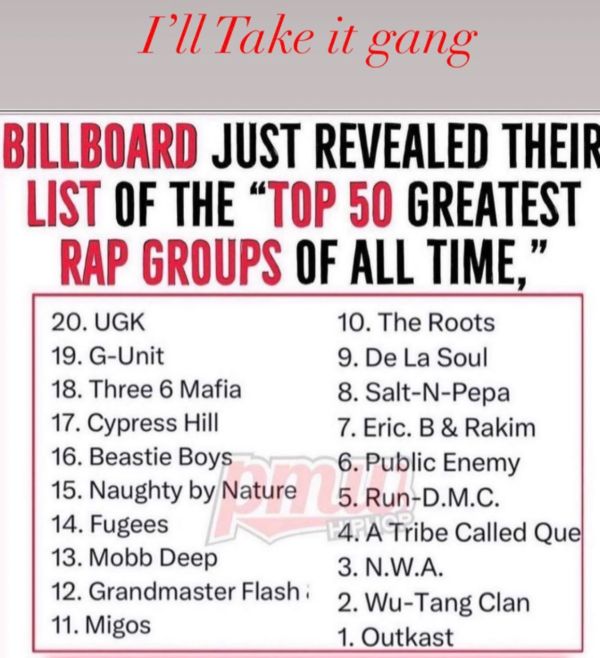 "I'll Take it gang," Quavo said of the new list.
Here are the top 50.
1) OutKast
2) Wu-Tang Clan
3) NWA
4) A Tribe Called Quest
5) Run-D.M.C.
6) Public Enemy
7) Eric B. & Rakim
8) Salt-N-Pepa
9) De La Soul
10) The Roots
11) Migos
12) Grandmaster Flash & the Furious Five
13) Mobb Deep
14) Fugees
15) Naughty By Nature
16) Beastie Boys
17) Cypress Hill
18) Three 6 Mafia
19) G-Unit
20) UGK
21) Bone Thugs-N-Harmony
22) The LOX
23) Sugarhill Gang
24) The Diplomats
25) Hot Boys
26) EPMD
27) DJ Jazzy Jeff & the Fresh Prince
28) Geto Boys
29) Gang Starr
30) Clipse
31) Boogie Down Productions
32) 2 Live Crew
33) Goodie Mob
34) Brand Nubian
35) Pharcyde
36) Heiroglyphics
37) 8Ball & MJG
38) Big Tymers
39) Slum Village
40) Onyx
41) Little Brother
42) Heavy D & The Boys
43) Kid N Play
44) Kriss Kross
45) Pete Rock & CL Smooth
46) Yin Yang Twins
47) Rae Sremmurd
48) City Girls
49) Black Star
50) MOP