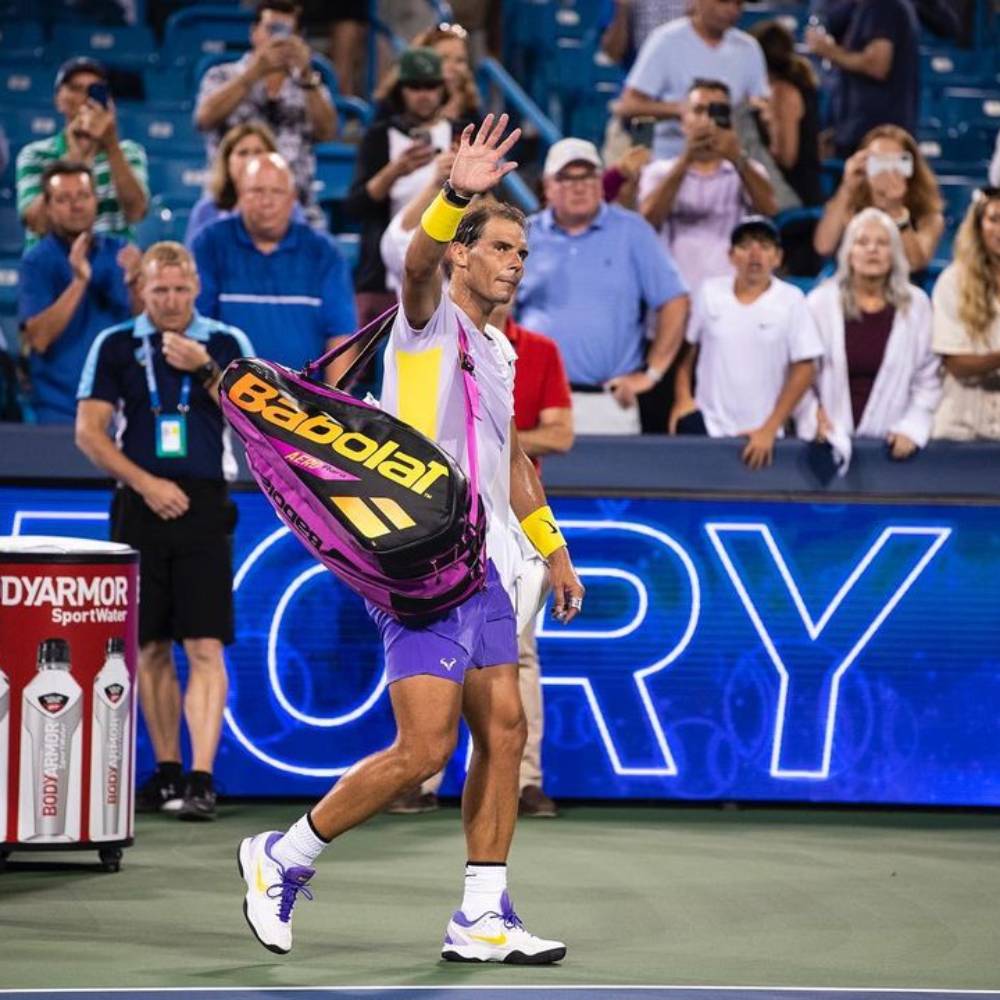 Image via Rafael Nadal/Instagram
Support truly independent journalism by subscribing to Passion of the Weiss on Patreon.
Miguelito once had a dream he was smoking big gas with Ric Flair — but like the 2007 version.
---
On March 20th Rafael Nadal lost his first tennis match of the 2022 season. It was the final of the Masters 1000 tournament in Indian Wells, California where he faced Taylor Fritz, a promising young player from suburban San Diego. The windstorms that swept down from the San Jacinto mountains the day before were gone and Fritz won in straight sets, despite a push from Nadal in the second set tiebreak. Before that day, Nadal had won his first twenty matches on the 2022 ATP Tour, which included titles at Melbourne, Acapulco and the Australian Open.
Fritz's win that day shouldn't be qualified—his cross-court forehand is enough evidence of his talent—but it's relevant to this particular phase of Nadal's career to mention he was playing with a stress fracture in one of his ribs during that tournament. Despite dealing with that, and flare ups from the chronic foot injury he's been playing with since the mid-2000s, the 36 year old workhorse had never started a season with twenty straight wins. In the five months since Indian Wells, he's spent some time rehabbing, only picked up three more losses (bringing his current 2022 record to 35-4) and claimed his 22nd major at this year's French Open, extending his record for the most men's Grand Slam titles.
I use 'phase' to refer to this time in Nadal's career because it accounts for the fluidity that characterizes it. It's fruitless to mark off the career of an athlete cleanly and say they were 'this thing' at one point and have now morphed into 'this other thing' or assign fixed qualities to beings defined by change. This season has been a mix of the fire that marked his early 2000s emergence and new variables. Obviously he's older and much wealthier. The locks that used to rest on his shoulders have been replaced with a bundle of thinning hair. He still rocks Nike kits—just with his 'Rafa' logo now stitched beside the multi-billion dollar brand symbol. There are no more sleeveless shirts in his locker room and the shorts aren't quite as long as they were in 2005.
Beyond the easy-to-spot physical and financial differences, he's tuned his game to suit his aging. He aims for shorter rallies with more strategic serve-and-volley plays and added power to his second serve, upping it nearly 7.5 mph from just last year. Quicker points make shorter matches and allow him to conserve energy throughout tournaments. Those stats would mean nothing if he hadn't also had performance results unparalleled in his twenty-one year career. Despite winning nine out of ten French Open's between 2005-2014, he'd never won the first two majors (Australian and French Opens) like he did in 2022, giving him the only shot in his career at a Calendar Slam. That was until an abdominal tear forced him to retire from his semi-final at Wimbledon before it was even played. It's not productive or insightful to posit a counter-history when it comes to sports, but it's hard to shake the curiosity of "could he have pulled it off?" The two forces that still could've blocked his path to that Wimbledon title, Nick Kyrgios and this year's eventual Wimbledon champion Novak Djokovic, were playing their best tennis of the season too.
There's still continuity in Nadal's game, even with the new developments. It's clear on a surface analysis of his match film that he's deepened the quirks obvious from the beginning of his career. Things like, adjusting his sideline bench so that it's exactly parallel to the court. When there's a change of ends, he'll walk to the center of the court and then head back to his bench for water or energy gel. Before he serves, there's a choreographed alchemy of fabric adjustments and a precise cadence to how he uses the sweatbands. These ticks are usually just the subject of a joke from sports broadcasters grasping at relatability, when they deserve much more attention in an analysis of his success. There's no line drawn between his on-court rituals and the ability to win a match when he's down a set and five games.
It makes sense on some level. The only rituals that tend to get studied are the hyper-exceptional ones. It has to claim transcendence of some kind or communication with another plane to be deemed important. Some rituals are potent and efficacious even if the events they summon are confined to a tennis court.
Once the ball is in play, Nadal carves out points with the precision that's been there since his days on the Challenger Tour. He'll alter the direction of a point with his defense and get his opponents to retreat from their serve with deep returns. The top spin generated on his forehand has always done more than give him a wider margin of error. It's frustrating and gnat-like, with each ball assuming a slightly different arch and shape but united in their stubbornness. He gives out lessons on angles and parabolas whether you're prepared for them or not. Then there's the cliche of all Nadal praise that's impossible to ignore: he takes the slogan immortalized in the rafters of Roland Garros (which he's won fourteen times) very seriously, "Victory belongs to the most obstinate." ("La victoire appartient au plus opiniâtre.")
The quote—originally attributed to Napoleon and appropriated by the French pilot for whom Roland Garros is named—is a bit obfuscatory though. Victory is never a mere function of will. Maybe Nadal does take it to heart and perhaps it fuels his tenacity in the moment. To suggest that a quote or "mindset" alone translates to athletic results misses the reality of sports (and most other phenomena.) Fetishing "competitiveness" in the abstract can lead you to think Nadal is just fulfilling some telos ordained before time and reject studying the tangible movements and micro-adjustments necessary for his level of play. It is the culmination of intense conditioning to stave off exhaustion and the drills designed to sync his body and brain and the calmness required to make that happen over the course of matches that can stretch hours. It also can't be denied that having millions to spare on training, recovery, nutrition and general well-being plays a part. There are dozens of millionaire professional tennis players though and none in the last two decades are as much of a household name as Nadal (Williams sisters excluded). And there's no ignoring the power of rubbing the sweat from your eyebrows in ceremonial fashion.
His chance at the elusive Calendar Slam is gone, but, with the U.S. Open still before him, we could see him go three-for-four in Grand Slams during the twilight of his career. That would cement 2022 as his peak, after twenty-one years in the game, which no one could have reasonably predicted.
During the quarterfinals at Indian Wells this year, after a variable fell in Nadal's favor, his opponent Nick Kyrgios shouted to his box "He's so lucky!" This drew some derogatory remarks towards Kyrgios—whose emotional displays on court are often scrutinized beyond the average player—but he did have a point. He wasn't suggesting that Nadal was only successful because of some divine favor or downplaying the skill of his opponent. It was a moment of frustration from dealing with a tennis star who can return shots like a brick wall; an acknowledgement that Nadal's game is manicured so precisely that he gives himself more opportunities to handle intangibles. Something as random as the ball taking a fortunate bounce or leaking over the net cord can be the difference in an expected outcome or taking down one of the most hypnotizing players to ever hold a racquet.
---