A few years back, Steph Curry's outspoken wife Ayesha Curry had folks cringing for Steph when she was caught jonesing for extra-material flirtations on Jada Pinkett Smith's now-canceled Facebook show
"Something that really bothers me, and honestly has given me a sense of a little bit of an insecurity, is the fact that yeah there are all these women, like, throwing themselves (at him), but me, like the past 10 years, I don't have any of that," she said. "I have zero – this sounds weird – but, like, male attention, and so then I begin to internalize it, and I'm like, 'Is something wrong with me," she said.
Last month, Curry accused Smith of editing the clip to make her sound crazy.
But now Ayesha has done it again and she can't blame Jada.
During her appearance on The Real, Ayesha took off her wedding ring after seeing a shirtless waiter.
I don't like Steph curry but he deserves better than Ayesha wtf she's thinking ? ? #justakingfromla pic.twitter.com/s5wYHuphwH

— just a king from LA ?? (@JustAKingFromLA) June 15, 2023
The folks in the comments are not impressed.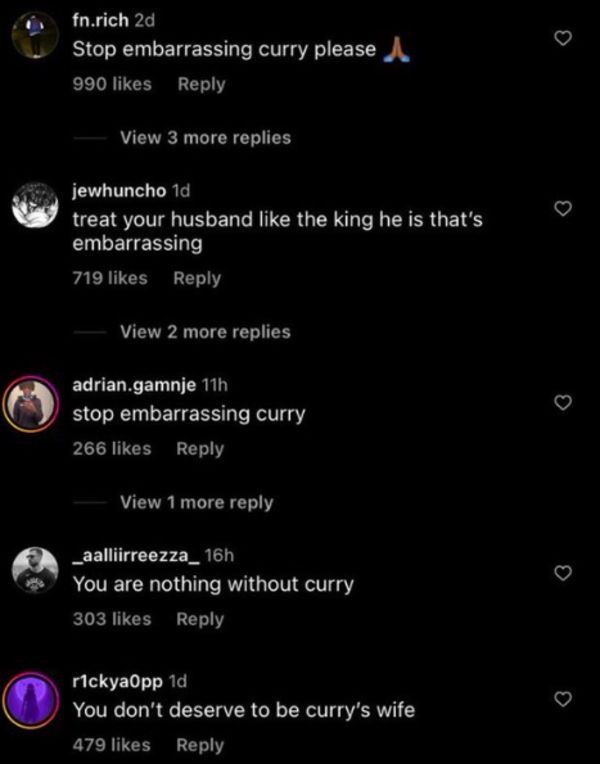 Was Ayesha's gesture just good fun or something deeper?