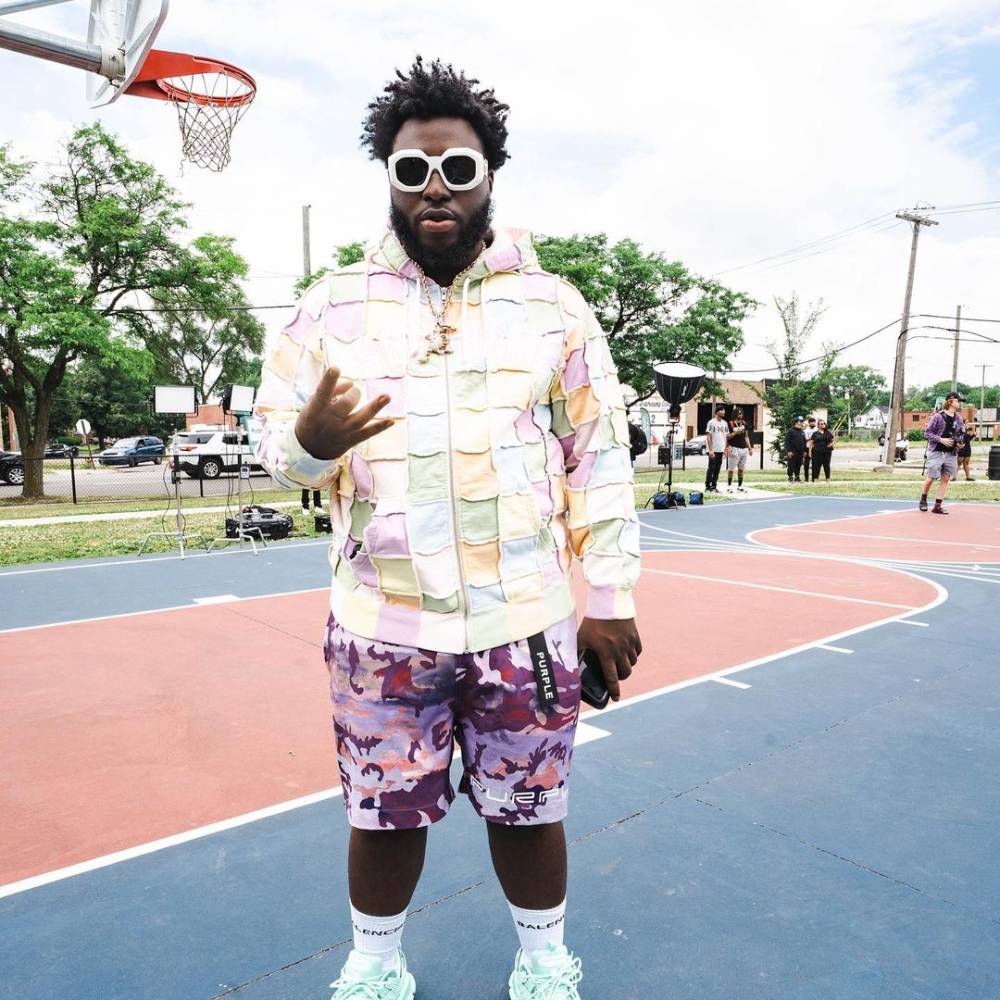 Image via Ysr Gramz/Instagram
Support real, independent music journalism by subscribing to Passion of the Weiss on Patreon.
Will Dukes is not looking forward to a monkey pox punchline.
---
YSR Gramz hails from a glove-shaped state so it's only right that he's a master of the punchline. The native of the Flint suburb, Beecher, YSR Gramz has steadily pumped out a Ford assembly line's worth of loosies, mixtapes, and albums blessed by his brash delivery and memorable bars. He's like a year-long Comic View resident with more damaging put-downs. But make no mistake, Gramz is not some aspiring viral sensation just here for the LOLs. The 26-year-old grew up in a place where insults came with consequences.
"Out in Beecher, we was raised on fighting," Gramz says. But while many other kids his age got caught up in the streets, Jaquavis focused on music, which kept him motivated and out of trouble. Known for his sharp barbs and class-clown antics, Gramz started rapping at age 16, inspired by Gucci Mane and various Michigan rappers. Linking up with the KrispyLife crew, YSR uploaded songs to SoundCloud and YouTube, eventually making waves on the local Flint scene. When KrispyLife disbanded around 2017, after a close comrade was murdered, Gramz decided to seriously pursue a solo career. Absorbing lessons he'd learned recording with local legends, Gramz copped some equipment, hopped in the booth, and has been on a mission to prove he's one of the best to do it.
His video for his 2018 single "Enrgy" has racked up some half a million YouTube views. In the video, he and KrispyLife Kidd post up aggressively behind yellow tape, bellowing at a would-be opponent tied to a chair in the middle of the street next to what looks like an idyllic suburban home. There's a loose, lo-fi feel to the clip, whose stark visuals seem to mimic YSR's vivid punchlines. Both MCs shine on "Enrgy." And there's a dope contrast between Gramz's mildly agitated-cellphone-argument tone and Krispy's spooked baritone belting. But when Gramz spits, "Nigga never put me off my feet, got it out the streets/I'll pull up to your crib like Uber Eats," the hunger is unquestionable.
YSR's progression from those early projects is evident in his delivery, which is punchier and more assured. And though Gramz doesn't tell as many stories as he once did in his raps, he's found his lane, for the time being, as a straight-up spitter. His new EP, Grease, finds him kicking more intricate rhymes than those showcased on his past projects ("I just stuffed your bitch with that shit, now her belly hurts/$500 plate, pull up at the deli first" is a standout bar). He's got no less than three solo albums in the works, as well as more collaborations lined up with his day one, KrispyLife Kidd. YSR Gramz chopped it up with me about everything from pursuing a second career as a stand-up comedian to recording with the late producer (for Flint legend MC Breed) Bernard "BT" Terry Sr. to how his family was affected by the ongoing water crisis in Flint.
---
---
What was it like for you growing up in Flint?

---

Ysr Gramz: I grew up in Beecher. It's outside of Flint. Not far—it's just right down the road. But it's a whole different community. I grew up really pretty good, you know what I'm saying? I had a lot of friends, lot of homeboys. We played basketball, played sports. It was pretty cool out there. Like, I didn't really get into too much trouble. You know what I'm saying? It was good, though. I was raised around the whole community.

---

When did you first start rapping?

---

Ysr Gramz: So, like, I always been rapping. But I started taking it serious probably like 16. When I was 16, we had a group called KrispyLife. It was me and my homeboys, KrispyLife Kidd, YN Jay… uh, Boulevard Richie… Don P… it was a lot of us, though, we had a group called KrispyLife when we was younger, when we was teenagers. So I'd say about 16 when I started taking rap serious for real.

---

Do you remember what your first rap name was back then?

---

Ysr Gramz: OK, so my first rap name was, uh—you want me to tell you like, my very first rap name, like, when I first recorded a song?

---

Yeah, if you remember it?

---

Ysr Gramz: All right, my first rap name was Maserati Quavis. ike, my very, very first rap name, when I first made a song, when I was on SoundCloud. Then I changed my name when I was—when I started taking it serious, I changed my name to KrispyLife Quavis. And then, and later on, down the line, I changed it to YSR Gramz.

---

What were some of your influences growing up? Like, who were you listening to back then?

---

Ysr Gramz: Oh, I was listening to a lot of music. I listen to a lot of music. Basically, I was listening to Lil Wayne, Gucci Mane… who else? I was listening to all the older cats that's probably not even dropping music no more. I was listening to… what's the dude? I was listening to Drake. I was listening to all them cats. My main person I used to listen to all the time was Gucci Mane, though. That's like, my favorite, one of my favorite rappers.

---

That's what's up. Now coming from Beecher—about how far from Flint is—

---

Ysr Gramz: About five minutes. It's like five minutes, not even probably five minutes. It's just a whole different community. Like, we got our own water, we got our own high school, we got our own police. All that. So it's like—it's just a different type of community. Flint right down the street. Like, right down the street. As soon as you cross Carpenter, soon as you cross M L King, you in Flint, you know what I mean?

---

And because it's so close, you had to have heard about MC Breed from back in the day.

---

Ysr Gramz: Yeah, MC Breed, yeah, I know a little bit about MC Breed.

---

When MC Breed came out, just in general, people from Michigan, period, were just super excited about that. Was that, uh, a feeling that you remember in Beecher specifically?

---

Ysr Gramz: OK, so, it's this guy named BT, you know what I'm saying, legendary, legend person. He recently passed away. But MC Breed recorded at BT house right in Beecher. So, like, that's who I started to, like—I started taking music serious when I met BT. BT was recording me. BT recorded everybody. MC Breed, he had Pac at his house. I think he recorded Ready for the World. Dayton Family. So, yeah. I heard a lot about, talking to BT, BT told me a lot about MC Breed and all the older rappers.

---

Did the water crisis have any affect on where you guys were at?

---

Ysr Gramz: Yeah, it kinda had—like I said, we have our own water, but everybody got family in Flint. So it still affected everybody. 'Cause like, I got little cousins in Flint, I got family members in Flint. So it affected everybody. It affected Beecher too, even though we have our own water, 'cause like… even though you from Beecher, you got family out in Flint. It's just a different community, you know what I mean?

---

Back to your music—you mentioned Gucci Mane. That makes perfect sense. He's got a lot of funny lines. And in your music, you definitely have the same thing. When you sit down to write rhymes, do you go out of your way to make sure that every bar has something that's gonna make people smile?

---

Ysr Gramz: Exactly. (laughs) Exactly. Like, I try to mix it all in one. Like, I try to talk about the streets, I try to get out my comedian side in rapping. I try to talk about what's going on. So I try to hit every angle on a song. Like, everybody. I even listen to—like, my fans will DM me like…or they'll comment on my YouTube, and I actually, like, read what they got to say. So I try to, like, make everybody, hit—hit everywhere on my songs for everybody, for the people that want the jokes, the people that want the streets, so the people that want the real life. You know what I'm saying?

---

Growing up, were you always known as like, the funny, witty dude?

---

Ysr Gramz: Yeah. (laughs) My homeboy just told me yesterday, said, "Man, you should start doing…being a comedian, man, 'cause you funny too, bro. You always been funny…" (laughs)

---

I was just thinking the other day that the project you got with [GrindHard E]…there's just mad jokes just left and right on that. It's like a funny concept album almost.

---

Ysr Gramz: Yeah, they like that album. That's how we try to do it, me and E. And we really sat down and did that album together. All at his house.

---

How did you first link up with him?

---

Ysr Gramz: So, like, everybody already knew, I already knew E before he even started rapping, you know what I mean. I linked up with him really through…Rio, Rio Da Young OG, RMC Mike. Like, once the scene started coming together, that's when everybody started linking up. Just like…I think E probably like, two, three years older than me.

---

Growing up, was there any influence from the Detroit scene as well?

---

Ysr Gramz: Oh, yeah. You had-I was influenced by Team Eastside, Doughboyz Cashout… all the artists in Detroit. 'Cause like, we didn't have a scene. That's who we used to listen to. Everybody in Flint used to listen to all Detroit rappers, you know what I'm saying? So yeah. I used to stay listening to Team Eastside, stayed listening to Doughboyz Cashout all day long.

---

Going back to the humor and the punchlines that you got, it sounds like you could have grown up in the battle scene. Was that ever a part of your experience? Like, battle rap scenes, or anything like that?

---

Ysr Gramz: Nah, I never tapped into battle rap. I don't—you know what I'm saying—I ain't think I was pretty too good for the battle rap, you know what I mean, but… I had a couple homies that was into the battle rap.

---

Have you ever considered more of a straight-up serious project as well?

---

Ysr Gramz: Yeah, yeah. See, I thought about doing a mixtape like that. It's all, it's all in the process. Like, I wanna do a mix tape where it's just all sh—I'm talking about the streets, I'm talking about what's really going on in life. And then I wanna do one on the goofy side. Yeah, I'm definitely looking forward to doing one like that for sure.

---

Flint is—everybody's saying it's wild. How is that in Beecher? Is it more of a safer community?

---

Ysr Gramz: I'mma put it like this. I'mma put it like this. So out in Beecher… we was raised on fights. You know what I'm saying, like, people in Beecher ain't gonna have—you ain't gonna see Beecher people… when I was growing up, you ain't gonna see Beecher people really get to it, shooting at each other, killing each other. They gonna fight it out. So I grew up on the fighting side of things, you know what I'm saying? And as I got older, the generation has changed, now. Like, right now, it's way worse, so like, Beecher and Flint is the same thing now. 'Cause like, Flint guys, Flint teenagers is hanging out with Beecher people. Beecher people are hanging out with Flint people. See, back in the day, Beecher was like, "Oh…" Flint people were like, "We ain't going to Beecher," and Beecher people ain't going to Flint. And Beecher people was raised up on fighting each other. See, Flint always bring gun violence. You know what I mean?

So, like, back when I was coming up… like, it was probably good, Beecher was good, I'mma be honest with you. Beecher was pretty good. But-most thing you might gonna do was fight. But now it's changed, though. Everybody just with the shit.

---

I was gonna say, like, coming up, was there anything that you were able to focus on—what positives, or what in your environment helped you stay out of whatever nonsense might've been going on? But it sounds like what you're saying is that it was a, more or less, good community back then.

---

Ysr Gramz: I had pretty good friends, like, me and my friend—I got friends that'd be like, "Nah, bro. That ain't… like, don't do that, that ain't it. Don't try to, don't do this, don't do that." And I'm same with my friends, I always tell my homies, like, "Nah, bro, don't do that." So like, I feel like… my homies, and the people I was raised around, kept me out of the shit. And music kept me out of everything. You feel me? So…

---

Flint is super-hot right now, just Michigan rap in general. With that being said, what do you think makes you stand out?

---

Ysr Gramz: I mean… just being me. Like, people… people like me for me. Like, I ain't, I'm not always trying to be somebody I'm not. I'm not faking. And I'm just keeping it real, you know what I'm saying? I just, it's just me, personally, like, I think just people like me for me. 'Cause I ain't out here doing extra. They like, you ain't gonna see me doing something I'm not doing on a daily basis.

---

You stay on your grind. Are there any other projects that fans can look forward to?

---

Ysr Gramz: YI have a project coming exclusively produced by Enrgy. It should drop this month or next month. And then I'm working on another project, a 2000s project. I'm getting all the beats from 2000, I'm getting 'em remade by the homie from Beecher that, his name Jaylen, as well. And I'm thinking about-I'm thinking about dropping a mixtape exclusively produced by Sav, too, so… I'm always working. I got a lot of stuff I'm about to drop. 'Cause I really didn't drop no solo projects this year, I did a lot of duo mixtapes. And the first mixtape I'm dropping this year is the Enrgy-produced mixtape. That's the solo mixtape.

It's gonna be fire, too, man. I fell like this gonna be the best project I ever made.

---

The Lougramz [album], that's another one. Was there any unique experience or whatever that you remember about that?

---

Ysr Gramz: Yeah. We—like, me and Louie Ray, we always knew each other, but like, we were never close friends. He was more close to my cousin YN Jay, you know what I'm saying… but I always knew, I always, me and him used to always record in the same studio, and it's like… shit, one day, Louie just called me, like, "Let's work." Uh, and it surprised me as well, like, "Damn, Lou wanna work with me?" You know what I'm saying? Like, we always been working, but like, he wanted to do a—he wanted to do the tape. I wanted to do it as well, but he wanted to do it just as bad as me. So it's like, it surprised me. And we just did it. Every city we was in. I think we did- he called me that day, I pulled up on him, we did a couple songs in the studio. And then we was out in California, we did a couple songs. Then we was out in New York, we did a couple songs. And we just put it together like that. I tell people all the time, like, when we move like that, that's how Flint gonna take over everything. That's how we gonna be big, like… if we can do that, we got our producers, we got our artists, and we can keep producing these mixtapes and all this…we ain't got no choice but to win.

---

Anything else that you want the world to know about YSR Gramz?

---

Ysr Gramz: YSR coming, man. I'mma be the next big artist out of Flint real soon. That's what I wanna let the world know. Be looking out for YSR Gramz.

---