There was noise that Travis Scott's Utopia would match the 538K first week his last album Astroworld did in 2018.
That didn't happen.  Instead, it hit 400K almost on the dot, stopping the 110K of Post Malone's Austin to finish first on the album chart.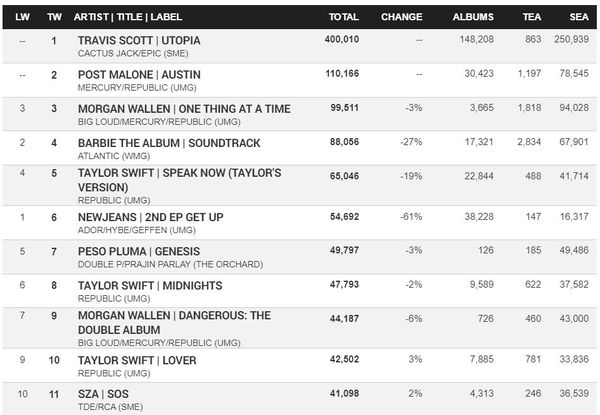 It will easily be the biggest rap debut of 2023 and the third-biggest overall debut of 2023, trialing the 716K Taylor Swift did for her Speak Now re-release and the 501K Morgan Wallen put up for One Thing At At Time.
Here are the ten biggest first weeks from rap artists this year.
400k – UTOPIA
167k – Lil Uzi Vert Pink Tape
125k – Lil Durk Almost Healed
123k – NF HOPE
89k – Young Thug BUSINESS IS BUSINESS
85k – Gunna a Gift & a Curse
68k – Tyler, The Creator Estate Sale
66k – Almost Healed
66k – Spider-verse
61k – Pink Tape
60k – YoungBoy DTTAH