Jackboy has been accused of beating the crap out of his female artist Lexxstasy.
Jackboy's artist claims he's been beating on her. He was recently arrested for cyber stalking & burglary of an occupied dwelling pic.twitter.com/OZdd6QcAuL

— SAY CHEESE! 👄🧀 (@SaycheeseDGTL) September 28, 2023
In denying he did so, Jackboy claimed Lexxstasy was "Tryin to play da Chrisean role" by painting herself as the victim.
Chrisean Rock did not like Jackboy's name in her mouth.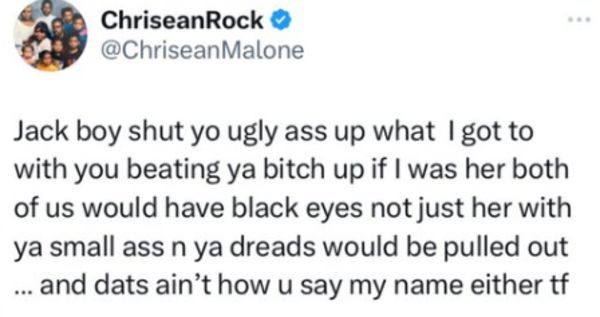 "Jack boy shut yo ugly ass up what I got to with you beating ya bitch up if I was her both of us woudl have black eyes not just her with ya small ass n ya dreads would be pulled out," Rock said.
Jackboy vs. Chrisean, who you got?