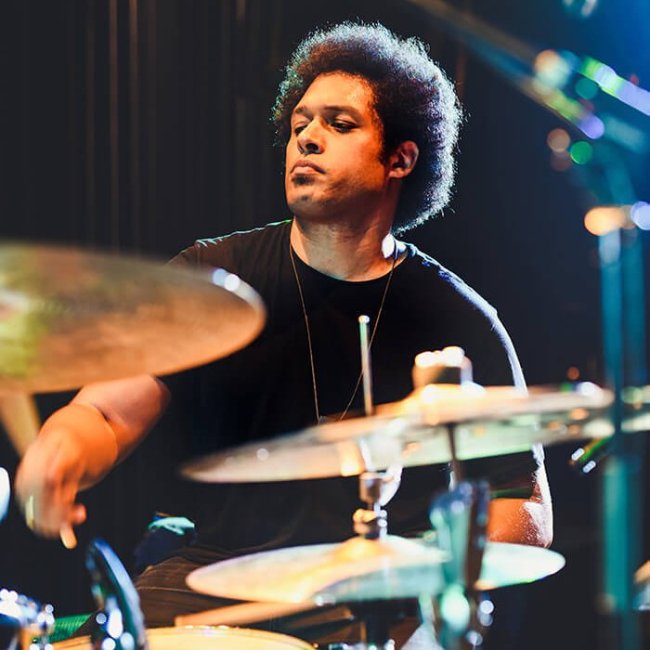 Photo via David Marques
---
Support real, independent music journalism by subscribing to Passion of the Weiss on Patreon.
---
Few things are more comfortable for Makaya McCraven than being behind a drum kit. It's where the Chicago musician got his start, slowly learning to be a working musician under the influence of his father, percussionist Steven McCraven; his mother, vocalist Agnes Zsigmondi; and the many artists that moved in and out of their circle.
The instrument remains close to his heart, both spiritually and physically. He's been known to wear a brass medallion that is actually an untempered cymbal repurposed as jewelry by a Dutch artist. But on the music he's released over the past decade, his role goes well beyond the drum throne. Nearly every album finds him working more in the mode of a Dilla / Madlib-style beat producer. The recordings that McCraven made during his residency in the the Chicago bank vault-turned venue, the Bedford, were flipped and looped and tweaked like a hip-hop mixtape for his album In The Moment. And he did the same on 2018's Where We Come From, which twists up two evenings of jams made at London's Total Refreshment Centre, and Universal Beings, a collection culled from pop-up shows McCraven did in L.A., Chicago, London, and New York.
McCraven's most recent releases have made him one of contemporary music's most sought after remixers. XL Recordings hired him to overhaul to Gil Scott-Heron's final album I'm New Here in 2020, and the results found him tapping into some deep emotional veins as he worked samples of recordings his parents made into his thick, self-created grooves as a complement to the poet's reminiscences of upbringing and beloved family members.
Last year saw the release of Deciphering The Message, a commission from legendary jazz label Blue Note, McCraven was allowed to dip deep into their archives and use any of their past recordings as raw material. As he discusses below, rather than look to the usual suspects and avowed classics, he gave a polish to the label's dustier corners. "Tranquility," an appropriately titled ballad from vibraphonist Bobby Hutcherson's 1966 album Counterpoints, becomes something far more agitated through McCraven's skittering beat and a buzzing guitar solo from Parker. A sturdy standard like "Autumn In New York," as recorded by guitarist Kenny Burrell in 1958, becomes far looser and liquid with the application of some boom-bap and the loop of a muted trumpet. And Eddie Gale's "Black Rhythm Happening," the title track of the trumpeter's 1969 album, ramps up the original's glory praising beauty and joy by way of a shimmy shake beat worthy of Prince Paul.
As viewed from above, McCraven's work, both with younger players and the sounds of older recordings, is part of a necessary conversation about the next evolution of the Black improvised music known colloquially as "jazz." He's found the threads connecting the past with the present, and is either wrapping them with new colors and textures, or he's plucking them gleefully like the strings of a grand instrument. Our job is to either listen and absorb or join in. — Robert Ham
McCraven is playing at the Echoplex in Los Angeles tonight, 2/22. In Santa Cruz on 2/24 and Oakland on 2/25.
---
---
You grew up in a very musical household — surrounded by all these amazing musicians and encouraged to follow a similar path. Is that something that you are trying to impart on your kids as well?
---
Makaya McCraven: 

Music is so enriching to our lives and our existence. I want my kids to engage with that. By no means do they need to pursue a life in the arts. That's their prerogative. But I try to give them access to the many beautiful things this world has to offer and encourage them to explore. Maybe it's a little different than the way I grew up. I'm a little careful about not pushing them to do this or that but rather giving them the space and access to try things and pursue things and different instruments and get some lessons here and there. Maybe find some kids with similar interest that they could jam with. Or hang out at rehearsals and play music with some world class musicians who come by. Those are cool experiences, I think.
---
Do you feel like you were nudged down this path of being a musician by your father? Do you think he would have been happy if you decided to spin off and do something else, like be a college professor or sell insurance?
---
Makaya McCraven: My father would encourage me to do whatever I was inspired to do but always really wanted me to play the drums. He started me really young. I don't think anybody ever really discouraged me from following anything, other than discouraging me from doing bad at school and stuff like that. Ultimately, I think I was encouraged to do what I found that made me passionate. I was encouraged to practice and play the drums and keep music part of your life. There was a period in my younger days, maybe around middle school, where I slowed down. I was not feeling school band, like concert bands, not like the school jazz band.

That didn't start until high school. Part of me saw the constant travel, the lifestyle struggles, and part of me was like, "I don't want to do this." So I fell out of it for a couple of years. When I got to high school, I met some kids and jammed with them in the school band room and they're like, "Wow, you're really good! Come and hang out. Why don't you join the jazz band?" I learned it was part of my social fabric and I could meet people and I just loved doing it so much. Even though I grew up with all these musicians, my high school years were my own journey of learning. I started a band with my friends and music really became my thing and not a family thing from that point on.
---
As I've been thinking about your work, I feel like one thing that sets it apart is this sense of patience. For In The Moment, you're combing through hours of live recordings you made to construct the pieces on the album, and for Deciphering The Message, you're digging into the Blue Note archives to pull out choice cuts to play around with. And you're not a musician whose name I see popping up on a dozen sessions each year. You seem to pick your spots very carefully.
---
Makaya McCraven: 

I don't know that the people who know me best would call me "patient," necessarily. I kind of flow with what's happening around me. I got into these types of projects and I'm working a lot on my projects. Sometimes they take longer than I'd like them to. Part of that is also between traveling and touring and everything that's happened since my records have picked up a little bit, I've just been busy, honestly.
---
The last two albums you've released under your name have found you working with other people's recordings as raw material. What made you want to take on that challenge?
---
Makaya McCraven: 

Really, more than anything just a collaboration. With the Gil Scott-Heron project, I had been approached by XL and Richard Russell about doing this project, and it was a really exciting proposition to be able to work with this legendary artist's catalog. So that's something that seemed to have just come about.
---
Was it a little daunting though to dive into the archives of Blue Note, this iconic jazz label with hundreds of classics under their name?
---
Makaya McCraven: 

Absolutely. It was an extremely daunting task. I wanted to spend a lot of time digging and taking my time with it and trying to find my narrative, a throughline that would really connect it and make the thing feel cohesive.
---
---
As you and other folks have pointed out, you didn't play it safe with Deciphering. You skipped over more obvious choices like Blue Train or Maiden Voyage and pulled out some deeper cuts from the Blue Note archive. Was that deliberate?
---
Makaya McCraven: Yeah, absolutely. Not necessarily just looking for artists that are less well known but just digging deeper into the catalog in general. Feeling like I wanted to do that for myself. Part of being able to dig through these records for me was like a study. Getting to dig is a whole thing. I wanted to engage in that as a practice as well — the culture of digging for records and tracks and cuts that I wasn't familiar with and learning something about the catalog. It definitely was a goal of mine to dig a little bit. Not necessarily with the effort to uncover something no one had heard of, but just as a process.

There are quintessential and really classic, iconic recordings that come to mind quickly, and I didn't want to just jump in there. I wanted to spend some time and challenge myself to learn something. To try different things to see what was sticking for me and what was connecting and resonating for me. And seeing which tracks were resonating together, and how it was all coming together as one record.

I knew from the top I wanted to do this with older material. I didn't really want to sample more modern records. You get into the '70s and you find a lot of stuff that already has a back beat or is already leaning electric into the groove side of things. I felt like those were lower hanging fruit. I wanted to go deeper and engage with this exciting time of this music. I was really excited thinking about sampling guys who were in their early 20s at the forefront of innovation. There's really groovy music that was hip at that time and that was something I wanted to engage with.
---
Bringing in the other musicians to play on Deciphering, were they excited to dive in or were they a little hesitant about stepping on these tracks that are 50, 60 years old?
---
Makaya McCraven: That was initially my idea from the start when I talked to Don Was about the project. People have been sampling these records and recontextualizing sound into new music. It's become a whole kind of artform in itself, whether it's sampling or sonic collage or whatever. All sorts of technology has been built to engage with these practices. What I wanted to do with these recordings in this setting, rather than, "Okay, I can make these beats and maybe I can find a rapper and they can put a song on it," I wanted to engage with the young players of today.

If a hip-hop producer can do it, why is it different to do it from this angle. We actually have players who are engaged with this whole legacy of work. The idea was where modern technology and contemporary music and contemporary improvisers and players and instrumentalists merge into this alternate sonic universe that we have because of the recorded idiom. We can look at sound in different ways throughout the last 100-150 years. That has changed the evolution of music, and even further with people taking turntables and scratching the sound to Les Paul making tape loops and Mellotrons, Beatles stuff putting stuff backwards and multi-tracking. King Tubby and Lee "Scratch" Perry using the audio desk as a whole instrument of its own. That's what I'm engaging with.

The technology of music and what we can do with repurposing audio and looking at audio in different ways. This music, jazz if you want to call it, has done similar things from its inception. There's always a borrowing of this sound or other people playing the same licks or trading licks. Similar intros, outros, tags, turnarounds that we reuse and become part of our vocabulary. It's all in conversation with each other.
---
What do you think, then, about what Kenny G did with Stan Getz — using previous recordings to create a new song that is supposed to be Getz playing a Kenny G melody?
---
Makaya McCraven: I haven't heard that. [laughs] I mean, there's all sorts of work within it, right? When [Mostly Other People Do The Killing] remade Kind of Blue note-for-note. That practice I didn't necessarily think it was doing anything for me, but it was an interesting kind of thought experiment. All these things are happening and I think it's fascinating.
---
As I was getting ready to speak with you, I was re-listening to In The Moment and there were several points throughout where your voice comes in, reminding people that you and the musicians were making all this music up on the spot. At the time, did that feel necessary to throw out there for the audience?
---
Makaya McCraven: No, not necessarily. That all came from a particular series that we had in Chicago at a venue called The Bedford, that no longer exists. It was a spontaneous composition series. The whole point was that we were doing these improvised nights. So that was part of my weekly banter, talking to people and engaging with the audiences we were building at the time. Including it in the record was definitely intentional because I felt like, when I made the record, it served a little better with a little bit of explanation to what you're listening to. To transport the listener to the place. That this stuff was happening on the spot at a live venue, a bar where not everybody was really listening to us or truly engaged with the music.

Once I recontextualized it and put it into this new framework of a record, it has a different life. Even that I wanted to highlight by keeping some of the crowd noise or the noise of plates falling and what was happening in the room. We worked really hard to get people to come out to this little place, to come check the night out. I wanted to highlight that this was a cool thing that we were doing. Or at least we thought it was cool.

But, you know, through this process and getting a lot further into the world, people will come out and be like, "Oh, I would love to be there." Maybe take a look around at all the local cats right now and be there for that. There's something special about being in the moment and being there. I made these tracks and they can get a lot of plays and people like them, but if you really wanted to get the experience, you had to be there. There isn't really a document of just what happened that has been released. It's all been reimagined by me to encourage people to be there for those experiences that are less edited or less reimagined.
---
For this run of West Coast dates that you're about to do, do you have a set bunch of songs you're going to do or are you going to let it fly from night to night?
---
Makaya McCraven: This tour will explore the material from my records, so you'll hear stuff from In The Moment, from Deciphering The Message and so on. We try to keep it open to allow things to go this place or that place, but generally when I tour, I'm playing the records.
---