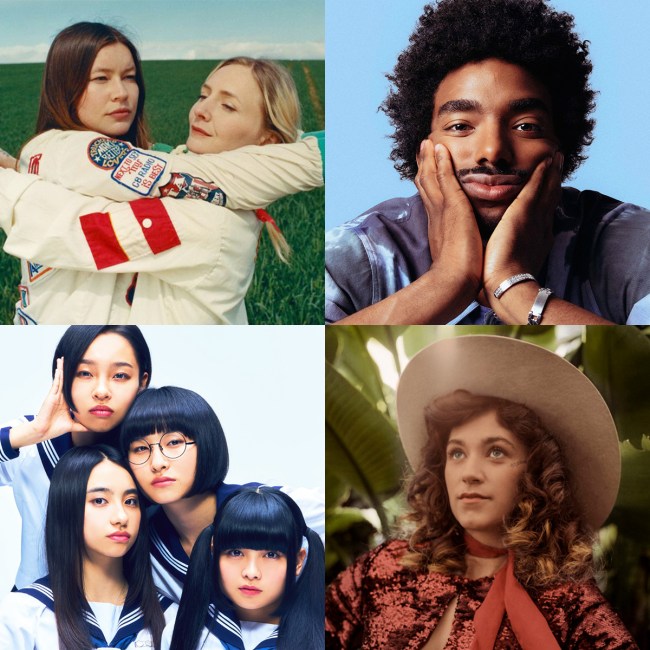 16 years of independent rap journalism with no end in sight. Keep it that way by supporting Passion of the Weiss via a subscription to our Patreon.
---
Chris Daly is in a good mood because he's in the zone.
---
While I haven't done New Year resolutions in years, I retain some oddly Catholic need to assuage my guilt over all the things I meant to write about over the past 12 months, hence this now annual opus of inefficiency. Some concepts took more research and prep than I could dole out at the time, others are just stand-out songs for me that didn't necessarily "fit" in a one-off fashion here at PoW. May 2022 start off so fresh and so clean, one month late because time no longer has meaning.
---
1. The Benefits of Influencer/Online Placement
---
It has come to my attention that one of my most trusted "sources" of new music has become background music in otherwise unrelated YouTube clips. Whether it's the closing clip for a comedy series' "click to like" portion or loose theme music for a promo video extolling the virtues of Finnish winter biking, these videos clearly cover the content spectrum while consistently delivering gems I would otherwise have missed. While plenty has been written about the benefits of TV ad placements, this angle felt fresh to me. Who was making these decisions on what songs made it where? Is there an actual occupation somewhere out there, similar to the blessed few who get paid to pick songs for movies and TV? Was money exchanging hands? In which direction? All fascinating stuff, right? Also, a lot more time than I've had to spend of late. I think I might still return to this idea somewhere down the line, but if I see this story run somewhere else, I will relentlessly troll and otherwise abuse the author and outlet who didn't contact me first. In the interim, here are some of those aforementioned jams, each of which arguably deserves its own post, but here we are.
Drool Puddy, My Touque's Too Tight
Blake Mills, Money Is The One True God
Blake Mills | Money Is The One True God from Lachlan Turczan on Vimeo.
---
2. Wet Leg
---
I first stumbled across the Isle of Wight indie band by way of a Fairbairn Films video, but I've watched so many of them, I can't seem to find the exact one I wanted to share. Regardless, the band just dropped their third single, with their debut full-length coming in April. On the strength of the first two singles alone, I purchased tix to their upcoming U.S. tour. It's a tad early to make any meaningful predictions, but I'm not suggesting you go full-on Public Enemy, either. I expect to hear more good things from these cats in the near future.
---
---
While I did once write a review on Hamasaki Ayumi's "(miss)understood," to say I know nothing about J-Pop remains a gross overstatement. Somehow, ATARASHI GAKKO! crept into my algorithm, and I've been addicted ever since. While information on the group remains scant, they've made the 88rising roster, so the talent levels are there. I get that they're a manufactured band, but so were the Sex Pistols and even more literally, the Jacksons. While the four young women seemingly have the vocal chops and definitely the charisma to make it at least as far as the next round, it's their production that truly sets them apart. Guitars and grooves typically are not this taut in mass produced music. Wiki claims the band formed in 2016, but didn't hit U.S. shores until earlier in '21. Their latest EP, Pineapple Kryptonite, is a frenzied romp of pop hop hooks and loosely veiled electronic beats. I look forward to risking the eighteenth wave of COVID to eventually see them in a small club.
---
---
To my knowledge, there aren't a lot of folks in the country scene sporting face tats, so when Ms. Ferrell popped up on my YouTube feed, I must admit I was intrigued immediately. As soon as her barroom vocals hit my ear holes, I was hooked. Falling somewhere between the powerhouse pipes of Loretta Lynn and the playfulness of more contemporary indie acts, SF has sucked me into a new rabbit hole, one soundtracked by murder ballads, broken hearted love songs and Appalachian hollers. The more I dig, the more intriguing the story becomes. Videos of live shows are one thing, but busking clips are another thing entirely. As good as this year's Long Time Coming was, the online live stuff shows an even bigger and brassier side that's not to be missed. And yes, I've already purchased tix for when she comes to town this spring.
---
5. Western AF
---
Outside of some possible Lil' Nas X commentary, I fully realize and appreciate that PotW is not your regular go-to for C&W music. For the record, I'm no more of a fan of the contemporary "pop country" crap that is most common these days, but I am a full-on fiend for anything that skews towards the genre's more roots-oriented beginnings. Enter Western AF, a video series that documents younger artists that do not fit the "typical" idea of C&W. I've already waxed poetic on Sierra Ferrel above, and that's the type of artist you'll find here–often heavily tatted and committed to a rawer sound than you're likely to hear on terrestrial radio.
---
6. Tai Verdes
---
Tai Verdes is stupid in the absolute best possible way. Yes, it was his acoustic cover of "Drugs" that showed up on my YouTube feed that brought me to the table, but a quick dive into his album, TV, showed a modern pop writer with strong lyrical sensibilities. His poetic touch takes otherwise light topics like schoolyard crushes ("we would have some cute kids") and broken hearts ("FEELING THIS BAD NEVER FELT THIS GOOD") and infuses them with a fresh wit and cleverness that belie the young up and comer's relatively short career. Another one to watch.
---
---
I don't know about you, but if not for the efforts of artists and musicians to keep me entertained and/or educated over the past year, I'd have an even more tenuous grasp on sanity than the little I have maintained. I'd be remiss if I didn't give a special shout out to the fine folks in Kansas Smitty's and the live shows they've produced on their KSTV channel. Those kids can jam, full stop. I also had intended to do a full write-up on their stellar Plunderphonia, this year's collection of reworked, reimagined and reinterpreted jazz classics from such lesser known masters as Jelly Roll Morton, Bix Beiderbeck and Maurice Ravel. I also want a full head of hair and to be 20 lbs lighter. Shit happens.
---
8. MF Robots
---
Since nobody else seems to give a fuck about Gen X, it was with great interest that I awaited MF Robot's Break the Wall. Those of a certain age may recall the Brand New Heavies and their hits, including "Never Stop," "Dreams Come True" and "People Get Ready." Founder / drummer Jan Kincaid and vocalist Dawn Joseph reunite on this post-BNH project and bring the same level of funk nasty to their UK dance/jazz/house/acid brand of musicality. It's good to hear the older kids still know how to keep a party going.
---
---
Flaming Lips weirdness with Aaliyah-smoky vocals? Yes, please. "Red Room" never left my own Top Jams of '21 list. If it didn't make yours, you might need to listen again.
---
10. Harris Cole & Somni
---
Whenever either of these two drop a new project, I'm interested. Voltroned together, it's even better, and that's what happened on their Sirens EP. If narcotic, late night/early morning jams are your bag…
---
11. Sam Gendel & Sam Wilkes
---
I missed the boat entirely on Music for Saxofone & Bass Guitar and probably would have missed out on Music for Saxofone & Bass Guitar More Music if not for a misguided Washington Post article that obviously doesn't understand what "smooth jazz" is. That aside, it's a great dig into what's actually more of an offshoot of the chillhop movement. Props to the author for shining light on worthy artists, but let's get something straight–smooth jazz was a corporate affair that lacked soul. More Music oozes soul, and for my money, is a more melodic endeavor than its predecessor.
---
12. Growroom Interpretations Vol. 1: Cure for Pain
---
I don't want to completely tip my hand here, but I've been vision boarding a 33 1/3 book on the original album for over a year now. Part of my proposal will include covers, and Growroom Productions has done a fantastic job with this one. See my earlier note about what happens if someone else ganks my idea. Say nothing. Act casual.