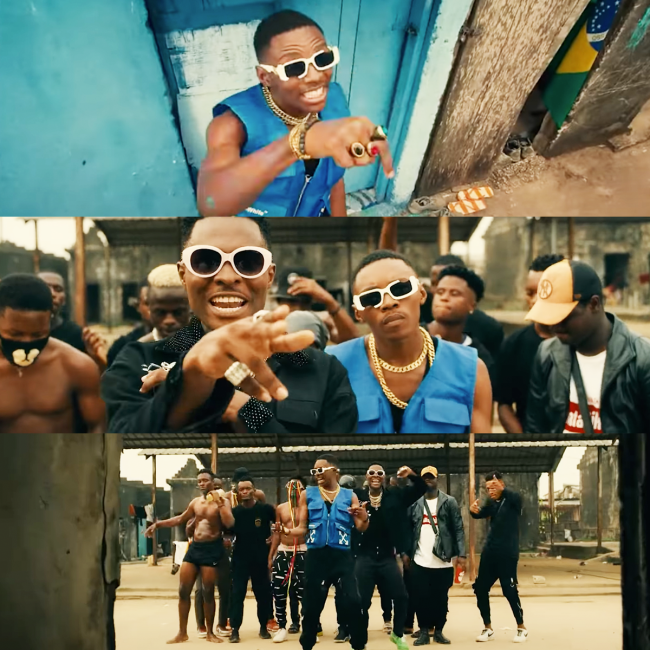 Photo via Ebeso Empire/YouTube
---
Where else will you find the thoroughly researched rundown of the best up-and-coming artists from the continent of Africa on a weekly basis? At the top it's just us. Support truly independent journalism by subscribing to Passion of the Weiss on Patreon.
African music never sleeps, and neither does Leonel.
---
EGO & PRIDO –

"No Be Lie"
---
From Cameroon: I like the way these two rappers tackle the soukous/rumba beat, almost defying the metric itself but never actually leaving the pocket, and their tone, somewhere between celebratory and outright menacing, fits the combination between the bleak synth lines and the house-like production space. And in true Franco-African dance music fashion, they throw in all sorts of incredible drum arrangements to the mix, from hand drums, to drum kits, to pads and 808s. Those moments where they rap on top of only drums are a delight.
---
Bensoul x Nviri the Storyteller x Fancy Fingers –

"I Deny"
---
From Kenya: This is pure production excellence from the Bensoul/ Sauti Sol camp. Starting with a tasteful upright bass line, "I deny" offers an interesting contrast between organic/acoustic instruments and pads/trap hats, while Bensoul and Nviri kill it with some beautifully-laced smooth melodies. But the best performance comes from the third name on the credits; guitarist extraordinaire Fancy Fingers creates all sorts of arrangements that are not only meant to enhance the harmonic core, but build upon the interplay of the singers. And that semi-acoustic solo just overflows with passion.
---
One Lyrical x Leyna –

"Lune de Miel"
---
From Senegal: It's so good to hear this kind of high-touch, cosmopolitan Afro house again. With elements of mbalax and some French instrumentation for good measure, "Lune de Miel" is a subtle but effective bop, where One L and Lena display their incredible chemistry and their ability to unleash their emotions in a very subtle, almost subliminal manner. And it's the rare piece where there's heavy Sabar drumming and still sounds atmospheric.
---
Drifta Trek x Dr. Bishop Rev Nkongolo –

"Papá"
---
From Zambia: The first thing that caught my attention about "Papa" was Trek's unique tone — so gravelly it almost sounds distorted and makes you question if this was even mixed right –, but the more I listened, the more I came in awe of his uncanny ability to glide through every crevice, every nook and cranny of that tumpa tumpa beat. The rhythmic scheme doesn't feel complex or even calculated, it's actually as simple as it gets, but he drags and rushes syllables in a way that can make such a basic dembow sound so sinfully bouncy. This guy's a true natural.
---
Frya –

"Changes"
---
From Zimbabwe: If you follow me long enough on Twitter, you'd know I'm a sucker for ballads; it is one of the main reasons why I became a fan of the Eurovision Song Contest in the first place, and being from a Spanish-speaking country will inevitably expose you to great love songs from all over Latin America, Spain, and even Italy (no wonder Eurovision '22 is so full of ballads, given that it will take place in Turin). And there's no shortage of beautiful slow tunes in the African continent, especially in Gospel, but this remarkable piano ballad from upstart Frya is completely one-of-a-kind. "Changes" is all about her vocal expressiveness, and her knack of articulating nuanced feelings in effortless melodic gestures. Lyrically, the message feels appropriate for both lover-to-lover or mother-to-children sentiments, and the way she sings "I only hope that you are happy" is just devastating. It contains as much resignation as it does resentment, it is as much hope as it is error. It's loss, encapsulated.
---
More Afro Jams for you this week:
---
Kinzim – Bonitona (Cape Verde)
Yahya – HIM/ME (Sudan)
Cef Tchokwe x Tsunami – Aquí Sangra (Angola)
BOKO – Pour La Vie (Reunión)
TNT x Teeyah – Te quiero (Ivory Coast)
Juno Kizigenza – Urankunda (Rwanda)