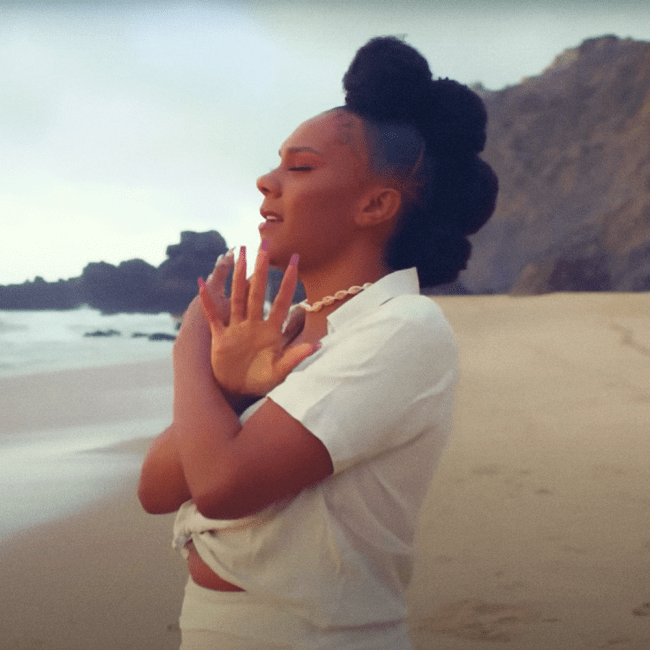 ---
Where else will you find the thoroughly researched rundown of the best up-and-coming artists from the continent of Africa on a weekly basis? At the top it's just us. Support truly independent journalism by subscribing to Passion of the Weiss on Patreon.
African music never sleeps, and neither does Leonel.
---
Irina Barros –

"Viaja"
---
From Angola: We are at that exact point between spring and summer when love is clearly in the air, and styles like zouk and kizomba take this opportunity to flood us with releases that hit much harder in your heart. Angolan Irina Barros combines both genres in "Viaja", in which her tender but soulful voice transports us to that moment of falling in love in which we feel truly spellbound. Between acoustic and electric guitars, synth-strings and Daus' impeccable production, Irina exudes illusion and desire, and the hint of R&B in her voice gives her vocal performance more gravitas. Undoubtedly one of the Lusophone tracks of the year so far.
---
Da Silva –

"Lá Vou Eu"
---
From Mozambique: Also coming from kizomba but with even more touches of R&B and Soul, Da Silva gives us a more reflective "Lá Vou Eu", in which he confronts and contemplates the doubts and risks of falling more deeply in love with someone, something so universal, as it is powerful when executed with the melodic measure and elegance of the Mozambican.
---
Kady x Dino D'Santiago –

"Djuntu"
---
From Cabo Verde: "Djuntu" is quite intriguing; a near-perfect fusion of funaná, the quintessential Cape Verdean music, with Afropop and even Brazilian instrumentation. Despite its very short duration, this is a gem that shows that the Lusophone nations continue to converse sonically.
---
Esseni x Yaka Crazy –

"Togo Drill Love"
---
From Togo: Here the title says it all; With typical drill beats — at least in terms of sounds, not intensity — and a remarkable performance on Ewe drums like the Atsimevu featured in the video, Esseni and Yaka deliver the Togolese equivalent of "Crazy in love".
---
Debordo Leekunfa –

"Désolé (J'ai Déconné)"
---
From Ivory Coast: This is a very pleasant surprise, really; it's rare to hear this Ivorian singer outside of his distinctive and frenetic coupé-décalé, but "Désolé" gives us a different (and very interesting) facet of the artist. The theme mixes elements as disparate as R & B and Latin American bolero, with spoonfuls of zouglou, Afropop, and even drill, for seasoning.
---
Chriss Eazy –

"Inana"
---
From Rwanda: Here what left me with my jaw on the floor were the choices in the production, but more than anything, those ecclesiastical choirs in the intro and that clearly state the tunes' ambitions from the get-go. Behind that are balafons, acoustic guitars, a selection of drums from various regions of East Africa, and an exquisite vocal performance from one of Rwanda's finest.
---
Momolava –

"Comeka"
---
From Rwanda: Also hailing from Rwandan label Country Records, Momolava bursts onto the scene with "Comeka", and much like the Chriss Eazy track, it's the sophistication of the production that makes her stand out. It is enough to listen to that classic cello at the beginning of the song and the way in which the manipulated voices and the drums enter to convince us that this is a great song.
---
Kartelo x VDJ Jones x Lucci Kingpin –

"Kwa News"
---
From Kenya: I've always wanted to sit with Mavo on the Beat and pick their brains a little. I've always wanted to know how the heck they stumble across the necessary elements to make a catchy track, Every. Damn. Time. Here he uses a couple of Middle Eastern instruments and creates a banger that's bouncy and punchy enough for Kartelo, VDJ Jones, Lucci Kingpin to destroy.
---
Soul Bang's x Innoss'B –

"Gnohouzo"
---
From Guinea/Democratic Republic of Congo: This is the kind of ndombolo/soukous tune that you can easily play in an amapiano set and it wouldn't feel awkward; if anything, it will inject some actual movement in there, with a barrage of organic drums underlined by that looped synth. And most importantly, the shekeres are always there, showing you the way forward and giving you some space for a transition.
---
Manu Koraman x Talakaka –

"Mind ur Business"
---
From Togo: And speaking of francophone afro house fusions that can easily fit an amapiano set, this is a more obvious one, perfect for that early part where you want to spice things up. And those dark synths sound fucking majestic on good speakers.
---